Accountability is the new sales buzzword
It can be difficult to grab the attention of customers. Especially in the era of technology, there is more information than ever available to consumers. This is a frustrating situation, both for salespeople and consumers alike. The internet is flooded with information that doesn't always exceed quality expectations. This can be mislead to customers, who are frustrated when they aren't able to get their needs met. This is also frustrating to salespeople, who genuinely have good products and want people to use them, but struggle to stand out in the noise of the lackluster competitors.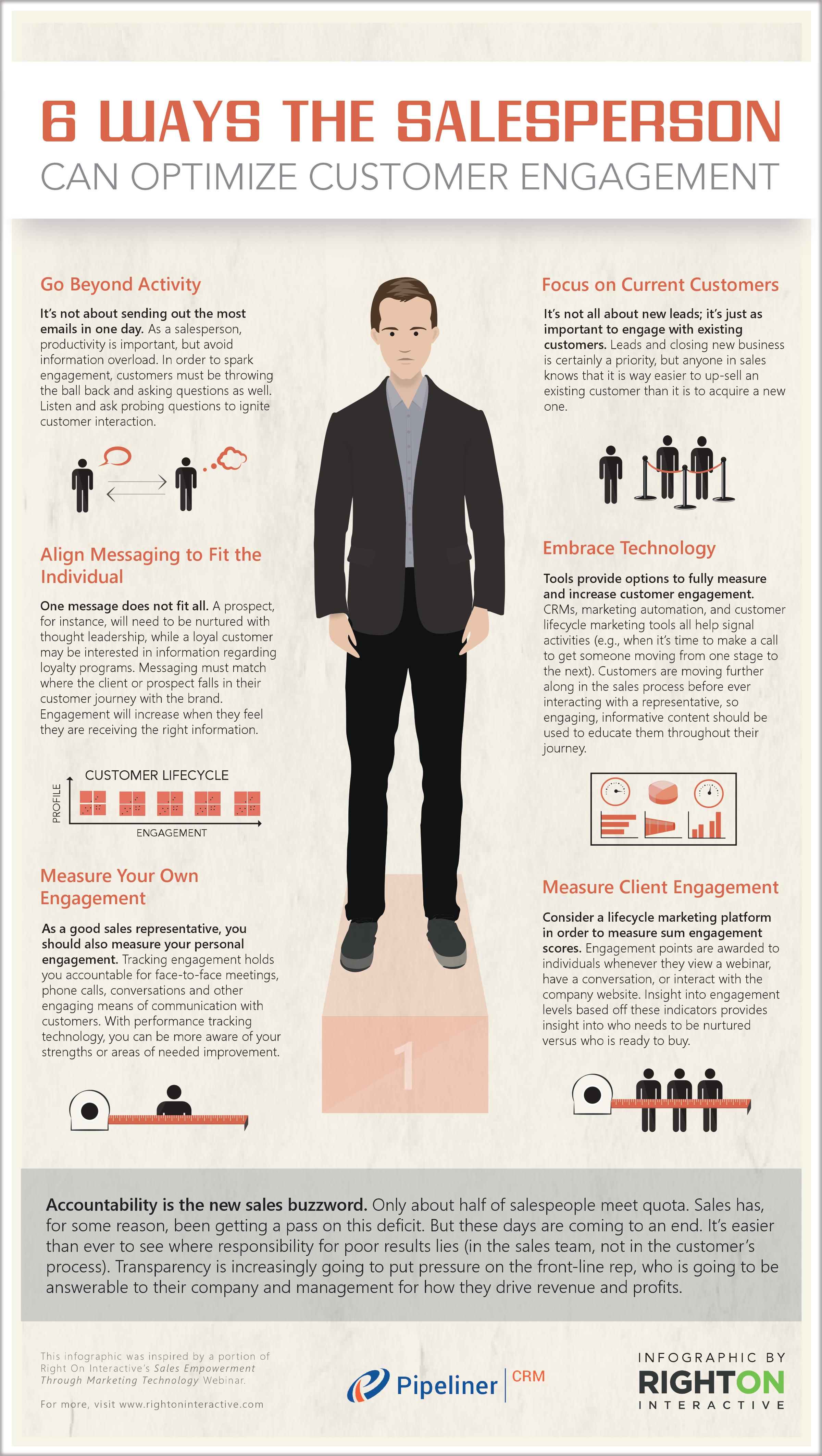 In order to optimize customer engagement, there are 6 key steps to follow.
Go Beyond Activity: It's not always about getting the most done. Productivity is certainly important, but it's crucial that quality work is completed and real connections are made.
Focus on Current Customers: Growing your business doesn't always mean growing your customer base. You can engage with existing customers, as opposed to acquiring new ones, in order to grow your business and optimize customer engagement with the clients that already know, trust, and have a relationship with you.
Align Messaging to Fit the Individual: One message does not fit all. It is not always beneficial to send out mass messages, or generic emails. Instead, use what you know about the individual to tailor their messages.
Embrace Technology: The tools are out there, so use them! If you're not taking advantage of the programs designed to help you, you're not being as effective at optimizing customer engagement as you could be.
Measure Your Own Engagement: To be as successful as possible, measure your own personal engagement!
Measure Client Engagement: Understanding your client and their willingness to engage with you can help you manage your client's engagement with you.
If you're interested in learning more about improving your customer engagement, SalesPOP! is here to help with articles and key information about pulling in more customers. Articles like Developing Deeper Customer Engagements in the Digital Age, and What Are Your Customers Saying? will help you learn more.