Grant Leboff joins hosts John Golden & Martha Neumeister to talk about Lessons from the pandemic for B2B sales and marketing leaders.
Join host John Golden as he chats with Grant Leboff about the changes the pandemic has forced upon Sales & Marketing. These include changes in messaging, as well as a greater imperative for Sales & Marketing alignment – plus learn how virtual selling has opened up more opportunities for efficiency, scale, and reach.
The 30 minutes you spend with us live on YouTube could be your greatest investment this year!
Recorded Live – 14th October at 9am PT
EPISODE QUESTIONS:
Q1: What are the lessons that B2B Businesses Learned from the Pandemic?
Q2: Is digitization the ONLY way ahead?
Q3: How B2B marketing leaders can help their organizations and teams succeed in a pandemic?
Our Guest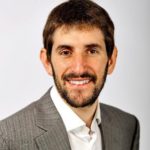 Grant Leboff
Grant is the CEO of Sticky Marketing Club, a sales and marketing consultancy providing companies with the strategies to thrive in an increasingly competitive world. He is a highly sought-after consultant and speaker, and constantly makes presentations at conferences and events all over the world.
Links › Sticky Marketing Club | LinkedIn.com | Twitter
Our Hosts
John Golden
John is the Amazon bestselling author of Winning the Battle for Sales: Lessons on Closing Every Deal from the World's Greatest Military Victories and Social Upheaval: How to Win at Social Selling. A globally acknowledged Sales & Marketing thought leader, speaker, and strategist. He is CSMO at Pipeliner CRM. In his spare time, John is an avid Martial Artist.
Martha Neumeister
Martha is a social media strategist, responsible for all social media platforms of Pipeliner CRM. She is a communication expert with social media affinity, which she has been focusing on throughout her professional career. She has a bachelor´s degree in Entrepreneurship & Management and a master´s degree in Online Marketing which supports her in her career as Social Media Strategist.
About SalesChats
SalesChats is a fast-paced (no more than 30 minutes) multi-media series that provides leading strategies, tactics and thinking for sales professionals worldwide. It can be found on Twitter (#SalesChats), as a live Google+ Hangout, and as a podcast available on iTunes, SoundCloud and right here on SalesPOP! If you think you would make a great guest for #SalesChats, please contact co-host Martha Neumeister.
SalesChats is co-hosted by John Golden, CSO Pipeliner CRM, and Martha Neumeister, Social Media Strategist Pipeliner CRM.