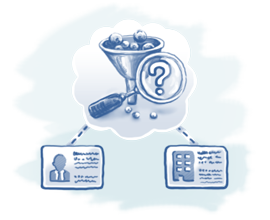 It's a brave new corporate world. Thanks to cloud computing, entire companies are now operating in virtual space.
Physically executives and employees are scattered from one end of the Earth to the other, but no matter where they are they are working through the cloud—in complete sync, communication and coordination.
For the sales force, this revolutionary new business model has a particular significance, requires vital CRM tools and engenders some new methods of operation.
Entrepreneurs in the First Place
It isn't like salespeople have ever been anything else than "self-starters." Unlike other types of employees, they have always been paid based on what they actually did—and they preferred it that way. They were always on the lookout for new opportunities, and often saw them where others would miss them. They were always creative thinkers, and were constantly seeking and innovating new ways to do better jobs and sell more. In short, sales reps are and have always been "entrepreneurs within the enterprise."
Therefore taking salespeople out of an office environment is not as counter-intuitive as it might seem for other types of employees. They're very independent and, truth be told, hate being chained to schedules and desks anyway. They're much happier being able to come and go as they please, operate on their own schedules and make their own rules. For they're already managing their jobs very much at their own risk.
The New Sales Force
For these reasons it is coming as good news to salespeople everywhere that they no longer have to conform to the office lifestyle. Thanks to cloud computing they can work from home, engaging with prospects and customers online. They can conference with their sales managers and others in the sales force as needed. If they do leave home, it is to meet with a prospect or customer—and they have the same communication and coordination abilities right from their handheld devices.
As many salespeople are discovering, this new world of corporate operation does require skills that were not necessary before. For example, giving an online presentation presents issues that didn't exist when giving a live presentation in a boardroom. In the boardroom you could see your prospects; often with an online presentation your prospects are watching your visual demonstration but cannot see you, and (more importantly) you cannot watch them and note their responses. In fact you may not have any clue of how good your presentation was until it's over and they can comment on it. But salespeople have always had instincts that serve them well; they'll surely find ways to make the new methods work to their total advantage.
The Vital Need for CRM Software Solution
Within a "brick and mortar" scenario, a CRM software solution has always been important. The more usable to salespeople it was, the better. Unfortunately traditional CRM applications were not particularly supportive of salespeople, and often sales reps were required to input massive amounts of data that might have been useful to sales management and others but that was of little practical use to themselves. They had to resort to their own methods to keep track of their sales and follow their sales pipelines—and because that kind of information was not available through CRM, they ended up having to duplicate it all in sales reports. All of this left a bad impression of CRM on salespeople—something that carries on to this day.
Fortunately, along with the revolutionary new virtual business model are also available leading edge cloud CRM solutions that actually empower the sales force. They can be easily patterned after the company's sales process; sales reps enter data where it makes the most sense, and know where they can quickly and easily retrieve it when they need it. Salespeople are enabled to do their own forecasts and analyses straight from the data already input into CRM—giving them a greater measure of control over their own pipelines. And like other cloud applications, CRM is available everywhere, from any computing device.
For many of us, the new virtual business environment might have many challenges. But for the sales force, it's a complete welcome home.
See our other articles on the changing face of business.