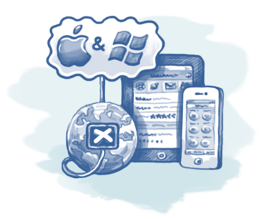 Throughout history, there have always been visions of the future.
Jules Verne showed us submarines and flying machines long before they came about. Gene Roddenberry shared his vision of computers that would greatly assist in every aspect of an organization and even fully run some of them—and this has come to pass. Isaac Asimov described robots that would replace laborers and domestic staff. All of these are here or are well on the way.
But with cloud computing and the technological advancements all around us, it doesn't take a science fiction writer to point out how our corporate world will soon appear—for not only are we seeing examples of it right before us, we all now have the tools to bring it about.
The Swan Song of the Traditional Business
Forward-thinking businesses are now asking themselves questions such as: why must we have offices in a building? Why do all employees need to physically report there? Why must we spend a fortune paying for said location? And why must we waste valuable time sitting in traffic to come back and forth to work?
The answers to these questions were rather obvious in 1950 or so. We had no substantial way to coordinate and synchronize activities, other than by having everyone physically present. Besides the telephone, we didn't even have a way to communicate over long distances, and the telephone didn't give us near the capabilities we really needed to fully conduct business. So through the ubiquitous office—and supported by cars, trains and planes—physical contact was constantly maintained and was the only way things got done.
But with today's tools at our disposal, these are very valid questions.
The Vision of Tomorrow—Today
Picture this: the president of a start-up company has a weekly meeting with his vice-president of sales and all the sales reps. At this meeting they discuss the upcoming week, what sales are possible to close, and what really needs to happen to keep the company on-track for the quarter.
While that's not so unusual, this aspect of the meeting might be: the president of the company is in his house in California. The vice-president of sales is some distance down the coast. One sales rep is elsewhere in the US, another is in Britain, another in Vienna, another in Bratislava, another in India, another in Thailand and yet another in Sweden. Most of these people have never met each other in person.
The business is highly successful. All employees are in great rapport and coordination. Yet they have no central office, no corporate headquarters that employees must report to. Each employee is working from his or her own location.
Cloud Computing & Technical Infrastructure
Of course, what makes such a thing possible is the infrastructure. While in the past that infrastructure was composed of bricks, steel, glass, wiring, office furniture and the ever-required coffee maker, today it is composed of lightning fast servers, high-speed connections and the careful choice of software applications to make it all possible.
Fortunately we've now come to the point where all of this can exist in the cloud, excepting the device you're accessing the cloud with. All the software applications a business needs–including accounting, all types of communication including email, word-processing, spreadsheets and more—can be utilized through the web without regard to the user's operating system. All business processes can be conducted through cloud computing. And since the company's presence is on the web and not on a city street, it too can be hosted in the cloud.
CRM Solutions
How important is the choice of CRM application in this scenario? Well, more important than ever, actually.
In the "brick-and-mortar" business of yesteryear, since physical contact was the order of the day, CRM might not have been as vital. But now, a business is dealing with clients and people they'll never meet. They're having virtual meetings with prospects in locations they have never visited and probably never will. Keeping detailed knowledge of a prospect or client business in such a way that it can be easily saved and accessed—and from any device in any location—is paramount. You might even say that the CRM solution is the "mind" of the organization.
Without such facility an organization might as well be blind, deaf and dumb, and actually are to the degree they don't have it.
Thanks to technological innovation and cloud computing it is indeed a brave new corporate world. And it's waiting for each and every one of us to step in and take full advantage.
See our other articles on the changing face of business.