The Pipeliner 5 update is here with the amazing new CRM tools for accelerating sales force performance!
We're excited to unveil a collection of new features including an absolutely amazing pipeline velocity feature, bulk update, subjective target, Dropbox and Google Drive app; and expanded CRM apps portal with new integrations.
Our team has been hard at work during this summer to make Pipeliner CRM software a strong assistant for your sales force activities. Let's take a closer look what we have built for you:
Introducing Pipeline Velocity Feature for Effective Sales Cycle Management
Most sales managers will acknowledge that the longer the opportunity stays in the pipeline, the less likely it will actually close. We decided to give you a CRM tool that helps you to track the age of your opportunities in your company sales pipeline and improve your opportunities closing ratios. We call it sales pipeline velocity.
The pipeline velocity feature enables you to:
Monitor the age of your opportunities i.e. track the number of days an opportunity has remained in any given sales step.
We implemented the feature that lets you track the average sales step duration based on the opportunities age.
You can easily set the warning notifications i.e. Pipeliner will monitor stage duration and warn you of delays well before those delays turn into problems.
And many more cool features related to this tool such as new dashboard charts or improved management reports.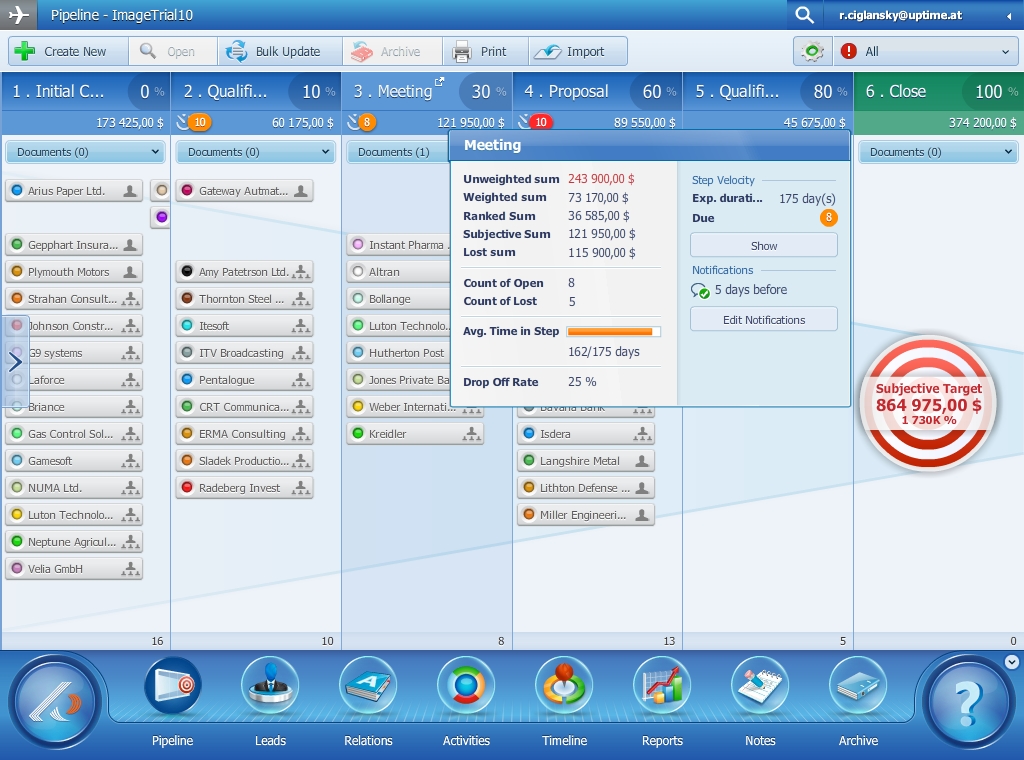 Sales pipeline management is without a doubt the single most effective sales management tool available to salespeople today. And this truly effective sale methodology, built right into the pipeline management software, lets you focus on the right sales activities in order to increase your sales.
Improved Document Management with MS Office Integration, Dropbox App and Google Drive App
It's important to collaborate on your sales documents within your sales team. These set of new crm tools for sales in Pipeliner lets you collaborate with your sales team on documents and document your sales best practices to drive your sales effort.
#1: MS Office Integration
Pipeliner integration with MS Office productivity tool lets you save your MS Word and MS Excel documents and templates directly into Pipeliner to provide your sales force with shared access to your most important sales resources.
#2: Dropbox Integration
Dropbox for Pipeliner makes adding collaborated documents from Dropbox into Pipeliner as easy as point and click. You can now attach your Dropbox files to any account, contact, lead or opportunity in Pipeliner CRM.
#3: Google Drive Integration
The Google Drive App for Pipeliner makes it easy to add files from your Google Drive to Pipeliner CRM. This way you can store all your sales documents and best practices in one place, so your sales team can access them from anywhere and share them with others easily.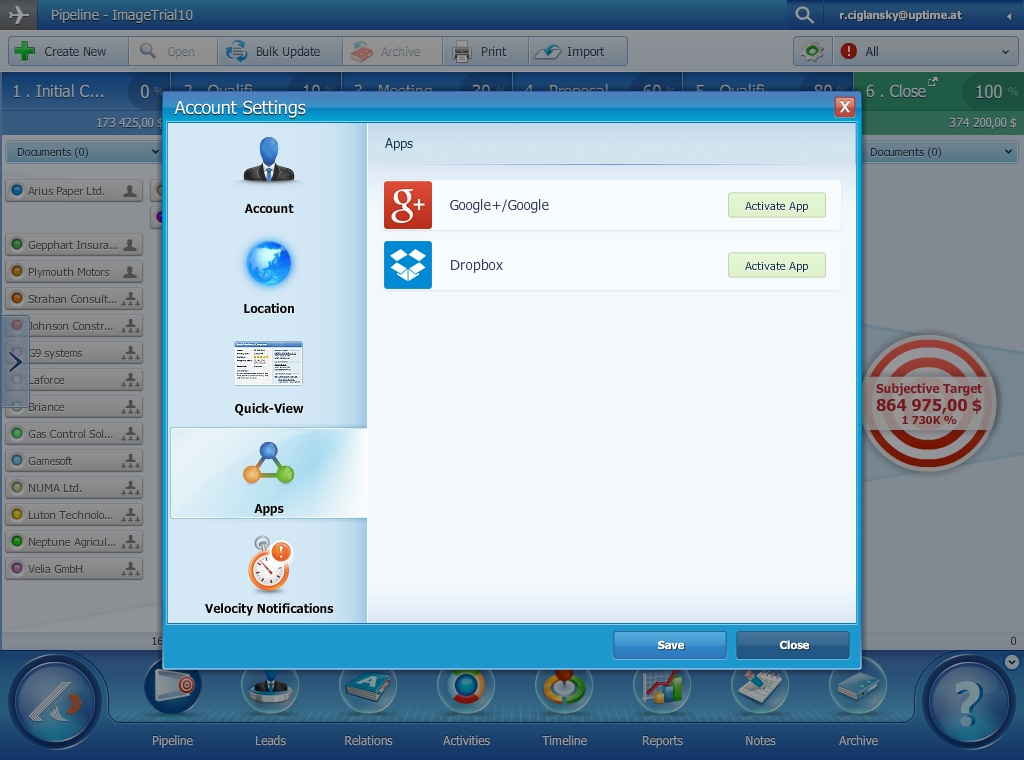 Pipeliner CRM lets you easily map your sales methodology in order to ensure consistent use of sales best practices. Use this effective sales methodology and drive more revenue with Pipeliner CRM sales management software.
Other Powerful Integration with Marketing Tools You Already Use
We have partnered with two great companies to deliver you the solutions that connect your marketing automation tools with your sales team. You can find all brand-new apps within Pipeliner CRM Apps portal.
#1: SyncApps Integration
SyncApps by Cazoomi, provides the integration framework that seamlessly brings marketing and sales platforms together and allows for the synchronization of data in both directions. SyncApps integrates with the following marketing tools:
#2: Bedrock Data Integration
The HubSpot integration syncs contact records, including lists from HubSpot to Pipeliner CRM. The integration also automates the creation and updating of Contacts in HubSpot, creating a powerful bi-directional data-driven integration with Pipeliner CRM.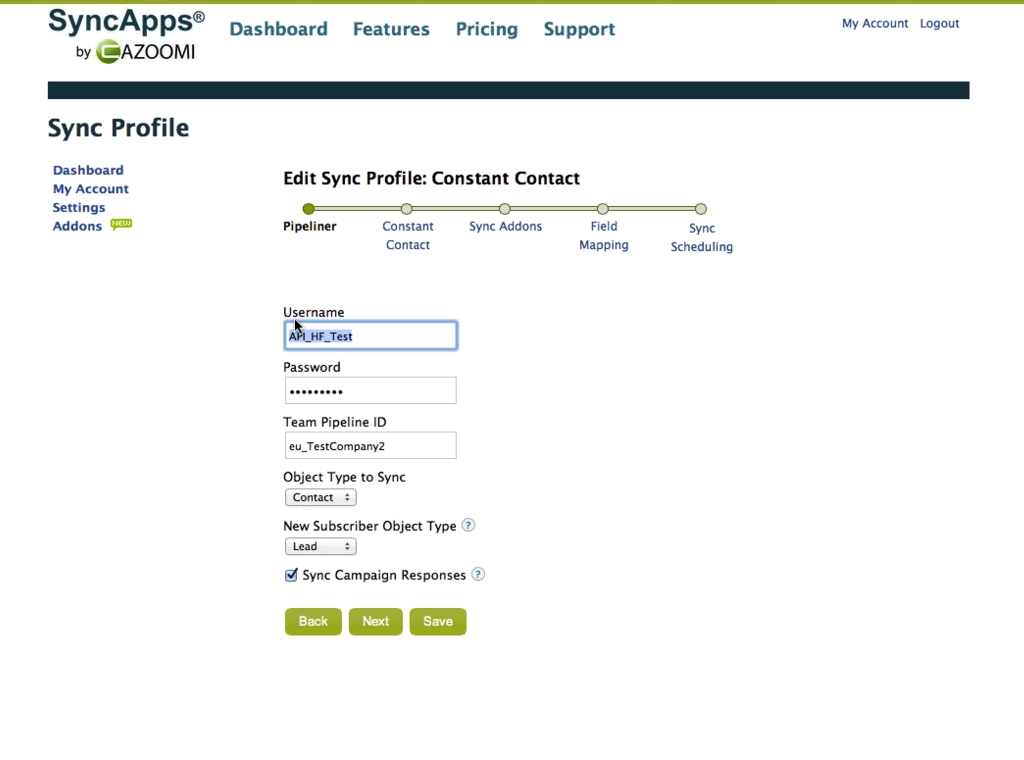 Many Other Cool CRM Tools to Try
We have improved a various different CRM tools and features available in Pipeliner as well.
Subjective target – The subjective target can be calculate as opportunity value multiplied by the opportunity ranking.
Enhanced accounts management – you can now create a new contact directly within the account.
Enhanced management reports – use the drag-and-drop functionality for adding the fields into report.
Enhanced import process with Import2 partnership – you can use the Import2 integration and its feature to migrate your current data from almost any CRM to Pipeliner.
Bulk update – update the same field for multiple records at once.
Updated BI Dashboard – analyze the new dashboard charts specially build for pipeline velocity metric.
Other cool minor enhancements and fixes.
We hope you will like the new update of Pipeliner 5. This is its v5.3 and we look forward to your feedback.