Network Selling is a sales model we created several years ago, that expresses the ideal needed in today's interconnected digital sales landscape. It is expressed in this graphic: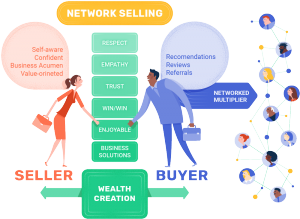 In this ebook, Nikolaus Kimla goes through each of the factors in Network Selling, fully explaining each.
Respect
We start with the very first element required in the Network Selling model: respect. Not just Network Selling, but everything in civilized life begins and ends with respect as the very foundation. Every good experience—be it social or business—depends on mutual respect for its success.
Empathy
The next step in Network Selling is a skill without which a salesperson just won't survive in this 21st century digital selling environment. That skill is empathy. It is vitally important today because we're awash in a giant overwhelming wave of technology. The internet, along with this vast technological tide, has created a world in which too many of us have become anonymous.
Trust
Trust is a crucial principle for just about anything—running a company, having a mutual relationship, any form of friendship, marriage, children or parents. And, of course, for sales. We can look at trust as a pyramid, with layers of blocks built one upon the other, over time.
Win-Win
Since the beginning of time, sales has had a tendency to be over- balanced on one side or the other—on the side of the seller, or on the side of the buyer. In a perfect world, the buyer's best deal and the seller's best pro t would somehow mesh in total harmony. But we don't live in perfect world.
The Enjoyable Business Process
In this, our final chapter, we're going to take up two steps of the Network Selling model: Business Process, and Enjoyable. They have been combined, for reasons which will soon be very clear.
Join us in this ebook as we go through all the factors of Network Selling—the only sales model for the digital age.