For many retailers, SEO, or search engine optimization, is one of the most important aspects of running an eCommerce business. Boosting your SEO can increase your traffic, your sales, and more.
In this article, we're going to outline what you need to know about eCommerce SEO. Let's get started.
It's vital you choose the right keywords for every web page
It's important that you choose the right keywords for your website copy — this will ensure that your website ranks for the right queries on search engines and you reach the most suitable people! It will also help you reduce your bounce rate, as the traffic you get will be more high-quality, and people will be less likely to leave your website quickly.
Start by conducting some keyword research. Head to a tool like Google Keyword Planner with a list of words and phrases related to your business. Plug them into the tool, and Google will provide you with a list of keywords based on their competitiveness, or how hard they are to rank for, and their average monthly search volumes.
You can then choose which web page each keyword should be targeted on, and weave them into your copy in an effective but subtle way.
Need more help with this? Take a look at the keyword research services offered by Loganix. They can help you find the best keywords for all of your website copy to boost your SEO.
For inspiration, let's take a look at a website that has done a great job of incorporating the most relevant keywords into its content.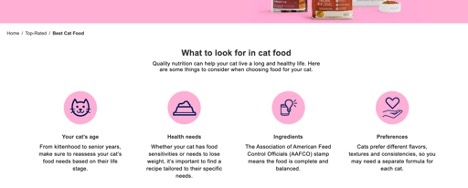 Petco, a pet supply retailer, has done a great job of incorporating the right keywords into the copy on their cat food product page.
In their headers, they have a variety of relevant and frequently searched phrases, like "best cat food," "what to look for in cat food," and more. Furthermore, their product descriptions include searchable cat food keywords that include phrases like "grain-free," "high-quality," and "cage-free chicken." These are all things that cat owners might be looking for in their food!
On your category and product pages, be sure to include searchable keywords throughout to attract the right people from search engines like Google.
You should create more ranking opportunities with relevant content
Content marketing is the process of creating guides and blog posts that your target audience will like in order to draw them to your website — it's a great way to boost your SEO!
There are lots of different types of content you could create, such as tutorials, buying guides, blog posts that answer common questions, and more. Any of these can give you more opportunities to rank on relevant search engine results pages and reach your ideal audience.
Let's take a look at a few different websites that have done a great job of implementing a content marketing strategy to improve their SEO.
BarkBox, an online dog toy and treat subscription service, has a helpful article on what causes eye boogers in dogs. The blog post covers what causes them, what can prevent them, and how to know if it's a serious issue. People searching for this type of information might come across this article through a search engine and be interested in BarkBox's services — this is what makes it such a useful asset to have.
On your website, think about what types of informational articles you could write in order to draw relevant people to your business.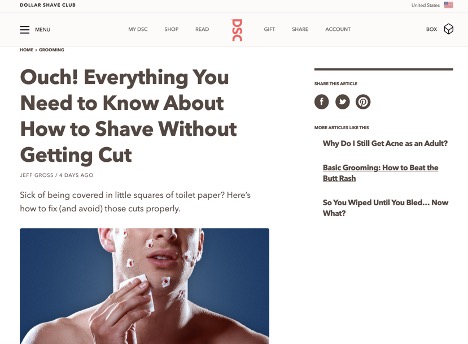 Dollar Shave Club, a razor subscription service, does something similar in their article on shaving without getting cut.
This how-to guide covers prepping your skin, what products to use, and more. If readers find this article helpful, they could be interested in buying the razors that they offer. On your website, think about what types of how-to guides you could write that will draw people in and convince them to use your services.
If your site doesn't provide a positive experience, you won't rank
If your website doesn't offer a positive user experience, internet users won't stick around long enough to make a purchase. This can increase your bounce rate and have a negative impact on your SEO. So, it's vital that your site offers a good user experience, or UX.
User experience experts at Clay.Global offer a few tips for ensuring that your website offers a good UX:
Ensure you have a fast loading speed (try to keep it under 2 seconds)
Make it easy to read
Provide all of the necessary information
Have a simple, but intuitive design
Create a simple navigation
Let's look at a website that provides a positive experience for inspiration.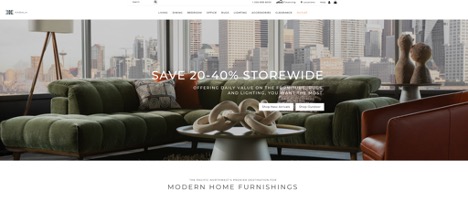 Kasala, a furniture retailer based out of Seattle, provides a great user experience!
At the top of every web page, the navigation bar makes it very easy for a customer to find what they're looking for. Additionally, on Kasala's homepage, they offer a variety of clear categories, like work from home, dine-in experience, and happy hour. This helps the customer start thinking about how they would decorate their home to make it more comfortable and stylish, as opposed to just looking for basic furniture necessities.
On your website, think about using your homepage to divide your products into categories, as Kasala has, to make it quick and easy for potential customers to find what they're looking for. This helps improve UX and could boost your SEO!
You should always look for opportunities to create internal links
Internal links are very important for SEO! These are links on your website that send people to another related page. They can help search engines get a better idea of how your site is structured, what different pages contain, which web pages are the most important, and the like.
Here are a few tips for incorporating internal links into your website:
Include them naturally in your category copy
Add related posts to your blog content so customers can continue to read and learn
Link to relevant products or categories in your blog content
Let's take a look at a website that incorporates internal links well for inspiration.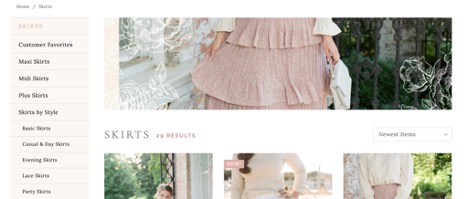 Dainty Jewells, a women and girls' clothing retailer, links to a lot of related products on their category pages, for instance.
On their skirts page, they break down the category even further, which allows website visitors to choose between maxi skirts, midi skirts, lace skirts, and more. On your website, you can help your customers by doing something similar! This will improve the user experience and give Google more context as to how your website is structured.  When Google can see how your website is structured, it's easier for them to recommend your website to the right searchers, which can help get you a boost in the search results.
Displaying positive reviews will help Google trust you
Search engines like Google like to look at your E-A-T, or expertise, authority, and trustworthiness. These are factors that help them decide how to rank a website for a particular query. Adding online reviews to your website can help to show that search engines and prospective customers can trust you!
Keep in mind that different types of reviews will work better for different products. Personalized or pricer items might be better served by longer reviews or testimonials, as they can tell the reader more about their experience with your business in terms of customization quality, shipping time, and the like. Star ratings can help a customer compare similar products directly; if you sell a lot of items in a specific category, adding star ratings can help Google trust you.
Let's take a look at some companies that display reviews well for inspiration.

The Farmer's Dog, a fresh dog food supply company, showcases reviews right on their homepage.
They show off their Google rating, which averages out at five stars, and they highlight what various media outlets have said in their own reviews. This helps boost trust between website visitors, search engines, and a business.
So, on your website, consider highlighting your media mentions! Not only does this help give your business and products more credibility, but it can help you attract a particular subsect of searchers. People who trust these different media outlets might head to Google to search for different products mentioned on their website and come across your business as a result.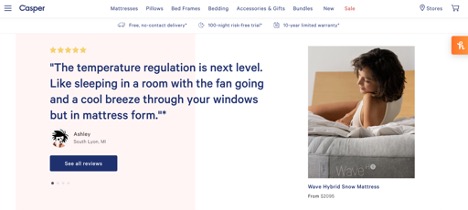 Casper, a mattress retailer, also highlights reviews on their website. Think about how important this is for a company centered around sleep — people have very specific needs when it comes to their sheets and mattresses, and showcasing reviews can give a website visitor more insight into the quality of these products.
On your website, be sure to show off what your past customers have had to say about your products. It will show that you're a trustworthy business, thus boosting your E-A-T and your rankings in the Google search results.
Optimizing your images can make a huge difference
A lot of eCommerce stores neglect to optimize their website images, but it's an easy web design trick that can be great for SEO. Optimizing your images can help reduce your page loading speed, improve your rankings on the search engine results pages, and improve your overall UX.
Here are a few tips for optimizing your images:
Use descriptive file names
Compress your images to reduce their loading speed
Add alt text to give more context about your images
Change your format to JPEG, PNG, or GIF
Following these strategies can help increase your rankings in the search results.
Summary
In this article, we've outlined some of the most important things that eCommerce business owners need to know about SEO. We covered optimizing images, investing in content marketing, adding internal links, and more.
Need more help? Take a look at the marketing blog offered by SalesPOP!. They can help you create a marketing plan, start a business, improve your content marketing strategy, and so much more.
Author bio 
Alex Ratynski is the founder of Ratynski Digital, an online marketing consultancy that focuses on helping small and medium-sized businesses achieve their goals. He set up his company after working as a local SEO director for a dental marketing agency, where he helped to turn clients' ventures into thriving multi-million dollar businesses. He spends most hours strategizing SEO for his clients.