If you run an eCommerce business in 2021, you need to be well versed in content marketing. This is the process of creating and sharing blog posts, guides, videos, and the like to increase your brand awareness and generate more leads. It's also an excellent way to boost your search engine optimization (SEO) and make your website more visible on relevant search engine results pages (SERPs).
In this article, we're going to outline some content marketing tricks that will help you rise through the Google results. Let's get started.
Create content that's going to attract links
Boosting your backlink profile is one of the most important aspects of SEO. When relevant and highly authoritative websites link to your content, Google takes this as a vote of confidence in your expertise and authority, so will give you a boost on the SERPs as a result. Therefore, it's important that you create content that is going to help you build links!
Here, I'm going to outline a number of content types that tend to be particularly link-worthy and show you some examples as inspiration.
Original research
Conducting original research is a great way to get backlinks. If you can provide studies, research, or survey results that other leaders in your industry will find useful, there's a solid chance that they'll want to share this with their own audience. And, when they do, they'll cite you as the original source.
Let's take a look at an example of the type of original research I'm talking about.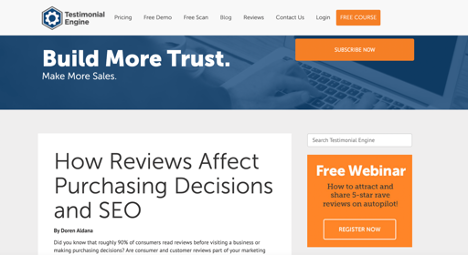 For instance, Testimonial Engine, a company that provides ratings and review software programs, has an original research piece on how reviews affect purchasing decisions.
This article includes several original statistics related to this topic and also provides unique insight into how reviews can impact your SEO. Testimonial Engine's target audience is largely made up of eCommerce business owners, so this information is incredibly relevant to the people they're trying to reach. Plus, as this information is new and original, when bloggers, publications, or businesses write about this subject in their own content, they'll be likely to link back to this research, boosting the company's SEO in the process.
Infographics
Infographics are another great form of shareable content. They're perfect for condensing a lot of statistic-heavy information into an easily digestible format. And, if you can create designs that are attractive and genuinely provide value, other sites will be likely to incorporate them into their own content, and link to your site to provide credit.
Creating your own infographics might seem like a difficult feat, but there are tools that have been designed to make the process incredibly easy. For example, Venngage has a specialist infographic maker that provides a range of easy-to-use templates you can customize with your own branding, facts, and figures.
Ultimate guides
Ultimate guides offer another excellent way to attract links. These guides include everything someone would want to know about a certain topic (and then some).
Ideally, when you create an ultimate guide, you want to provide helpful information for beginners and experts alike, so your content needs to be as comprehensive and unique as possible. This will increase the chances of your ultimate guide being cited as a source when other people in your field publish content on similar subjects.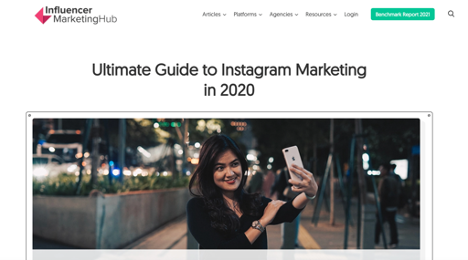 Influencer Marketing Hub, a social media resource for agencies and influencers, has an ultimate guide to Instagram marketing, for instance.
This guide is particularly helpful because it discusses a relatively new marketing concept. The guide covers why Instagram marketing is effective, how to set up a business account, why you should leverage user-generated content, and more. This article is likely to be cited and linked to by digital marketing experts, agencies, and influencers as a resource, boosting Influencer Marketing Hub's rankings on relevant SERPs.
It is worth noting that you can't always simply create a good piece of content and expect it to attract links naturally. Reach out to influencers, bloggers, and industry leaders that you have relationships with to see if they would be interested in giving you a link. You could also consider writing a guest blog for relevant websites and plug your own content with permission. These are both link building strategies that will give your SEO a boost!
Map content to different stages of the buying journey
People at different stages of the buying journey will have different needs. If someone is not aware of your company or the services you provide, their search queries will be much different to those of someone who is weighing up their options before making a purchase. You need to create content with this in mind.
There are three different stages of the customer buying journey: awareness, consideration, and decision. In the awareness stage, the customer is first learning about the solutions that might fix a problem they have. In the consideration stage, the customer is closer to making a purchase, perhaps opting into something like a free trial. In the decision stage, the customer is evaluating what particular products or services are best for their needs.
Let's look at a few examples of content that target different stages of the buying journey well.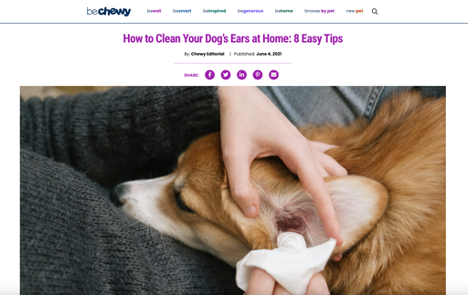 For instance, Chewy, an online pet store, targets people in the awareness stage of the buying journey with a lot of their blog content. Their guide to cleaning your dog's ears is a great example.
Since this article isn't outwardly promotional, it's likely to be found by people who weren't necessarily aware of Chewy in the first place — they just wanted an answer to their question! But, once they're on the website, Chewy recommends a few different products the audience can use to clean their pup's ears. This targets a different subsect of their target audience and raises brand awareness, thus boosting their SEO.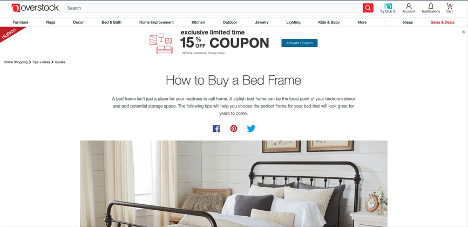 Overstock, a furniture company, targets customers in the middle of the customer buying journey with their content. This buying guide for bed frames outlines how to pick the perfect frame for your mattress, decorating style, and more.
People who come across this article know they need a new bed frame, but aren't sure about the specifics. By outlining what considerations one needs to make before buying a bedframe and offering their own products as solutions, Overstock helps push their customers closer to a purchase, and will reach more relevant people on the search engine results pages.
Create free tools that your target audience is looking for
Offering free tools and templates is a very effective content marketing tactic, but it can often get overlooked. If you can show your website visitors that you can provide them with a tool or solution to their problem for free, this will build a relationship with them and make them more likely to purchase from you in the future.
Additionally, sought-after free tools are excellent for building your SEO. You can create tools, templates, or digital checklists that target different keyword phrases, for instance. Or, if you create a tool that's helpful and shareable among your audience, other industry leaders and influencers might be willing to share a link to it on their own websites.
Let's take a look at some examples of businesses that have incorporated free tools into their content marketing strategies to provide you with inspiration.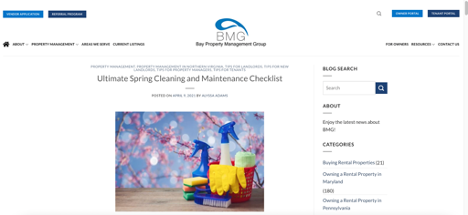 For instance, Bay Property Management Group, a real estate management company, provides a free spring cleaning checklist for their website visitors.
This is a very useful tool for their target audience, as people selling their house or renting it out likely have to regularly clean and provide maintenance. By providing a checklist, Bay Property Management Group ensures that their clients don't forget anything. Targeting keywords in this way boosts their SEO and draws more people to their website, including people who might want to outsource their property management to them.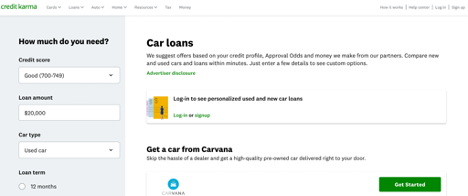 On the other hand, Credit Karma, a financial advisor and credit score provider, does something a bit different on their website. They have an auto loan calculator that can help website visitors find the best car loan based on their credit score, the loan amount they need, and the type of car they're considering.
This has proven to be an effective strategy for boosting their SEO — they currently rank first on Google for the key phrase "need a car loan", which gets around 1,000 searches per month. Additionally, this tool is very shareable. Car dealerships could write about this tool on their website and include a link in order to help push prospective customers towards a car purchase.
Address common customer queries with your content
If you receive a lot of the same questions from your customers, think about whether or not you could create content that addresses these queries. Not only will this save your customer service team some time, but it will boost your SEO and help your customers to make better, more informed decisions, building a sense of trust.
Start by conducting some question keyword research. Answer the Public is a great tool for this — plug in some topics or words related to your business, and they'll provide you with a list of questions that people are asking about them. Targeting these questions and keywords will help ensure you reach your ideal audience on the search engine results pages.
Let's look at an example of a business that has used this strategy well.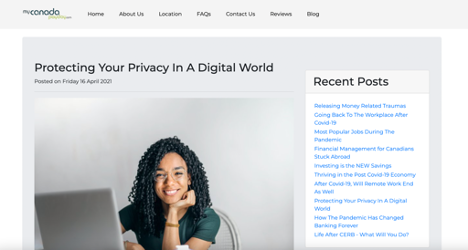 MyCanadaPayday, a financial lending company, answers customer questions in their article on protecting your privacy in a digital world.
This article digs deep into how website visitors can protect their personal details online. The fact that this addresses a pain point a lot of the company's customers are likely to have helps to make it SEO-friendly.
The piece covers email encryption, VPNs, password creation, and more. Because it answers common customer questions, it's great for showcasing their expertise. Additionally, people who are smart about internet privacy are also likely to be smart with their money, which means they could well be interested in the company's services. When they're researching the subject, they could find this piece of content on the relevant SERPs, and be introduced to MyCanadaPayday and their loans. This is why content marketing is such an effective SEO tactic.
Seek out content gaps your competitors have left
It's a good idea to take a look at the content your competitors are publishing and, perhaps most importantly, what they aren't publishing. Filling in these gaps can help you beat the competition!
Start by conducting a competitor keyword analysis. Using a tool like SEMrush's keyword gap tool can help you discover the keyword profiles of your competitors. Then, you'll have a list of what keywords your competitors are ranking for that you aren't, where there is overlap, and more. This can help you determine which content opportunities in your niche will give you the biggest SEO boost.
You can also simply study your industry and see if there are any newer topics that your competitors haven't covered yet. If there's a new strategy or technology related to your business, be sure to cover it! Getting ahead of the game will help ensure you rank for queries when people are researching these topics.
Focus on improving your E-A-T rating with expert content
When you're putting together your content strategy, you should focus on boosting your website's E-A-T rating. This stands for expertise, authoritativeness, and trustworthiness — something that Google has been focusing on a lot more since 2018, according to their search quality guidelines.
Think of it this way: search engines only want to point their users in the direction of trustworthy and accurate content. Therefore, you need to create content that shows you are a knowledgeable source of high-quality information. You can do this by creating content that addresses your customers' needs and pain points, tells them how to do something, or explains a concept they might be interested in learning more about.
To provide you with some inspiration, let's take a look at a number of businesses that do a great job of showing their expertise through content published on their websites.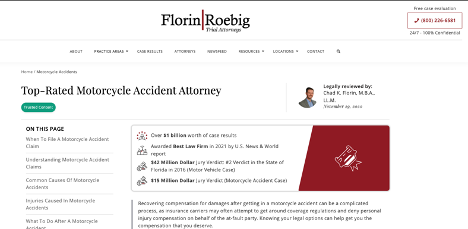 For instance, Florin Roebig, a trial attorney law firm based in Florida, has created a comprehensive piece of content about motorcycle accident claims.
Because motorcycle accident lawsuits are one of their specialties, it's important that they show they know this area of law inside and out. So, they've covered when to file a claim, common causes of motorcycle accidents, how to choose an attorney for your case, and more.
This article shows that they really know the ins and outs of motorcycle accident lawsuits, and this has done wonders for their SEO. In fact, this page ranks on the first page of Google for several relevant keywords, which have a collective monthly search volume of 38,590. When creating your own content, be thorough like Florin Roebig has to reap the same rewards.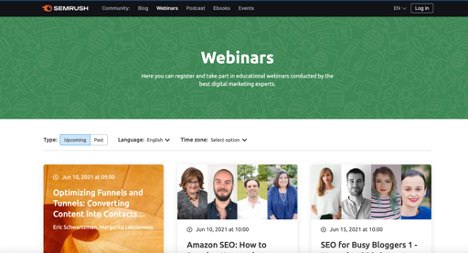 Similarly, SEMrush, another company in the digital marketing space, shows off their expertise through a series of webinars.
They cover a wide variety of digital marketing topics, including SEO for Amazon, keyword research, and more. Their strategy has proven to be very effective in boosting their SEO — currently, their bank of webinars ranks on the first page of Google for relevant keywords with a collective monthly search volume of 1,050.
Publish content inspired by keyword research
Essentially, your target keywords are what you hope people will type into a search engine in order to find your website. You can find the keywords you should be targeting by plugging topics and phrases related to your business or industry into a keyword research tool, like Google Keyword Planner. You will then be provided with a list of keywords based on their competitiveness, or how hard they are to rank for, as well as their average monthly search volumes.
Keep in mind that, when you're creating content, you're going to want to use informational keywords, rather than commercial ones. For further reading on how you can determine the effectiveness of your keyword research strategy, take a look at Sales POP!'s guide to using an on-page optimization checker. This will provide you with more advice on how to get the most out of your content.
Summary
Content marketing is one of the most effective strategies your business can use to increase your brand visibility and boost your SEO. In this article, we outlined seven different tactics you can use, including conducting keyword research, targeting different stages of the buying journey, and more. Take a look at your strategy and get to work!