If you're running an eCommerce business in 2021, you need to have a content marketing strategy. Content marketing involves creating articles, videos, case studies, and more to reel in your target audience and improve your sales performance.
In this article, we're going to outline a few different tips to help get you started. Let's take a look!
Create content for every stage of the buyer journey
People at different stages of the customer buying journey will have different needs; creating content with this in mind will help you make more sales. For instance, some people might not even know your services exist yet, while others might be weighing up their options before making a purchase.
Creating content for every stage of the customer journey can help your sales team greatly! It sends more of the right people their way and increases the chance of your customers being well-informed before they reach out — this will help you secure more sales. Let's look at a few examples of companies that do this well.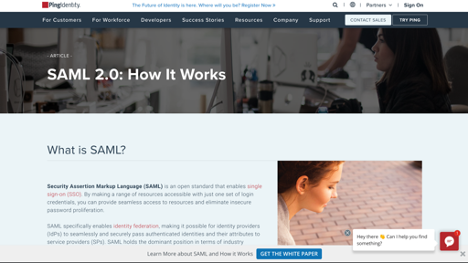 Ping Identity, an identity security company, targets people at the start of the customer buying journey with their article on Security Assertion Markup Language 2.0.
This is an open standard program that allows a user to sign into multiple applications with one login, making access safer and easier. Readers that come across this article might not even know that such a tool exists but, after reading it, they'll know how it works as well as its benefits.
Because Ping Identity is a software company, it's important for them to target people at the beginning of the buying journey. The people they're trying to reach will often know that they have a problem but might not be aware of the solution, or whether one even exists. This content will clear that up for them and let customers know that Ping Identity can help.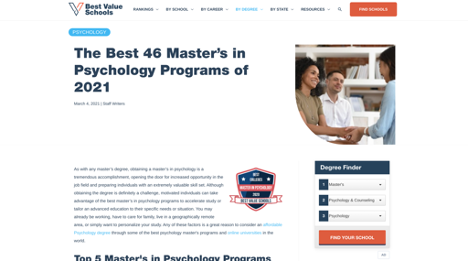 Best Value Schools, on the other hand, targets people towards the end of their buying journey with posts like their round-up of the best Master's in Psychology programs.
This type of content is very important for Best Value Schools because people who come to their website are likely already sold on pursuing higher education (and maybe even their choice of program). But, by providing listicles outlining the pros and cons of top programs, they can save their customer service team time, help prospective students to choose the best school for their needs, and earn a strong reputation in the education field.
Create informative content your sales team can give to customers
You can save your sales team time and ensure that they provide your customers with the best and more helpful information by creating informative content for your website. Go into detail about your products and services, their benefits, and how they work. You could make product or sales demo videos, written user guides, or case studies, for instance.
Let's look at a few companies that do this well.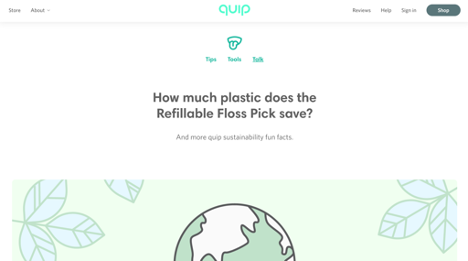 For example, Quip, a toothbrush subscription service, has put together a case study on the eco-friendliness of their products. Someone interested in Quip might have to be sold on the topic — after all, how could their products be so much better than regular toothbrushes?
This case study helps answer that question, and it comes down to plastic waste. Using cute GIFs, interesting stats, and easily digestible information, Quip informs website visitors that their products can help reduce their carbon footprint.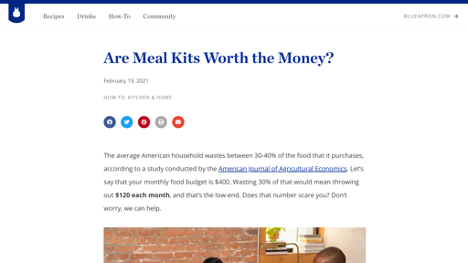 Similarly, Blue Apron, a meal kit subscription service, tells customers how their products can save a customer money and reduce food waste in one of their blog articles.
Right off the bat, they outline a few different stats on food waste and how much it costs — fortunately, Blue Apron's services can help reduce that. This informative article is particularly helpful for a meal kit service like Blue Apron, as it is a common misconception that these mail-to-home kits are wasteful and expensive. It's likely to be a question that their sales team gets a lot, and articles like this can help to put their minds at ease and lead to more purchases.
Publish case studies that show what you're capable of
In order to make more sales, you need to earn your prospective customers' trust. So, you'll want to show them what you've already achieved for other customers, and case studies are ideal for this.
This can help you showcase the results you have achieved and share the thoughts of your previous customers and clients. It will make life much easier for your sales team because, not only will they have something to point prospective customers to, but the results will speak for themselves. If your products or services worked for other businesses, why not theirs?
Let's take a look at some examples for inspiration.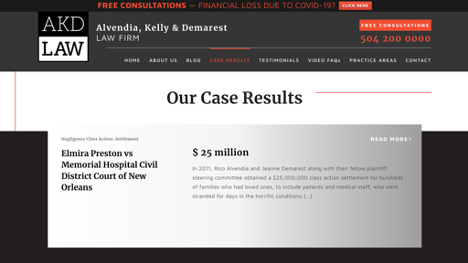 Getting legal help can be expensive, arduous, and stressful, so the prospective clients of law firms will want to know that a particular company consistently gets results before approaching them for assistance. That's why AKD Law has put a lot of effort into showing off the case results they've gotten for past clients.
They cover the type of cases they've managed, the story details, and how much they won. This will help to build trust with website visitors and potential customers because it goes to show that the firm has a great track record and can help future clients to win big.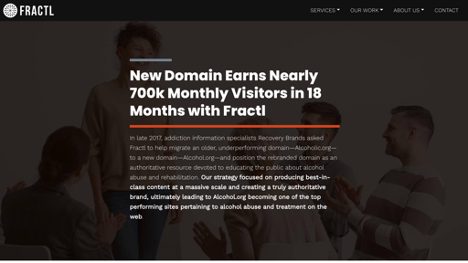 Similarly, Fractl, a content marketing agency, uses case studies to show off some of their most successful results they've achieved for clients.
The perk of a content marketing firm using case studies is that they usually have a lot of hard stats and data to back up their statements — compiling them to showcase their achievements is a no-brainer. They summarize what they were able to achieve with Alcohol.org, an authoritative, educational resource that focuses on alcohol abuse and rehabilitation.
With a new domain name, digital PR, content marketing, and link building from Getmentioned — an industry trusted link building agency that goes beyond their requirement to deliver fantastic results, they were able to achieve a lot, including an additional 700,000 monthly organic visitors. Impressive, no?
If you have hard facts and data that prove you're great at what you do, make sure you use this to create high-quality case studies that showcase your talents. It will help your sales team to generate more leads and convince people to spend money with you.
Create content that answers common customer queries
If you answer common customer questions in your website content, people will be more informed when they speak to your sales team; not only will this save your employees time, but it will help them get straight into moving your customers in the direction of making a purchase.
Start by combing through your social media comments and direct messages. Look for common themes and questions and see if there's anything you can easily address with content. Check in with your customer service team for this information, as well!
You can also conduct question keyword research. Tools like Answer the Public can help with this. Start by compiling a list of topics and phrases relevant to your business, then plug them into Answer the Public. They will provide you with a list of questions that people are typing into search engines like Google. Consider whether you could create any helpful content inspired by these queries. Then, if prospective customers come to your sales team with common questions, they'll have great resources they can link to.
Publish content that shows off your company's expertise
One of the biggest jobs your sales team will have is convincing customers to trust your company enough to spend money with you. To help build trust, you need to produce content that shows you're an expert in your field. Not only will this help you build trust and increase sales, but it's good for SEO, too — search engines want to send their searchers to the most trustworthy and helpful content possible. So, showing off your smarts will give you a boost on the search engine results pages (SERPs).
Consider compiling some of your most relevant tips and FAQs into a guide that can help your customers out. Think about what your business does better than just about anyone else, and publish a tutorial or article that shows you know your stuff.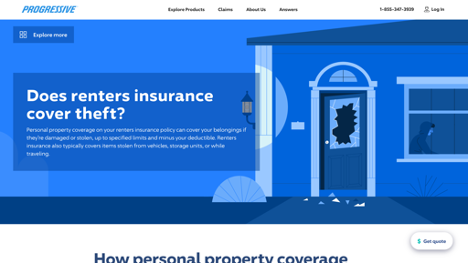 Take a look at how the insurance company Progressive shows off their insurance know-how in their piece on renter's insurance. They answer a variety of questions on the subject and outline how insurance plans can work to cover stolen belongings.
This shows that Progressive knows their stuff! Someone reading this article will begin to trust Progressive as an insurance provider, and potentially invest in one of their plans as a result. This will help the company's sales team to save time because they won't need to spend precious minutes convincing prospective clients that the company knows what it's talking about — their website content leaves no questions about this.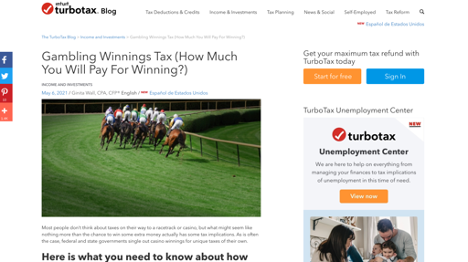 Similarly, TurboTax shows off their tax expertise by answering the niche question of whether you need to pay tax on money you win when gambling.
If someone finds themselves in the fortunate situation of having a bunch of cash winnings, this article can help them figure out how to calculate their taxes after the fact. They even have a plug for their program as well as their live tax assistant service for anyone who has more specific questions.
This article clearly shows that the company is an expert in the tax field so, if someone comes across this article and needs further assistance, they'll be far more likely to enlist the company's help and pay for their services. This can make life a lot easier for their sales team, as this can ensure more qualified leads are sent their way.
Provide free but valuable resources your customers will love
If you can give customers a positive experience with your brand before they even spend money with you, they'll be far more likely to invest in your products or services in the future. This can make your sales team's job easier, as they won't have to work as hard to convince people to trust you.
When it comes to providing free but valuable resources, think tools and templates, eBooks, webinars, and video tutorials. They won't earn you money directly, but they'll show that you're passionate about what you do, you know your stuff, and you understand the needs of your customers. Plus, everyone likes free stuff!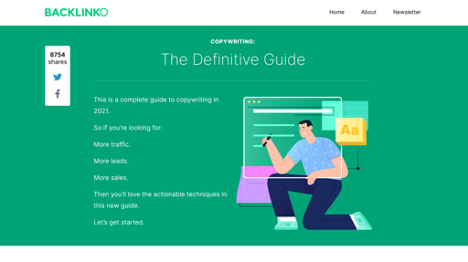 For instance, Backlinko has a definitive guide to copywriting that's free to anyone who stumbles upon it.
Copywriting is a huge part of marketing, but not everyone is familiar with how to do it well — this guide is extremely helpful to the user and shows that Backlinko has all of the information someone might need to succeed in this area. If someone reads this guide, applies the tips, and gets great results, they'll be far more likely to invest in the company's services, which will make their sales team's job much simpler.
Regularly ask your sales team what they need
Lastly, check-in with your sales team from time to time to see if there's anything else they need. If they're having problems, see if they can be solved with more content. If you don't ask, you'll never know! Consider running brainstorming sessions between yourself, the creative team, and your sales team in order to see where you can align on content ideas, for instance.
It doesn't hurt to regularly have your sales team involved in the creative process. You should also encourage them to read your content to ensure that they know the information and that it's accurate from their end. This can help ensure you all get the results you need.
For more tips on boosting the performance of your sales team, take a look at this article from SalesPop! on the subject. They outline how you can use different managerial styles, sales playbooks, and more.
Summary
Content marketing isn't just about posting a blog post every so often and waiting. There are so many different strategies you can use to maximize your efforts to achieve a certain goal. In this article, we outlined how you can help your sales team using your content marketing strategy.
Here's what we covered:
Create content for every stage of the buyer journey
Create informative content
Publish case studies of your results
Answer customer questions
Show your expertise
Provide free tools
Ask your sales team what you need.
Now it's time to get to work! It won't be long before you're reaping the rewards.
Author bio:
Adam Steele is the COO at Loganix, an SEO fulfillment partner for agencies and marketers. We build easy-to-use SEO services that help businesses scale. If you liked this article, please check out our SEO guides and templates on the Loganix blog.