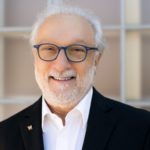 Robert Spector
Robert Spector is a best-selling author and international speaker…not bad for a guy from Perth Amboy. He's known for his engaging business stories, sprinkled with humor and useful takeaways. Robert's job (and joy) is sharing what he's learned about customer experience and employee experience with people just like you—through amusing keynotes and fun collaborative breakout sessions.
Author's Publications on Amazon
In "Anytime, Anywhere" best-selling author Robert Spector showcases the pioneering efforts of companies that never stopped focusing on the customer, and that are now gobbling up market share by combining the best of both physical and virtual worlds.
Buy on Amazon
Explores the rise of retail's reigning disruptor: retailers who seek to dominate a distinct classification of the merchandise and wipe out the competition. Based on decades of research and investigative reporting. Recounts how some retailers have profoundly altered cultural and economic factors.
Buy on Amazon
The fully revised and updated edition of the classic book about Nordstrom's extraordinary customer service In this new edition of the management classic, the authors explore in-depth the core values of the culture that have made Nordstrom synonymous with legendary customer service. These essential values…
Buy on Amazon