While not always regarded as such, salespeople are in actuality entrepreneurs within the enterprise. Just as an entrepreneur would create a business by seeking out and exploiting opportunity, so does a sales rep qualify the right leads and turn them into sales. When allowed to function as the entrepreneurs they are, salespeople thrive—right along with their employers.
In order for sales reps to fully succeed, however, they—along with sales management and the company itself—must have the capacity and wherewithal to accurately analyze the past and predict the future.
What Does This Mean?
While salespeople can and often do proceed with some degree of success without the proper tools for analysis and forecasting, there is most definitely a ceiling to that success. At some point sooner or later they will need to look over their past sales and analyze them from a number of standpoints: Who purchased? From what industry sectors? What products? Why did they buy? From what type of customer did the majority of our sales come? Only in answering these types of questions with the proper analysis can one look forward with any kind of prediction.
Having that kind of analysis in hand, one then looks at present sales. How many sales in our pipeline match up with those successful sales of the past? Are we fully tapping into the successful methods that have brought us closes? Are we engaging the right industry or industries to succeed as we have before?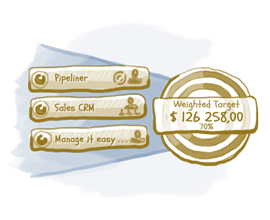 Only then can one forecast the future with any hope of accuracy. The existing pipeline can be examined as to the number of leads, the value of various prospects, and how
many of each will be needed to achieve or exceed company expectations and goals.
Entrepreneurs Need the Right Tools
No, this type of analysis and prediction is not performed with a crystal ball or deck of tarot cards—although it would certainly seem that some are utilizing methods similar to these in terms of their accuracy. There is a direct ratio between the tools used for analysis and prediction and the accuracy of a forecast.
The answer lies in the choice of CRM (customer relationship management). Because much of the CRM software utilized today does not make it possible to intuitively and logically track sales, any analysis done through CRM is risky in terms of its  reliability. Sales reps and executives will often make up for CRM shortcomings by relying on other methods—records kept by individual sales reps, memory, gut feelings, and much more.
This type of CRM actually constricts sales reps. Valuable time is spent entering the wrong kind of data to be utilized, and often data that would be truly helpful in continuing and closing a sales cycle isn't entered at all because the CRM isn't designed to receive it. So not only are sales reps spending their precious minutes and hours entering this data and reporting on it, they then can't locate and utilize data they really need when sales depend on it.
Faulty CRM also heavily impacts sales management and financial executives. It is they who live and die by analyses and forecasts, and who are counted on by other company stakeholders to be as right as possible in their predictions.
The answer is a flexible, intuitive CRM solution that actually empowers salespeople by providing the exact tools they need. The CRM software needs to reflect the company's actual sales process so that the right data can be entered where it belongs, and can be easily retrieved where needed. Sales reps can then look quickly through their pipelines, and get a real feel for where sales are, what needs adjusting, when more leads must be acquired, and what effort must be concentrated on closing.
On levels above sales, executives and financial officers can create far more accurate forecasts—and can with some confidence then report to other important company stakeholders.
Salespeople can fully become the entrepreneurs they are—but only with the right tools. Provide them and not only sleep easier at night, but watch your sales move into whole new realms.
Stay tuned for further articles on salespeople as entrepreneurs.