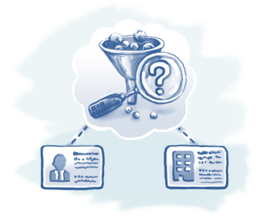 Traditional CRM tools didn't offer much in the way of benefit for a manufacturing sales force. Shying away from the plentiful reporting required by such applications—and also not perceiving that such solutions would provide much assistance in controlling their sales—many manufacturing salespeople have continued to use Excel spreadsheets and other similar solutions for tracking sales.
Today, however, a leading-edge CRM solution has much to offer manufacturing sales operations—both to the reps themselves and to their sales management.
Disparate Tracking
While each rep or territory utilizing their own spreadsheet may be seen as "adequate" to sales rep needs, there are many important features missing from such solutions.
First, salespeople cannot obtain an overall view of their entire sales pipelines. Sure, they can add up columns and possibly visualize the sales process in their heads. But they'll never be able to rapidly and easily assess the numbers for a given sales period—a month, quarter or year—view their trend as compared to the last sales period, and have a clear idea of whether or not what they have in their pipeline is adequate to meet their quotas. They won't be able to rapidly "drill down" and analyze their sales to figure out what is working and what isn't in terms of leads, opportunities or practices.
Second, sales management can never obtain a clear overall view of the entire company sales pipeline. A sales manager engages each sales rep individually; since this can only be done one rep at a time, there is no way to capture the state of the pipeline at a particular instant in time. On top of that, since a sales rep's data cannot be accessed directly, the sales manager has no clue to its accuracy or the lack thereof.
Third, one sales rep has no idea what other sales reps are doing. While at first, this may not seem necessary, what if one rep has a higher closing ratio because of actions or practices he or she is taking that other are totally unaware of? Such best practices are almost never shared unless in verbal communication—and even this isn't likely to occur because reps are often in competition and not prone to sharing their "secrets."
Enter Modern CRM Tools
Today's leading-edge CRM tools can be rapidly customized to reflect a company's specific sales process. That means that salespeople are empowered with a clear, visual representation of their entire pipeline. Each sale-in-progress can be tracked as to which stage of the sales process it is in. The trend as compared to overall quota can be viewed, as well as comparing this sales period's trend with the last or other previous ones.
Sales management gains a considerable amount of time back, as there is no verbal interaction with salespeople needed just for tracking sales and sales target. Sales can quickly be analyzed in numerous different ways to discover how individual territories are progressing, how overall sales compare to last sales period, and much more. Sales management can spend more time coaching reps to improve their sales skills as opposed to constantly gathering numbers.
Once the sales process can be visualized by everyone, it is often seen that it can be streamlined; there are steps in the process that are work-repetitious, extraneous or outmoded.
With such a solution, best practices can be shared amongst reps; when a salesperson finds a new method of more rapidly moving a prospect along the sales cycle, that method can be placed in the stage or stages of the sales process to which it applies. It can then seen by other reps utilizing it. While it is an age-old custom for reps to keep their sales techniques to themselves, they will soon realize that as they cooperate as a team, the better their progress will be in attaining company sales quotas.
Today the manufacturing sales force can actually obtain great benefit from a CRM solution. It is well worth gaining back the time and effort wasted with former solutions—that can now be fully leveraged to increasing sales.
Learn how such CRM tools can benefit your company. Sign up for one of our free webinars.