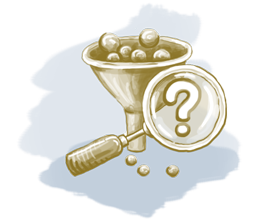 A well-defined, carefully measured sales funnel is one of the most powerful tools that an organisation has at its disposal.
That's because if you understand the metrics within your pipeline, you'll have access to the information you need to create more opportunities, generate more leads (from the right kind of customer) and encourage existing customers to buy more.
In addition, you'll be able to do all of the above smarter, more efficiently and more effectively.
But that's just a snapshot of why pipeline measurement is so important. So read on and I'll reveal six other reasons why it's super-smart to analyse and proactively measure your sales process.
#1: You can identify where your sales funnel leaks
If you're comfortable with the concept of your sales pipeline being a funnel (where new prospects enter at the top, and "closed" customers fall out the bottom), the next stage is to assume that this funnel has leaks.
That's because, for whatever reason, not all prospects are going to buy.
As a result, a percentage of fresh leads entering the top of your sales funnel will leak out at some stage. This inevitable fallout can occur for a number of reasons including:
They don't have the budget
They're not convinced your solution is the right one for them
It's not the right time for them to buy etc.
Once you accept that your pipeline is going to leak, the next step is to measure the fallout at each stage. If you do that, you can start to understand the places and even the reason(s) why prospects are not converting to the next stage.
In turn, you can then introduce solutions to plug those leaks with the intention of increasing your overall conversion rate. And with hard facts supporting the extent of the leakage, you'll be able to identify where to focus your efforts to get the best results.
#2: You can identify which prospects can be "recycled"
This second point is really important.
A lot of businesses focus on their closure rate – i.e. the number of customers that convert and emerge at the end of the sales funnel.
But because the sales funnel is always going to be "leaky", there are a much higher percentage of prospects who leak, rather than close. This means, if you want to increase your sales, a quick win is to explore strategies to "recycle" the leaky prospects within sales funnel. Remember. Just because a prospect has said no now, it doesn't mean the lead is a dead loss. Instead, it could simply be that the time is just not right. But in six months time, that lead may be ready to buy, and if they're still in your pipeline (and you have a strategy to stay in touch and follow up), when the time is right, you could close a sale.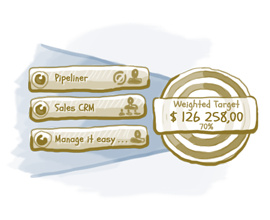 #3: You can create more accurate sales forecasts
Past performance is often a very good indicator of what will happen in the future. This means that if you understand what typically happens within your sales pipeline, you can predict outcomes based on inputs. For example, you can calculate how many raw leads you need to create the number of closures required to achieve your overall sales targets.
Without this understanding, your sales performance will be compromised because you'll be reliant on assumptions, guesswork and even luck.
#4: You can find out early whether there's a risk you'll miss your sales targets
Following on from the previous point, once you can forecast, you can quickly see whether you're at risk of missing your sales targets.
For example, if you know how many raw leads you need now to be able to achieve your sales targets six months down the line, you can take action if there's a gap. The ability to be proactive as opposed to reactive means you'll have far greater control over the success of your business.
#5: You can assess how individual team members/departments are performing
As a manager or business owner, you want to know how departments and individuals within those departments are performing. Metrics enable you to do this. From assessing the effectiveness of particular marketing output and lead generation campaigns to the closure rates of your sales reps, if you're able to set the right targets for your sales process – and then measure them, you can motivate your staff to perform at their optimum.
#6: If you can measure it, you can manage it
Without robust metrics and analytics, you're operating blind. It's almost impossible to make well-informed judgments about how to improve the efficiency of your sales pipeline if you don't know what's happening at each stage.
For example:
If you know which marketing strategies perform best at attracting fresh leads into your sales funnel, you can invest more time and effort into these (and cut back on the ones that don't work so well).
If your lead to qualified lead percentage is very low, you can review your marketing message and media to identify how you can attract a higher percentage of people who fit your buyer persona.
If you know your qualified lead to closure rate, you can identify which of your sales playbook tools and techniques are working, and where you need to make changes to improve your results.
But what should you measure?
As you can see, measuring your pipeline provides the raw information you need to be able to proactively manage your sales process to ensure you get better results.
And if this subject is an area you're interested in, watch out for future blogs where I'll be revealing why you need to measure these four essential pipeline metrics.
Total number of leads/opportunities
Ratio of leads to sales qualified leads
Quote to close ratio
Sales by contact method
 Over to you
But for now, what do you think? Why do you think pipeline measurement is so important? What metrics do you rely on to boost your sales performance?
Please let me know in the comments below.