The single biggest thing you can do to enhance the effectiveness and performance of your sales pipeline is to create a buyer persona.
It's a bold statement; so let me tell you why…
A buyer persona is a fictional avatar that best describes your ideal prospect. (And don't be restricted by having just one. Most organisations will have a collection).
The most useful buyer personas will capture an understanding of the ideal prospect on all levels – not just their job role, demographics or industry sector. Instead, they also develop a deep awareness of their day-to-day routine, challenges, goals and other insights into the type of person they are.
The main advantage of defining your buyer persona is you get a grasp of your prospect's buying behaviour. In turn, you can align your sales process accordingly, and communicate with prospects on a more meaningful level. And in doing so, your conversations with prospects become more relevant, which in turn increases the likelihood of you closing a deal.
And there are further benefits:
Once you know exactly who you wish to target, you can tightly hone your sales approach
You'll cut the time and money you spend on prospects who aren't a good fit
You can proactively prune the unqualified leads from your sales pipeline
It all adds up to increased performance and efficiency – and that's good news for your bottom line.
In addition, a buyer persona will give you the information you need to have more impact at the bottom of your sales funnel. And this can help you generate more leads. Here's how…
The dynamics of the buyer-seller relationship have changed
You've no doubt noticed that the environment in which you do business has changed significantly. Sellers no longer drive it. Instead buyers have the control and it's not unusual for a prospect to be very well informed at their first contact with a sales rep. This quote from the Harvard Business Review puts the change into perspective:
"A recent Corporate Executive Board study of more than 1,400 B2B customers found that those customers completed, on average, nearly 60% of a typical purchasing decision—researching solutions, ranking options, setting requirements, benchmarking pricing, and so on—before even having a conversation with a supplier."
In practice, this means if you want to increase leads and sales, you need to make an impact much earlier in the buying cycle. Prospects are now more likely to educate themselves by reading blogs, white papers and special reports or by seeking recommendations and reviews via social media. Your buyer persona will help tackle this challenge too. If you know specifically who you wish to target, you can tightly hone your inbound marketing efforts. In turn, your sales collateral can be proactively attracting your ideal customer right at the point when they're starting to independently explore solutions to the problem you can solve for them.
How to create a buyer persona
Now that we've explored the benefits of a buyer persona, the next step is to consider how to create one. The first point to make is it's not an easy five-minute task. The truth is it takes a lot of work, research and thought. That probably explains why a lot of companies either don't have a buyer persona, or have an ineffective one that's based on hunches and guesswork.
To get real value from your buyer persona it needs to be grounded in well-researched data. A good starting point is to interview your key clients on a 1:1 basis. You'll want to start with the basics such as their demographics, industry sector and job title. But then go deeper and uncover details including: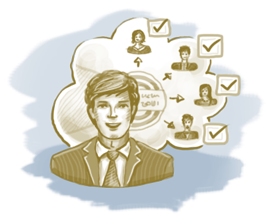 What is your buyer trying to achieve?
How do they make their buying decisions?
What challenges are they facing?
How do they think and what could they object to?
What will trigger them to take action?
Where do they go for information?
Once you've gleaned these details, the final stage is to translate your insights into an avatar story. Even better, attach a photograph of a fictional character to make the persona more real. Here's a fictional example of an avatar story to give you some ideas:
Sales Simon is 45 years old. He's married with two teenage children who live at home. He enjoys golf, caravan holidays and eating out with his wife. He's degree educated and heads up a busy 50 strong sales team at an IT company in the UK.  He worries about meeting his sales targets, and his biggest challenge is keeping his sales reps motivated and properly equipped with the tools they need to do their job effectively. Success means promotion, more money and more time with his family (he often works late). Simon is active on LinkedIn and Google+ and regularly reads industry magazines and business blogs to stay in touch. If he's planning to buy something he'll research on the internet and will make a final decision only when he's totally convinced it's the right choice.
Create or review your buyer personal today
Without a detailed, up-to-date buyer persona, your sales team will struggle to operate efficiently and to their full potential. So ensure they have the tools and information they need to do their job well and invest the time needed to create a buyer persona for your organisation.
What do you think? What's your buyer person? Leave your comments in the box below.