Fact. Without leads, there are no sales. Which means if you want your B2B organisation to thrive, you need to have an effective lead generation strategy. And with so many options to choose from, how do you decide what's right for you?
For sure you could stick with traditional strategies such as cold calling (which incidentally isn't dead), but in addition to that, it's smart to explore inbound tactics too.
Let me explain why…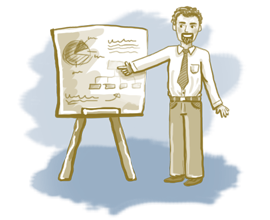 Inbound marketing is two pronged
Inbound marketing is concerned with creating and sharing QUALITY CONTENT that's designed to attract potential customers who are in the early stages of their buying cycle. Such people have identified that they have a need, and are proactively using the internet and social search to seek out answers to the questions and problems they face.
It means if your business consistently creates optimised content that provides solutions to the search queries your prospects are exploring, you'll increase the volume of visitors to your website. For sure you then have to convert some of that organic traffic into leads – but more about that later.
In addition, there's a second BIG benefit associated with inbound marketing. In addition to attracting prospects, you also have the opportunity to position yourself as the 'go to" expert in your niche. That's because carefully positioned content helps to build the "know, like, trust factor" – a crucial element when customers are making their decision about who to order from.
Three inbound marketing strategies described
There are lots of inbound techniques to explore, and the ones you choose will depend on the purpose they serve within your business. Here are three popular strategies that work well to generate inbound leads.
#1: ATTRACT with your blog
You could say that inbound marketing starts with blogging. That's because by creating highly relevant, educational content that matches the search queries your prospects are exploring, you can attract traffic to your website. In fact, blogging creates fantastic ATTRACTION content. In addition, you can also use your blog to position yourself as an expert. That's because your blog can answer the pressing questions and problems your target customers are tackling. And then when a reader decides they need your products and services, who do you think they will call first?
#2: CONVERT through your lead magnets and capture forms
If you're selling a complex product or one that requires a high level of investment (time or money), it's unlikely you'll sell at the first visit to your website. So take a step back and instead of selling, offer a lead magnet (incentive) that will encourage your target market to share their contact details with you, which you can add to your CRM.
eBooks, white papers, video series and special reports work well for this. These are a step up from your free blog content and usually cover a specific problem or subject in more detail. Your lead magnet offers two key benefits:
Firstly, you can showcase your experience and expertise.
And secondly, people are more likely to buy from businesses that they know, like and trust – and top-notch content is one way to position yourself as a trusted authority.
#3: NURTURE and close with your autoresponders and email marketing
Then, once you have contact details for prospective clients, you can follow them up. Autoresponders work well for this. You can drip-feed value content over time along with sales pitches. These will help identify the highly qualified leads from the pack, which your sales team can then work on.
Inbound marketing is a highly effective lead generation strategy, but there are some key challenges you need to overcome if you are to make it a success in your business. Here are five you need to consider:
Key challenges associated with inbound marketing
1.Time and expertise
The success of your inbound marketing is largely dependent on the quality of the content that you produce. And if you don't have the time or in-house expertise to craft content that attracts your target market, you could struggle to see a viable return on your investment. What's more, it can take time and energy to build an audience and create the momentum and reputation necessary to see your content shared.
2. Quantity
Whilst the quality of your content is always preferable to the quantity, you do need to adopt a regular publication schedule – it's the only way to ensure you are perceived as current and up to date in the eyes of your customers.
3. Poor lead capture data
Whilst lead magnets and data capture forms are a useful way to acquire the contact details of web visitors, there's no guarantee that people will share their best email address. What's more, they could even provide false information.
4. Slow conversion rates
Inbound marketing leads can take time to convert to a paying customer. They may have provided their contact data in return for your lead magnet, BUT they are likely to be a long way off taking out their credit card. Instead, you need to invest the time and effort needed to nurture the relationship and nudge them closer to a sale.
5. Reactive
Inbound marketing only identifies those prospects that are proactively searching for a solution to their problem. In addition, you'll only have a chance of converting those people who arrive at your website. It means there are leads that you'll miss.
How do you use inbound marketing?
Which inbound marketing tactics have you used within your organisation? What's worked for you? Please let me know by sharing your comments below.