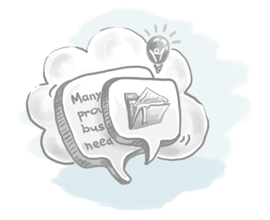 In this age of inbound marketing where quality content is said to be king, it's logical to think that cold-calling is dead.
In fact, this is a widespread myth that's penetrating sales at every level. But is it really true?
Well, it depends on your tactics. You see savvy businesses and sales teams are reaping significant benefits by taking a new approach to "cold-calling".  In addition to more highly qualified leads, they are seeing a sizeable return on their investment. So whilst content and other forms of inbound marketing must form a significant part of your lead generation strategy, it's a mistake to write off cold-calling completely.
Let me tell you why…
Is your sales strategy a turn-off?
In recent years, cold-calling has got itself a bad name. Interruption marketing where companies buy or rent a list, write a sales script and plough on through the rejections in the hope that the next caller will be interested has become less effective. In turn, businesses are wary about being perceived as annoying and unwelcome, and are instead exploring inbound marketing so they can attract prospects far earlier in their buyers' cycle. It means that some businesses have turned their backs on cold-calling altogether.
In comparison, there are other businesses that have dug their heels in, refused to accept the change in buyers' habits and continue to plough on with cold calls.
So who's right?
I suggest neither. That's because if you aren't employing outbound techniques, then you're most definitely leaving money on the table. And if you're continuing to make random calls to unqualified prospects, you're likely to face a wall of rejection. It means the solution is somewhere in the middle.
Introducing Cold-Calling 2.0
In his book, Predictable Revenue, Aaron Ross makes the case for a refined form of outbound lead generation called cold-calling 2.0.
Cold-calling 2.0 recognises the value of outbound marketing techniques BUT takes an entirely different approach. After all:
Making the field salespeople do cold calls means having your highest-cost (per hour) sales resource perform the lowest-value (per hour) activity. Aaron Ross – Predictable Revenue
Ross suggests that if you want to get a good ROI from cold-calling, you need to focus your time and energy on suitable prospects.
Make use of your buyer persona
The way to do this is to start by spending time researching and creating a detailed buyer persona. In essence, you want get a clear idea of the type of contacts you want to speak with and the core challenges they're facing. In addition, based on your experience to date, clarify the type of organisations that are the best fit for the product or service you offer. That way, you'll find any lead generation you do will instantly be more efficient simply because, right from the beginning, you can eliminate companies that are not a good match allowing you to focus on those prospects that have more potential. Think quality, NOT quantity.
Start with email
The next step is to completely review your approach to that first, initial cold-call. Traditional cold-calling is poorly received because the recipient of the call is not expecting to hear from you. Plus they may not even be a good prospect. So instead of calling, send a short, to the point email first. And when you do, focus on achieving one of two things:
If you're emailing a gatekeeper (or you're unsure if the email you have is for the most appropriate contact), ask for a referral to the right person to speak with. You can then send another email to the right person and either mention the name of the colleague who referred you or cc them into the note. Take this approach and you're far more likely to get the attention of the right contact.
Alternatively, ask what time and day would be best to schedule a quick chat to talk about how you can help solve their core challenge.
Make a call to continue a conversation
Either way, when you do pick up the phone, you'll no longer be talking cold. Instead, you can build on a conversation and relationship you've already started via email. In addition, because of your earlier research, you know the organisation is a good match for your business PLUS because you're talking with the right contact, the conversation you do have is far likelier to lead somewhere.
In summary, because of the wide acceptance of content marketing and the desire for people to educate themselves and find what they're looking for via social search, it's less efficient to cold-call unqualified leads. Instead, integrate calls into your sales process BUT support them with some form of qualification process upfront so you don't waste your time.
What do you think? How do you use cold-calling in your organisation? Have you explored the idea of using short, sharp emails to start the qualification process and locate the right contacts? Please let us know in the comments below.