What's the core of sales automation?
To automate, streamline and track daily routine sales activities.
Yet, an excellent sales automation system is much more than just facilitating sales reps.
Sales automation has grown to be an essential part of many organizations' marketing mix. Apart from taking care of mundane tasks like call scheduling, meetings, identifying prospects, or creating emails, sales automation is helping in:
Offering value to the customers
Turning raw leads into potential customers
And closing more deals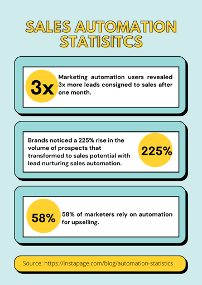 While sales automation delivers tons of benefits, many sales executives are still not aware of the sheer depth automation brings through the wide range of sales subtasks, nor of the treasure they can unearth.
But don't worry!
In this article, we'll explore the little-known sales automation secrets that can take sales professionals to the next level of developing customers' trust and credibility faster. Eventually, it'll help you close more sales faster, thus, massively increasing your revenue.
Before that, let's have a quick brief on sales automation.
What is Sales Automation?
Sales automation is about automating repetitive, time-consuming sales tasks that can be easily carried out by software, artificial intelligence (AI), and other smart devices. It's like running your sales machine while you sleep and waking up to systemized processes that lead to a greater number of sales. Businesses also automate tasks in a sales pipeline – a set of stages that potential customers pass through as they move from a stranger to a customer.
How does this help?
It allows your sales team to get rid of mundane tasks that can be automated and focus more on qualifying and closing leads. It frees up time for your sales reps to focus on things of greater importance-things that can get you more sales and grow your business.
Putting a sales pipeline in an automation mode can save your business enormous time and money.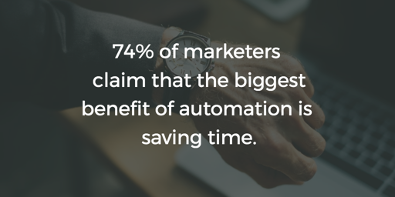 As automation successfully makes its way to the sales world, companies are unlocking new automation secrets to elevate their revenue and success. Let's see how you can use them to up your sales game.
3 Little-Known Sales Automation Secrets
By now, you know what kind of power sales automation holds for your business, so check out these three little-known secrets to empower sales automation for brand awareness and higher revenues.
1. Set Up an Automated Omni-channel Prospecting
Omni-channel prospecting is about putting each sales strategy, each tool, and each channel to work, interact and connect with prospects.
But wait, why everything?
Because potential customers don't just call you up and buy products, they land on different channels to find products and consume the information they need to make final decisions.
For example, one customer prefers emails, the other relies on a phone call, and the other switch to social media to get the needed information before they hit the "buy" button.
Approaching multiple prospecting approaches and channels enables you to reduce downturns in sales performance on particular channels. Let's say, if one month you couldn't generate leads from cold calling, your cold emailing will be there to compensate. Also, exploring various channels helps you multiply ROI.
In fact, according to a survey performed by Aspect Software,

Now, moving to an omnichannel prospecting approach is one thing. Knowing how to do it better is another.
Of course, you have to make the cold calls, send emails in bulk, and follow up continuously. All at the same time, which can be challenging. Plus, it's next to impossible to manually outreach all prospects, at the right time, with the right message, on the right channel, with adequate follow-ups to mark it a profitable strategy.
Enter a sales prospecting sequence to the rescue!
A sales sequence is a scheduled series of sales tasks like calling, emailing, social media messaging, and others conducted at a pre-planned interval during a particular period of time.
Here's what a basic sales prospecting sequence looks like: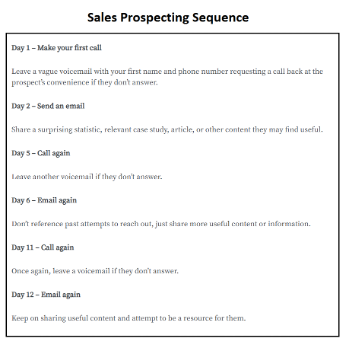 It takes approximately 6 to 8 sales touchpoints to generate a valuable lead. So the sequence shared above is an excellent way to jumpstart your omnichannel prospecting. But the sequence is not one-of-a-kind. It lacks personal touch and will take ages to put in place manually.
That's why you need to personalize your sequence and use automation tools to save time and reach out to maximum prospects with a better chance of getting conversions.
Succeeding with Automating Omnichannel Prospecting
Unlike enterprise clients, SMBs don't follow a determined buying process. They focus on customers and don't like to be disturbed often.
A survey revealed that SMBs are more comfortable with being reached out via email. This can be due to their desire to stay uninterrupted. At the same time, you can't limit your prospecting to emails only.
Considering your omnichannel approach and SMB's preferred channel to contact, here's an example of a sales prospecting series combining email, phone call, and social media connection you can follow:
Day 1 – Send your first email
Send something valuable, like a recent industry-relevant article or white paper.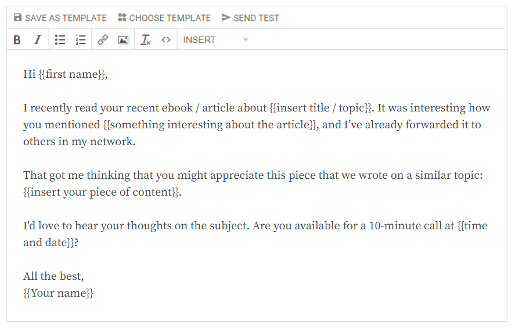 Day 2 – Connect with them on social media
Send a connection request on social media with a tiny message to headstart.
Day 3 – Try to Call Them
Give a phone call an early shot. Leave a quick voicemail if you can't reach them.
Day 4 – Engage with their social media activities
Whether it's LinkedIn, Twitter, or Instagram, find a considerate way to hop on their radar. Share their posts, retweet their tweets, comment on their posts, fire up a question, or even direct message them.
Repeat the process to continue your prospecting.
Lastly, automate it all in one sequence. Using an omnichannel tool like Mailshake will help you reach out to enough prospects using personalized messages on all channels.
Here's a glimpse of how Mailshake works: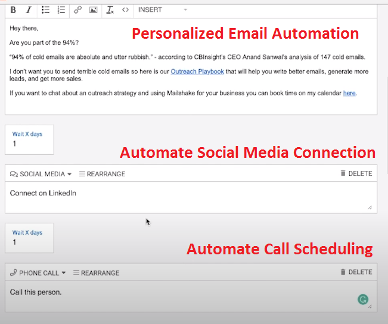 According to your industry, you can tailor your multi-channel strategy and arrange your sequence considering factors like customer's company size, communication choices, social media activities, etc. Don't forget to consider your experience with your prospects, and keep twisting and testing the strategies.
2. Add Dynamic Personalization to Your LinkedIn Campaigns
If you are in B2B and haven't started using LinkedIn to find prospects, now is the time to put this channel on top of your lead generation mediums.

While the data is awe-inspiring enough, sending the monotonous LinkedIn messages without any personalization or human touch can backfire. Prospects may lose interest to hear more from you if you bombard their inbox with "I do this" or "I do that."
A better option would be to combine your LinkedIn messages with dynamic, personalized templates and skyrocket your response rate.
What is Dynamic Personalization?
Dynamic personalization is content that adjusts to each customers' needs based on their past behavior, preferences, social media profiles, or other data. It modifies content to enhance customer experience and generates conversions.
As per the reports by HubSpot,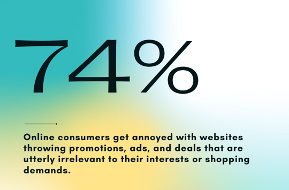 Adding personalization to your content will help you build trust, enhance brand awareness, and encourage repeat clients.
How to Add Dynamic Personalization in Your LinkedIn Campaigns?
Let's say you want to connect with Elon Musk on LinkedIn and tell him about your "Top 3 LinkedIn Outreach Strategies".
He must be getting thousands of LinkedIn messages per day. Here, you want to stand out and prove your distinct quality.
And what would be more alluring than using his LinkedIn profile picture on your outreach message?
So, let's assume you set up a dynamically personalized LinkedIn messaging campaign, and he receives this image straight in his LinkedIn inbox: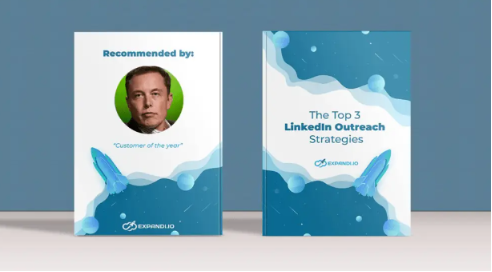 Guess what's unique about it?
You can use this feature in the same outreach campaign and ensure all your prospects receive their image in their LinkedIn message.
This is how dynamic personalization works.
You can automate the entire process with a tool like Expandi that comes with dynamic personalization tags for your LinkedIn campaign. These tags allow you to pick the precise information from a prospect's profile and add them to your LinkedIn messages.
3. Show Up in Your Email Outreach Campaign with Personalized Videos
Beyond images, personalized videos are the next interactive thing adding extra value to your content.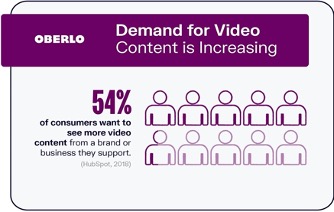 Videos bring prospects closer, especially if your videos are bound to solve problems or enhance results. You can even add a human touch to your email marketing strategy and make it stand out using personalized videos at scale.
The icing on the cake is you can record and edit personalized videos on the go by installing a viable video recording app from the app store. I prefer the BIGVU app to create videos as it shows the script on the screen that I can read and record video in real-time.
Like this: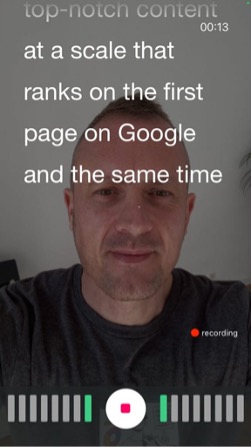 While it's easy to install a video on a website, emails don't have a similar facility. Another alternative is to develop a video landing page then insert the video URL in your emails.
BIGVU app lets you create a video landing page with a click.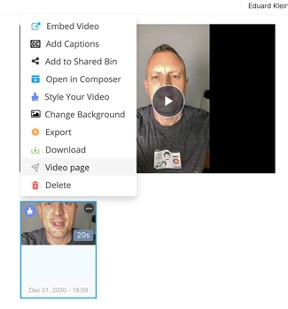 Your video landing page will appear like this from the BIGVU app: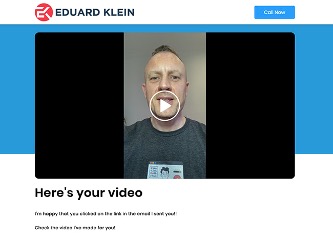 Now all you have to do is include the video landing page in your email outreach accompanied by a suitable headline like:
"Hello [FirstName], I created a special video for you."
For an additional touch, you can organize webinars personalized for your audience, and use them to educate them, and sell a high-ticket offer in the end. This will help build trust and give the audience a nudge towards converting and being a paid customer.
Final thoughts
Once you start recognizing leads' intent and action, it will become easier for you to nurture them the way they want through personalized content. Sales automation gives you the power to get more data to insert within your content at the click of a button. Start implementing the mentioned tools and let the results shout for themselves.
Bio
Eduard Klein is an International Digital Growth Marketer, Blogger, and Entrepreneur with a global mindset. He guides people through the process of starting and growing a digital business, and to ride the wave of digital technology and marketing without getting swept away.