The core purpose of Pipeliner could be summarized like this: To Raise an Army.
But we're not talking about the army in the military sense. The kind of army we are talking about can only be understood in the context provided by Austrian economist and philosopher Ludwig von Mises, who once proclaimed "Such an army has no weapons, no flags, no hymns, no uniforms, and no marching orders—only better ideas."
Ours is an army of salespeople, creating wealth and producing peace—the Austrian School of Economics outlines how trade has a peacekeeping component.
Why do we have this purpose, and what is the "war" in which we're engaged? What are these "better ideas?"
Equipping with Effective Tools
Every army must be well equipped—and we equip ours with the right tools to readily conquer their individual sales territories.
As anyone knows, it's not just about having any tools but having the right tools. If you are going to hang a picture in your house, you need a hammer to hammer in the nail that will hold the picture in place. But not just any kind of hammer—probably a small tack hammer. A sledgehammer, which is still a hammer, after all, wouldn't work because it would likely just put a huge hole in the wall. So again it is not just the tool but the right kind of tool.
We equip salespeople with the most effective tools for sales. Operating with the correct, effective tools means you can become highly efficient at what you do. These tools greatly assist you in organizing your communication, your tasks, your meetings, your work methods and—most importantly—your opportunities.
Unlike many traditional CRM approaches, ours is transparent. The salesperson has access to and can utilize the same data as the sales manager. The only difference is that the sales manager has user privileges that allow them to view all other sales reps, whereas a single rep can only view their own data.
We have a whole family of tools:
Cloud CRM
Our latest release is the most cutting-edge CRM offering available in the cloud today. It delivers a level of visualization and instant, dynamic insights unrivaled in the CRM space. It ensures a supreme user experience, a short learning curve plus high and rapid adoption rates.
Hybrid CRM
Our traditional offering that brings the best of both worlds – online and offline – together. For salespeople on the road who may not always have good internet access, Pipeliner Hybrid means you can continue to work whether online or off..
Mobile CRM
The most visual, efficient and robust mobile CRM on the market, so you can be ready and prepared to sell on the go wherever your selling journey takes you.
Email Extensions
Salespeople today work constantly in their email, so we provide powerful Pipeliner CRM extensions for both Gmail and Outlook.
Pipeliner Automation Hub
This provides the capability to create seamless flows of data between different systems using Pipeliner CRM as the core hub. From simple imports, migrations, point-to-point integrations to complete efficiency flows involving multiple systems and multiple pieces of data, the Pipeliner Automation Hub is revolutionizing efficiency.
Our first purpose, then, is to equip the sales force with the best available tools in our industry. This is one of the many factors that sets us well apart from—and well above—other CRMs.
Efficiently Educating the Sales Force
But we don't stop at simply equipping our sales force army with the correct and effective tools— it is equally important that everyone knows how to use them. This requires consistent education. Hence another of our core concepts, right from the beginning, has been to educate sales managers and sales reps with practical and insightful content.
One of the very first actions I took upon moving my company headquarters to the U.S. was to establish a content team within the company—for the specific purpose of educating salespeople and executives. In the last 6 years, I've personally published more than 40 ebooks, along with hundreds of articles that have received millions of page views, all aimed at educating readers. We have also established a partnership with the Center for Sales Leadership at DePaul University, and other universities as well and equipped them with Pipeliner CRM so that students can become better educated about CRM and sales.
We provide a never-ending stream of sales educational content in the form of video, blogs, audio, ebooks and more through our online magazine SalesPOP! Plus our analog platform, GO AHEAD!, provides education through in-person sales events.
But we don't only educate through external content—we also educate within the Pipeliner CRM product itself. Users are constantly learning, and through our in-product, context-sensitive help functionality can always learn more about Pipeliner.
Network Selling
Incorporated within our education mission is educating those in the sales field about operating in the age of the buyer, which is where our Network Selling Model comes in. This model is a wonderful illustration of how a salesperson sells in the digital age. From this we have created a very unique application: our Pipeliner Social Intelligence program, coming out in Q1 2019.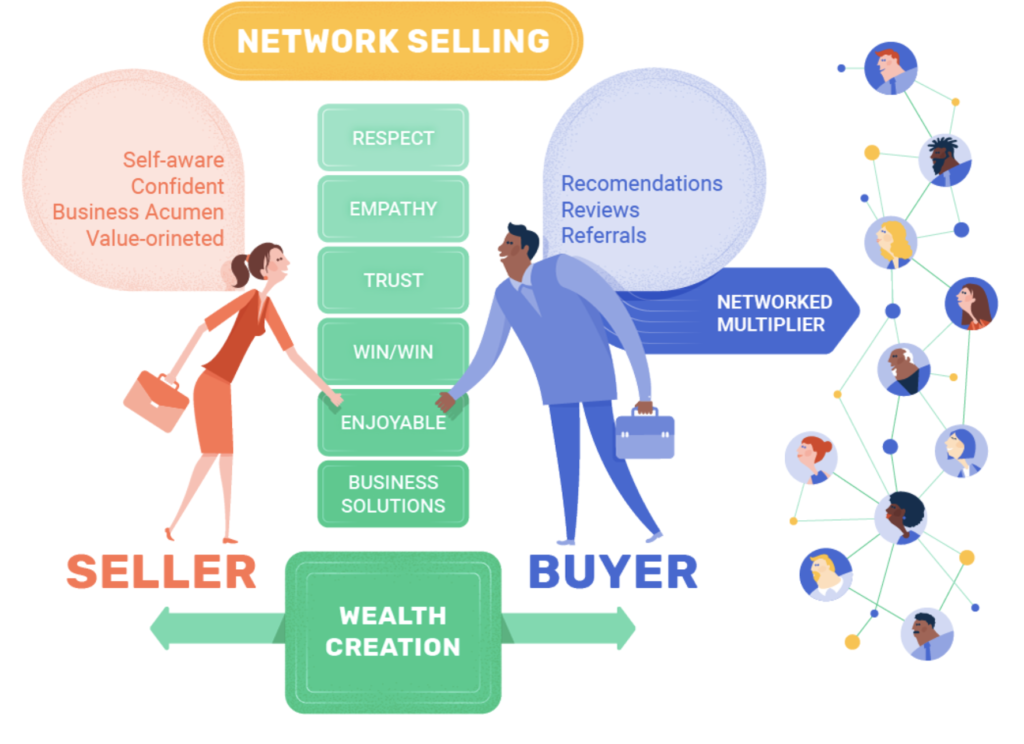 Constantly Encouraging the Sales Force
Once salespeople have been equipped with the right tools, and then educated on how to utilize them and about the sales landscape in general, our mission then becomes to encourage them.
And let's face it—they can use it! No other field of endeavor has as much rejection as that of a salesperson: an estimated rejection rate of 80% per day.
In the world of work, many people struggle and get discouraged. I draw the analogy of a person riding a racing bicycle: they're bent down in subservience to the people above them and are doing their best to pedal and push down others below them. We want to lift everyone up! While providing salespeople the right tools and education, we encourage them to be the best they can possibly be.
Each person has their own unique gift, their own personality. Each has their own purpose. We want to encourage this in everyone. By exploring a person's unique gifts, they can embark on the path of creative thinking, which opens the door to innovation. This doesn't necessarily mean product innovation (although it certainly could), but it does mean being innovative in the creation and pursuit of prospects and opportunities.
As I've said for years, a salesperson has an extremely important role in society: they are creators of wealth and producers of peace! The Austrian School of Economics points out that two nations happily engaged in trade will never go to war—and it's the salespeople that are the conduits for that trade to occur. We want to encourage salespeople to take on this role, and to do so proudly.
We want to encourage salespeople to find the best within themselves—to be able to stand up and keep pushing forward, overcoming obstacles day after day. We want them to never give up.
For many years I have referred to salespeople as "entrepreneurs within the enterprise"—or as a word I coined, salespreneurs. And this is the final characteristic I want to encourage salespeople to aspire to.
The Reason Why
Why do I believe it is so vital that we raise this army? I believe in this particular juncture in time it is critical — for if the world continues on the path we are on, we might not make it.
There are reports that 4.5% of the population works in sales. Estimating that the world population stands at 8 billion, this would mean at least 360 million are involved in selling. Think what would happen if this staggering number of people were all thriving, engaged in creating wealth and producing peace? Again, as we're told by the Austrian School of Economics, countries engaged in trade are not engaged in war.
One of the reasons we've always supported the open source movement within the programming community is that it is borderless. It is transnational. It is neutral. It is open to anyone, no matter where they're from.
This viewpoint must be taken to the world. We need to cease seeing our world as a collection of individual bickering tribes and realize that, in fact, we're all one tribe. The continuing effort of some tribes to overcome other tribes may very well end up destroying the planet in the end.
Take a giant step back, there are 168 billion (with a b) solar systems that have been mapped through the Hubble Telescope. We're but a tiny, tiny drop in a very large ocean, with extremely limited resources. We'd better take care of what we have.
The sales force of the world is the most overlooked, under-supported, underappreciated group on the planet—especially given its incredible potential.
Such an army creating wealth and producing peace, following the Network Selling Model, cannot but help to make everyone better. When someone spends their day respecting others, being empathic, earning trust and creating win-win situations, only positive results can come of it.
We Welcome You.
So how can we win?
We need evangelists to spread this vision. It's an extremely practical, solid vision that creates value everywhere it is spread. We pay these evangelists to spread the word.
When we get to know you and your work, you can move on up to be an ambassador. We then send you out as an ambassador.
If you are really committed to our sales army, you become a full-fledged salespreneur, and devote yourself to this pursuit full time.
In the end, what is our purpose?
To secure and prosper our planet!