A sales person's job is to promote the company, so we often take for granted they are excellent employee advocates not only in one to one customer discussions, but across their social networks. Unfortunately, data shows us this isn't always the case. In fact, aside from product specific information sales employees often lag behind other groups in promoting content important to the business.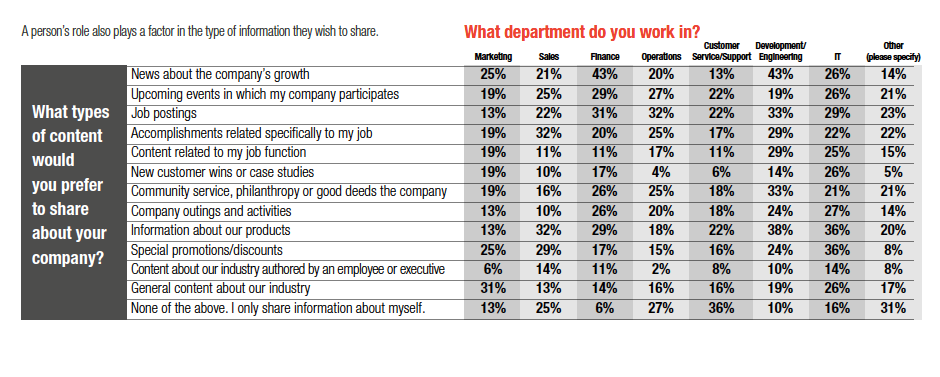 Yet we know that advocacy not only helps the company but also adds credibility to the person sharing content. This has become even more important as buyers rely more on social media to inform their buying process. Luckily, employee advocacy does not have to be left to chance. There are many things we can do to encourage word of mouth sharing that not only drives more brand awareness, but bolsters the reputation of your customer facing sales team.
To fully harness the power of employee advocacy we need to understand the ins and outs of what is holding employees back. To achieve this understanding we surveyed 499 people and learned who is typically sharing on social media, what factors contribute to their willingness or hesitation to share content and most importantly, what organizations need to do motivate employees to become advocates.
Who is active on social media?
According to the 2017: Employee Advocacy Impact Study, the majority of respondents, 78%, have said something positive about their employer to someone else directly, but only 27% have translated this into an online comment or review. 

Marketers might be tempted to assume the gap is generational, but that would be misleading. While, Millennials were most active socially, Generation X employees were close behind, and even Baby Boomers had a great deal of social activity.
If it's not just generational what drives the discrepancy? It turns out education, professional passion and where an employee worked (on or off site) were key contributors. When it came to high frequency sharers location is a particularly critical factor. Surprisingly, only 13% of those at a company location shared content with their social networks about professional interests between 4 – 10 times in the last month. Compared to 32% at a client location, and 25% traveling between client locations.
What obstacles distract employees from sharing?
The majority, 70%, of respondents use social media professionally but they report a variety of barriers. Luckily, any of them we as marketers can help them overcome with better content prompts and educational programs. 

As we saw from the sample responses in this article, not all sales employees are alike. Just like it is risky to treat all buyers the same, engaging employees with a broad-brush approach by function alone is ineffective.
However, there were two themes that were constant across all responses. Employee advocacy increased when written guidelines and training were provided. Additionally, when employees clearly understood the company mission and felt passionate about the organization, advocacy was more likely.
Harnessing the power of employee advocates is an investment that pays off in many ways. Read the full Employee Advocacy Impact Study to dig deeper into the findings and learn how to build a program that will engage more of your team.
How has your company engaged in employee advocacy? Leave a comment and let us know.
Pipeliner CRM empowers salespeople for employee advocacy. Get your free trial of Pipeliner CRM now.