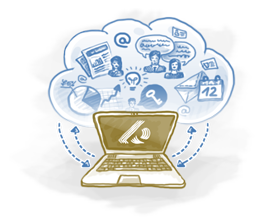 Christmas is the one time of the year when sales managers and reps can down tools and relax and recuperate.
After all, Christmas should be a time for friends and family.
But, if 2013 has been a busy year for you, you may want to take the opportunity to catch-up and get ahead. After all, once a task has been dealt with and ticked off, it can make you feel a whole lot better.
The good news is that cloud-based solutions and other sales management tools can revolutionise the way you can work. In reality, you don't need to be sat at your office desk ploughing through your to-do list. Instead, you can take advantage of the HUGE range of technical and software solutions to help you work smarter and achieve more.
PLUS, because a lot of the common tools are cloud-based, it means you can get up to speed from just about anywhere (assuming there's an internet connection).
Here are four of my favourite cloud-based solutions. They all help to take the stress out of remote working this Christmas, and I'd highly recommend having a dabble with them all.
1. Dropbox
Dropbox is an online storage facility that allows you to access your files from anywhere – not just your base PC or computer.
If you've experienced any of the following, then Dropbox is well worth a look:
Wasting time emailing files to yourself
Spending hours on a document only to discover it's not the latest version
Faffing with a flash drive
Getting frustrated when you don't have access to the file that you need
With Dropbox, all of the above become insignificant. Simply access your Dropbox space, and you can work on your most up to date files – from anywhere. PLUS because you can share access, Dropbox makes collaboration with colleagues or even clients effortless.
The good news is that it's free to set up a Dropbox account, and your first 2 GB of storage is free!
2. Evernote
Evernote is a quick and easy way to capture videos, notes, audio, web cuttings, images and files. These uploads are digitally stored making them accessible from anywhere.
For me, what makes this a smart piece of web tech is that Evernote will categorise and index all your collected information. PLUS, because it has a search function, you can quickly and easily retrieve anything that you need. As such, it becomes an easy way to collect ideas and inspiration on the go, and refer to them at a later date.
In addition, Evernote syncs across all your devices meaning the information you captured when out and about on your phone, will be instantly available on your computer or tablet.
I find that Evernote not only saves me time, but helps me work more efficiently too. Instead of covering my desk with scribbled notes, I can make a note on Evernote. In addition, this tool helps cut down on the amount of paper-based information I carry around with me. You'll find it's a powerful tool that helps you control information, stay more organised and work smarter.
So if you're spending Christmas away from home, there's no need to stress about the huge amount of paperwork you'll need to carry with you. Instead, if it's been captured in Evernote, you can relax knowing you can dip in and out when you want something.
3. Pipeliner CRM
All serious sales reps need a CRM system to manage their leads, contacts and track the performance of their sales pipeline.
During the Christmas downtime, you may want to do a health check on your sales pipeline whilst you make plans for the New Year. Pipeliner CRM makes this simple because you can access your account from anywhere in the world.
Pipeliner CRM is fun and easy to use. We offer a free 30 day trial making it easy for you to see for yourself how this software solution could enhance your sales process, promote efficiency and drive better results.
Pipeliner now integrates with Zapier making it even easier for you to link up all your favourite cloud-based solutions. In addition, because Pipeliner has smart analytics capability, you can quickly and easily get your hands on the information you need to check your progress, and make decisions.
To explore Pipeliner CRM in your business, get your free trial of Pipeliner CRM now.
4. Google Docs
Google Docs is an alternative to Office and allows you to create documents in the cloud. One of the big benefits of this tool is you can access your files from anywhere making it a great solution for Christmas remote working.
Another big plus with Google Docs is you can give access to other collaborators PLUS you can all work simultaneously on the document. In fact, it's an easy way to ensure you always have access to the most up to date document.
Will you be working remotely this Christmas? Use Cloud-based Solutions!
If so, what tools will you rely on to get everything done without taking up too much space in the suitcase! Why not let me know in the comments below?