What do sales strategies consist of? Ideally, a sales strategy would be a fully laid-out plan to achieve a particular sales target or company goal. It would be as precise as possible detailing the required steps, coordination points, types of marketing communications, and much more.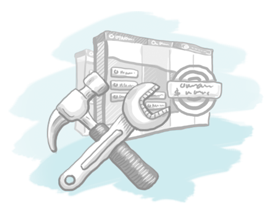 4 Sales Tools That Improve Your Sales Strategy
But underlying any sales strategy—as with anything—is the right sales tools to do the job. If those tools are missing, the sales strategy is not likely to make it to square one.
#1: Salespeople
Although this might easily be overlooked, the first sales tool is the salespeople. Sales reps are the make-or-break point of your sales strategy; it certainly has no chance of success without them.
In that salespeople carry the lion's share of your company's success, it is well worth enabling them to better do their jobs. There are numerous ways to do so, but an essential one is to give them relative freedom to find and cultivate leads, manage their sales pipelines and engage in closes. This freedom includes keeping administrative functions such as reporting to the minimum actually needed. Remember, any time salespeople are not selling is time during which your company is not making money.
Treat your sales reps right, give them everything they need to do their jobs, and your enterprise can only benefit greatly.
#2: Sales Strategies Need the Sales Process
Another sometimes overlooked sales tool is the sales process—the exact series of steps required to move a sale through the pipeline from a lead to a close.
An established sales process means that everyone is "on the same page." A new salesperson coming on board knows to take the same actions as his experienced colleagues—and knows what those actions are. Sales managers know what their salespeople should be doing, and can therefore manage them with reality. And last but not least, the wins of your champion sales reps can be replicated by those that follow.
Without a sales process, sales strategies will suffer—if only because of the confusion introduced by lack of an established pattern. Sales reps, too, will suffer as vitally important steps that could lead to a close will be missed.
Provide a sales process—one that reflects the actions of the most successful sales that have occurred in the company—and watch your sales reps and sales strategies succeed.
#3: CRM (Customer Relationship Management)
Another essential element to a sales strategy is the right CRM system. Flexible, intuitive CRM gives your sales reps the latitude we discussed earlier; it actually empowers them in finding sales, pushing them along the pipeline and achieving closes. In doing so, CRM helps assure the attainment of sales strategies.
An intelligent CRM can be configured to follow your sales process (sales pipeline) exactly. This means that data vital to a sale is entered in the right place. It can be retrieved again by anyone who needs it, be it the original sales rep, another coming in on that sale, or a manager looking over the statuses of various sales in the pipeline. Since the needed data is available, realistic analyses and forecasts can be produced that will lead to company expansion.
Wisely chosen and implemented, CRM also requires the least amount of time for sales reps to input data and create reports—leaving them the most amount of time possible to do what you hired them to do: sell.
#4: Skillful Combining
Finally, the intelligent combination of these sales tools is what allows sales strategies to succeed. Sales reps that are enthusiastic about doing their jobs because they are empowered to do so; following a sensible sales process composed of previously successful sales actions; through an intuitive, easy-to-use CRM application that mirrors the sales process and eliminates confusion and unnecessary reporting time.
This is how sales strategies are achieved.
Stay tuned for more articles on achieving success with salespeople and sale strategies.