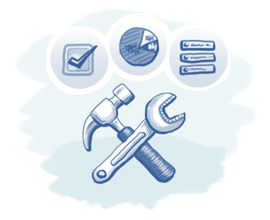 It would be wonderful—at least for some—if everything could be automated as has been done in factories. A complex machine such as an automobile can be put together practically from scratch along an assembly line, and there's never a human hand involved. Computer-driven robotic precision goes into every rivet placed, every weld dropped. And with this complete automation comes the virtual elimination of human error.
There are days when a sales manager, with say 10 sales reps under his or her charge, sure wishes their sales force could run like that. Salesforce management in those circumstances does not have time to monitor each and every call made, or sit in on meetings with prospects, to get a handle on everything that is going on. That manager may wonder why, oh why, can't we just automate it all and be done with it?
Indeed there are conditions under which sales can be completely automated. But there are others in which—no matter how hard anyone tries or wishes—it's just never going to happen. And as it turns out, it's actually for the best.
"A Sales Machine"
In the early to mid-1990s, when inexpensive micro-computers really started to take hold, it became the dream of many to create "sales machines." This took the form of scripts, tightly controlled sales processes, automated dialing schemes and metrics that could monitor sales reps as closely as possible. Sales calls were even recorded to make sure that scripts and methods were exactly followed. It is certain that some—especially in larger companies—were aiming to have operations similar to those in manufacturing; although humans were present, all they had to do was follow exact patterns and the outcomes were virtually assured. Salesforce management was just there to make sure the patterns were strictly adhered to.
Such methods might have worked with B2C sales and in some cases did, especially when the prospect was in the market for one particular item and selling to them was fairly straightforward. In fact today we have completely automated sales cycles and schemes such as those used by Amazon. In addition to "selling," they can even make recommendations for customers based on what they've bought before.
But try as they might, no one has ever been able to make such a model work for B2B sales, especially with more complex or tailored products and services. No matter the detail of the sales process, the precision of the metrics or the scripts attempted, sales management continued to observe with some frustration that some reps did great and others didn't. Some met or exceeded quotas and others fell behind. And no "machine" could fix it.
The Human Factor in Sales Force Management
Fortunately, the reasons for this failure of "the sales machine" in B2B sales process is now becoming all too clear. Insight selling is the phrase of the day—in which a sales rep utilizes specific insights into a prospect's issues and needs in order to get a product or service sold. The only way insight selling can possibly work is if a live salesperson is paying attention to a prospect, listening carefully and providing the right answers. While science fiction abounds with computers that could perhaps perform such tasks, none have yet made their way into a sales force.
Sales management has come to realize that the best thing they can possibly do is to hire a competent sales force, acquaint them with successful methods utilized in selling the company's products (i.e. the sales process) but then stand aside and let them get the job done. Certainly, sales analytics should be employed to measure success or failure at various stages of the sales process and to monitor reps for strength or weakness. With such metrics salespeople can be coached to be better, backed up with assistance or tags as needed, or placed in jobs where their strengths can be better utilized. But in the end, what actually wins is what we were trying to defeat all those years ago—the human factor.
Now that sales force management has a handle on that human factor, it can be exploited—to a company's major profit.
It takes the right CRM solution to accurately monitor insight selling. Sign up for one of our free webinars and find out all about it.