It"s been stated in every article in this series, but it cannot be repeated often enough: a flexible, intuitive CRM (customer relationship management) system is vital to sales activities in any company. But it is well worth taking a closer look at the person most affected by a CRM—the sales rep—and how you can get your salespeople fully on board with using a CRM.
A Sales Rep Sells
As with the first point about the importance of CRM, the statement that "a sales rep sells" might seem overly obvious. Yet everyone dealing with salespeople—their managers, executives, training officers, HR—might find that they may have to remind themselves of this fact from time to time: the reason that sales rep was hired was their unique qualification and ability to sell.
Sales reps watch carefully for anything that might be construed as a lead. They qualify leads, turning them into interested prospects or prospect companies. They make personal visits. They provide any additional information needed, including product demonstrations. They speak to others in the prospect company to move the sale along. And, when the time is right, they go for the close.
If a CRM system is in place at a company (and these days most companies have at least some semblance of a CRM) salespeople are required to interact with it. The time it takes to do so must be spent wisely. How difficult is it to enter accurate and vital information that will
help move the sale along and
inform management and others of how that sale is going?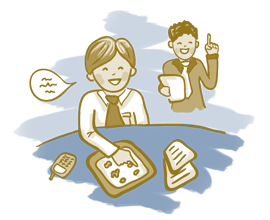 The time spent using CRM is time spent not selling. Therefore that time should be minimal, and as well result in value that transfers down the sales pipeline resulting in a closed sale. That time should not include having to figure out where to enter data, or having to spend extra time trying to locate a vital piece of information, or the like.
Sales Process and CRM (Customer Relationship Management)
Many companies today have an established and used sales process (if they don't, they should establish one as the very first order of business). While that sales process is of the utmost importance, of equal importance is the reflection of the sales process in the CRM.
When a CRM follows the natural progression of the company's sales process or sales pipeline, that is what makes it easy for a sales rep to record the right information in the right place. That also makes it simple for the same or a different sales rep to find that information again when it is needed.
The further a CRM departs from the actual sales process, the harder it will be for sales reps to use the CRM. This can and often does result in the salesperson utilizing methods outside of the CRM (such as Excel spreadsheets or even sticky notes) for tracking sales and leaving themselves reminders. While these methods may be fine for the rep, the data recorded with them—which can be vital to other salespeople or sales management—is totally lost.
Ease of Use
Another factor that influences the use of a CRM by salespeople is its ease of use. How easy is the CRM to learn? How easy is it to record and find information in the CRM database? The choice of a CRM by a company should take ease-of-use into account as a high priority. If sales reps don't use the CRM or use it begrudgingly, how valuable will its information be?
Sales Rep Willingness
All of the above points influence sales rep willingness to actually use the CRM and to make it the stable, singular repository for all information relating to sales. That willingness has to be there from the start and remain—and layers of rules and penalties will only erode that willingness, especially if the willingness is already absent. The solution is a flexible, intuitive CRM (customer relationship management) application that makes it simple—perhaps even fun—for a sales rep to sell.
Stay tuned for more in our series on CRM (customer relationship management).