Sales and Marketing Alignment Can Enhance the Sales Process and Close More Deals
---
It's no longer the case that sales have full responsibility for the sales pipeline. That's because according to recent research by SiriusDecisions, buyers can be more than two-thirds of the way through their initial research process when they decide to seek the input of a sales rep.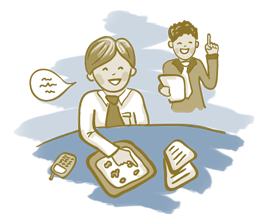 What this means is the need for sales and marketing to work together has increased.
In particular, there's a greater need for marketing to leverage more influence over the conversations happening during the early stages of the B2B sales process. In particular, the parts of the cycle that happen independently of direct contact with sales reps.
So how can a close integration of marketing enhance the efficiency of the sales pipeline and help sales reps close more deals? Here are three key reasons revealed.
#1: Lead qualification Between Sales and Marketing
One of the most contentious discussions within the sales process and between sales and marketing is what constitutes an enquiry and what constitutes a "sales-ready" lead.
And here's the problem.
Sales reps are more likely to achieve their quota if they are handed hot leads. Therefore it becomes a problem if marketing focuses on quantity or continually attracts the wrong sort of prospect. That's because sales reps will find they waste too much time and effort talking with leads who are not in a position to buy. Even worse, they won't invest the time and effort needed to close the leads that marketing does generate.
The solution is to put a check in place to properly qualify leads BEFORE they are passed over to sales. For example, a best practice solution is to introduce an agreed system for scoring and grading leads to ensure the right opportunities are passed over to sales for lead nurturing.
Qualification within lead generation works best when sales and marketing work together on the definitions. There needs to be a consensus as to what constitutes a real sales opportunity and what the key indicators are. Then, with a clear process and qualification system in place, marketers can focus on attracting more of the right type of prospect. In turn, sales can invest more time nurturing relationships with people who have a high chance of converting.
There are further company-wide payoffs for focusing on this.
For example, highly qualified leads are likely to progress through the sales pipeline (or a funnel) far quicker than a poorly qualified lead. This is a significant advantage because research suggests that the longer an individual stays in a pipeline, the less chance they have of converting.
In addition, a highly qualified lead is likely to convert quicker. In turn this reduces your cost per sale. But perhaps more importantly, frees time-pressed sales reps to focus on nurturing more deals and closing more sales.
#2: Marketing automation
Marketing automation can have a profound impact on the sales process. The most obvious benefit of marketing automation is its affordability. It's far less labour intensive that constant human contact, and therefore injects scope to deliver scale.
Marketing automation software (linked to your CRM), can be used by marketers to prepare messages designed to nudge prospects along the sales pipeline.
In addition, because marketing automation software is now so sophisticated, it's possible to issue highly personalized messages, scheduled to arrive at pre-determined dates and times. In addition, marketing automation holds the scope for smart database segmentation. This means different messages and offers can be scheduled in – and the results can be observed and tweaked to enhance performance and return. Such sales contact management and segmentation can help you stay on top of your customer relationships.
Marketing automation works best when it applies to the whole marketing process and not just emails. Autoresponders are the most obvious usage, but sales calls can also be scheduled in along with text messages, direct mail and other forms of "touching base" with your list.
#3: Staying in touch
Finally, marketing can help enhance the sales process by ensuring your business stays on the radar. After all, it's not your customer's job to remember to do business with you. In comparison, you need to remind them.
The risk is that sales reps will focus on the "low-hanging fruit". After all, these prospects have the highest chance of converting and are the easiest way of ensuring a sales rep gets ever closer to his/her quota in much less time.
But the risk with this strategy is there will inevitably be a high percentage of prospects who may buy – but just not right now. And if these people are "left", the likelihood is they will get forgotten and leak out. And once this happens, they are at risk of getting picked up by the competition.
In comparison, if marketing creates plenty of well timed "keeping in touch" material, dormant leads could be reactivated and become hot (and in turn, a sales rep can jump on these). In addition, marketing can keep a close eye on prospects who leak from the pipeline and create incentives and opportunities to recycle them back in.
And the end result is your sales pipeline stays fuller for longer. Plus, your marketing generates a higher ROI.
How has the alignment of sales and marketing enhanced your sales process? What tactics have you used to generate more leads and close more sales? Please share your thoughts in the comments below.