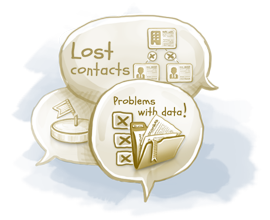 Expansion of a business occurs either through hiring more people, or increasing the capacity and the abilities of those currently on the job. Obviously true expansion occurs through a combination of both, but far too many only take the first approach. Not only is this the lazy way to go but in today's internet-enabled competitive marketplace simply increasing the numbers doesn't cut it.
Narrowing the focus to the sales force, it will be found that the same holds especially true there. Just increasing the number of sales reps without also improving the skills of existing salespeople means closing ratios remain relatively static. That is no way for a business to meet—and more importantly, exceed—its sales goals.
The key to improving the sales force is through coaching from sales management. While this has been known and discussed for some years, what might not be so obvious is the importance of sales analytics to the process.
Here are four ways to improving sales force skills through the use of those analytics:
#1: Operate on Fact, Not Opinion
Much of the time a sales manager is someone who has been promoted from the sales rep position due to his past success in sales. This makes sense as the sales manager clearly knows what it takes to obtain closes. But a sales manager who only has his intuition, maybe opinions and comments from fellow sales reps, and his ability to evaluate on the fly, runs the risk of mis-coaching the sales rep from erroneous information—thus setting that sales rep up for possible failure. Those opinions may not be correct and that salesperson attempting to put those opinions into practice may not improve or, worse, not succeed.
Additionally such assessments may not even address the actual mistakes the salesperson is making. This is especially true if detailed facts about the sales rep's performance are not available and can only be gleaned from occasional observation, secondhand accounts or sales rep discussions after the fact of a failed close.
#2: Only Utilize Sales Analytics
Precision sales coaching begins only when factual information is available. The sales manager must be able to view the salesperson's performance in actual numbers, and provide feedback against proven benchmarks. That information comes from detailed sales analytics.
When this methodology is used coaching can be conducted with higher confidence both from the sales management and sales rep perspectives. The sales manager is utilizing unarguable statistics, and the salesperson knows it's not opinion but fact and is able to see that these are areas which in fact do need improvement.
Once trouble areas are isolated and coaching has been done, sales analytics also provide the yardstick for measuring improvement. Without such analytics the only measure is a higher dollar value of closed sales; that may or may not reflect an actual improvement in closing ratio as the rep may have had higher-value leads for that month as compared with the previous month. A more detailed and accurate set of metrics is needed.
#3: Operate Straight from the Sales Process
It has become well known that an established sales process—the exact series of steps a sale goes through from lead to close—is a requirement for a competitive sales force skills improvement. But there is something that could almost be a natural law involved here: A sales process is only as good as the sales force masters it. Along with this it could also be said that the sales process must be mastered by sales management in order for effective coaching to occur.
The sales process provides the agreed-upon roadmap that all of a company's sales reps follow. Because of this, it is also the method through which salespeople can be coached; it can be easily seen and agreed-upon where a sales rep deviated from that successful roadmap.
For a sales process to be fully effective, coaching must occur first on the understanding of the sales process itself, and then forever after in and around that sales process.
#4: Have and Use an Adequate CRM Solution
As has already been stated, true sales coaching can only be accomplished with timely and accurate information. That timely and accurate information can only be obtained from a flexible and intuitive CRM solution.
First and foremost that CRM solution must accurately reflect the company's sales process. In fact, it will actually be found that the data for coaching will only be as accurate as the CRM does reflect that process.
Second, the CRM application must provide accurate sales analytics that measure that sales process.
Although mentioned last, the issue of the CRM solution is actually the most important; without it, none of the other points can occur at all.
Utilize these basics in improving your sales force skills levels—and watch your sales figures improve month after month, quarter after quarter.
Look for our other articles on sales analytics and improving sales force abilities.