7 Cold Calling Tips for Sales Success in 2019
Many people in business circles believe cold calls have become ineffective. It's true that the effectiveness of cold calls is lagging behind other forms of marketing. It may be the case that cold calls rely on the person behind the phone too much. 13% of sales rep turn in 87 of profit. This means either cold calls are ineffective, or these sales reps know something others don't.
We'd argue, the latter is true. Society has changed a lot, and you can't use the techniques from the previous era. Here's how you make your cold calling strategy up to date.
Make cold calls warmer
Wait, isn't it cheating? Yes, it is. In this game, you have to cheat to win.
The thing is, many business people don't have the time for cold calls. They will straight up hang up on you or won't pick up the phone at all. Often, you'd have to make up to 15 calls to start a conversation. The result is that by the time you're finally talking to someone who's willing to pick up the phone, you're so irritated by waiting on the line and leaving voice mail, you can't get into your sales spirit and lose the sale.
That all applies to unsolicited calls. If the person who hears your first "Hello" has an idea of who you are, you have more chances to reach your goal. Here are three ways you can do that:
Send a cold email first
Mention a common contact
Call soon after a lead leaves their number
Sure, it would be perfect if everyone you have to work with visiting your site and leave their number first, but even dropping an email before the call helps.
Do your research
You can't have a successful sales team without researching everything about the company you're about to call. Having knowledge about them can mean the difference between being rejected and hitting a pain point in the first minute of the call.
Study the lead's social media pages, LinkedIn page, and news about them. This will help you start the call with "Hello, Mr. Fletcher, thanks for the speech at the conference in LA, it's a shame I couldn't have a chance to speak to you there," not with "Hello, let me tell you about this amazing product we have."
Anticipate the sales funnel stage
Here's another tip on prior research. Use the information you've gathered on the lead to make a judgment about their stage on the sales funnel. Do they even know that they may need your product? Are they actively seeking? If the lead actively posts ineffective posts on their Facebook page with 200 subscribers, you'll have to do a lot of explaining before making a sale.
Tailor your sales strategy to fit every lead. But don't get stuck in the plans, be ready to change it on the go, if you understand your first impression was wrong.
Call at the right time
Of course, the best time to call a lead is when they've left their personal number on your website. Unfortunately, you're not going to have it that easy. But calling at the time more people are likely to pick up the phone is going to help conversions a lot.
Some studies say it's better to call on Tuesdays or Thursdays in the evening, some say Wednesday afternoon is the golden hour. In reality, these studies may be irrelevant to your business. Figure out the time your leads are more likely to pick up and focus your efforts on it.
Make a bold promise
Talking for a solid minute before the client gets to see the gist of your offer is not a good option. To create the best cold call script, illustrate your offer with a bold, factual example. For instance, if you're selling furniture try "We're going to make furniture at your cafe Instagram-worthy for half the price any competitor would. Should I book a visit to our store?"
Ask about objections
Imagine what your call script must feel like for the client. You object to a sale, and you hear "No, you're wrong, let me explain why." Not the nicest thing to say, is it?
Be gentle with your client's ego and ask a question instead of confronting them, even if they're actually wrong.
Don't tire C-suites
Many salespeople get stuck on the gatekeeper. They talk to the secretary, get asked to send an email first, and the interaction stops there. But learning how to get past the gatekeeper is easier than you might think. The hard part is talking to the decision-maker. Most salespeople start going through the standard discovery phase. The problem is, the more questions you ask a C-suite, the fewer chances you have to succeed.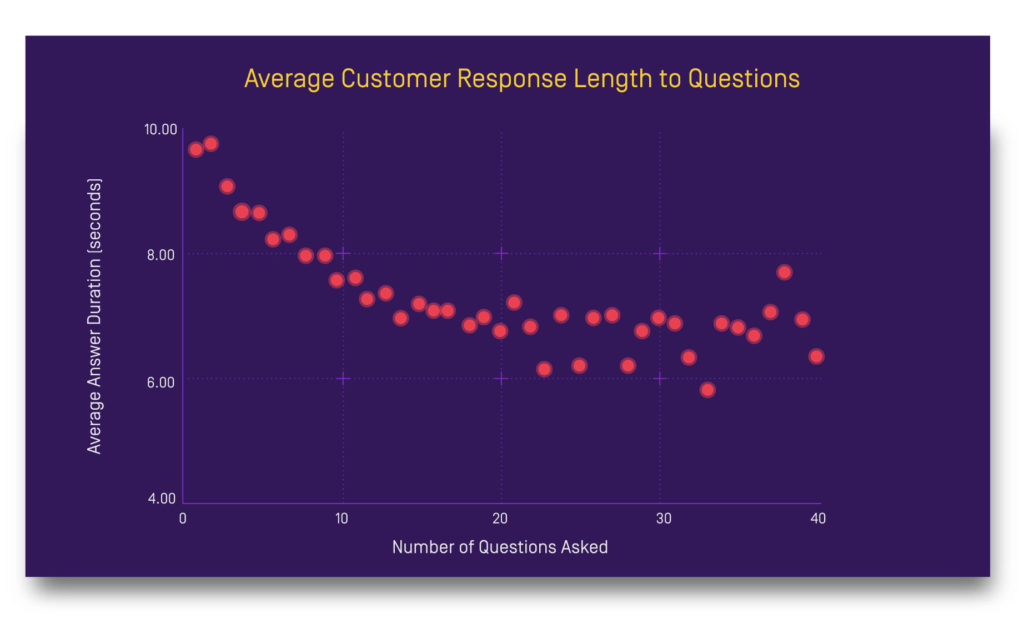 Source:Gong/LinkedIn
These people are decision-makers, so talk to them when they have to do their job, make a decision about working with you. Talking to them to learn about the company is going to get you nowhere.
The art of conversation
Cold calling is more difficult now that people are more willing to check their Messenger than to pick up a phone. Many of the key decision-makers at big companies are still open to a conversation with a stranger that may result in partnership.
Use these tips to adjust your cold calling strategy, and see that this marketing strategy is far from being dead.