On a recent podcast, I was discussing digital processes with a guest and we agreed that while most companies had acknowledged the need to optimize and digitize many of their core processes, most had not gotten around to actually doing it.  The reality is when things are going well most people felt they could live with a little inefficiency and some manual processes without too much impact. Even before the current crisis, this was becoming less and less true because of the rapid pace with which business was evolving and the explosion of SaaS technologies meant that the digital infrastructures of most businesses were growing at an almost exponential rate.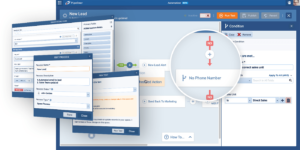 Now with the current pandemic upon us forcing many businesses to go virtual and ever more digital literally overnight, digital processes can no longer remain bottom of the "to do" list. The most obvious place to start with automating digital processes is the revenue end of any business because that is where the eventual recovery will be generated from. In other words, companies need to ensure that their CRM system is setup to be the operating system of their business and that it is optimized for efficient use by salespeople. As we know CRM adoption has always suffered given the complaints that salespeople have about manual work and data entry while at the same time sales management complains about sporadic use and lack of consistency by those very same salespeople.
At Pipeliner, our mission has always been, and remains, the development of the most effective sales CRM and over the years we have steadily addressed many of the issues that users had with legacy systems or superficial solutions. We have led the industry with the visual nature of our product combined with an unrivaled process engine and have experienced adoption rates that have amazed our customers. But just like any other truly pioneering solution, we never rest on our laurels as we know there is always more we can do to make Pipeliner CRM the operating system of more and more businesses.
To this end, we have released a "no-code" automation function called Automatizer with a point-and-click interface to allow Pipeliner customers to create automated processes within the CRM. One of the greatest challenges in Sales is the number of variables, data points and inefficient processes that can slow down and impact the sales cycle. Resulting in lost productivity and worse, lost sales! Now with the use of conditions and triggers, many of these processes can be improved and automated allowing everyone in sales to focus on more high-value activities while increasing efficiency, focus, and output.
Some of the ways the Automatizer workflow automation drives greater efficiency is by:
Scheduling tasks
Triggering alerts
Automating emails
Reducing human error
Pipeliner will be bringing even more automation features and capabilities to Automatizer in the coming quarters as part of its commitment to being at the forefront of enabling much needed digital processes.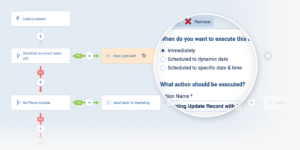 To Learn More Visit The Automatizer Page on Pipeliner CRM