Conducting exit interviews has long been part of the 'best practices handbook' for HR professionals.   While there is without a doubt tremendous benefit in conducting exit interviews, sitting an employee down on their last day and asking them why they decided to leave is a classic case of "Too little, too late".
In a typical scenario, the exit interview will point to the problems a departing employee had, that ultimately resulted in their resignation. These issues may or may not also be areas of concern for other employees. The obvious problem with this strategy is that exit interviews gain insights into problems that an employee er experienced after he or she has already made the decision to leave.
This is why the practice of consistently doing 'stay interviews' is quickly gaining popularity.
Below, we'll discuss stay interviews, their benefits, and how to do them right:
Why Conduct Stay Interviews?
Rather than learning about why an employee has resigned, stay interviews help management understand why their employees choose to work with them.  Finding out positives that resonate with employees allows management to continue to provide those benefits that are viewed favorably.
They additionally offer the priceless opportunity to correct issues before they turn into big issues.
Stay Interviews message to the workforce that they value them, place a high degree of value on ensuring that their employees enjoy their work, and are willing to invest the time on learning about any issues or concerns on a regular basis.
Best of all, these interviews are done when there's no sign an employee will be leaving the company. This gives management plenty of time to see potential problems coming—and resolve issues before they can become deeply entrenched in the workplace.
The Benefits of Stay Interviews
Stay interviews offer the following advantages:
They're Highly Personalized
Unlike the common retention strategies adopted by companies, stay interviews begin at the individual level. Common themes may start to appear after many such interviews, but there's no "one size fits all" strategy being implemented without individual employee input.
They're Action-Based
Exit interviews are all about what went wrong. In contrast, stay interviews focus on what's going right and most importantly, what can be improved.
As a result, management can work on preventing problems before those issues result in losing top talent.
How to Conduct Stay Interviews
Here are a few tips for conducting effective stay interviews:
Ask the right questions. Questions in a stay interview should be open-ended. They should go beyond surface-level queries and delve into the employee experience.
Discuss an employee's motivation and engagement in their current role. How happy do they feel about their work? Do they feel that they are offered a clear career path? Would they say their work is fulfilling? If not, what are a few changes that would help?
Focus on ACTIVE LISTENING! Taking someone's time to help you offer a more satisfying work environment is a gift. Ask your questions and then give them your full attention to hear what they are willing to share.
It certainly pays to spend time on the positives, but not at the expense of ignoring the negatives. Aim to learn as much as possible about the employee's concerns and where they're coming from.
Ask the employee for suggestions on solutions to their complaints. Not only will this practice potentially offer some terrific suggestions, it also empowers the person to become involved in realistic steps to make things better.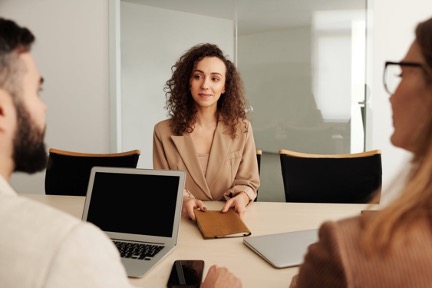 International Search Consultants has been a leader in providing executive recruitment services with over  21 years of experience. Our executive recruiting services help you find the right person for high-level roles in sales, finance, HR  and operations. Request a search today to fill open positions in your organization and contact us for further information.
Ann Zaslow-Rethaber is President of International Search Consultants. You can reach Ann at 888-866-7276 or AnnR@iscjobs.com.