Businesses are utilizing technology to do jobs that we previously thought only humans could do. From keeping track of customers to generating marketing content to communicating with clients, technology is starting to free up human employees for other tasks.
Chatbots are now widely used as both customer service and sales automation channels. They have allowed companies to convert leads to customers faster while reducing lead conversion costs. This guide will walk you through a few ways businesses use chatbots to automate their sales processes.
What is a Chatbot?
At its most basic level, a chatbot simulates natural human conversation to give useful information, answer customer queries, and resolve user issues. You have probably interacted with a chatbot while doing things online.
Most business Facebook pages, for example, use chatbots to communicate with users. Aside from social media, most lists of landing page best practices include chatbots as crucial components of a brand's marketing funnel. You can test the value of adding a chatbot utilizing A/B testing and applying CRO to maximize your conversion rate.
Many experts believe that chatbots already handle a significant proportion of customer management processes, including relationship management and customer service. Moreover, chatbots are increasingly being used to automate sales processes. Let's look at some ways of using chatbots more efficiently for sales automation.
Rethink and Improve Chatbot Touchpoints
Customer touchpoints are unique points of contact between your brand and customers. Chatbots have the potential to change the way customers experience sales touchpoints. If you're planning to build an ecommerce site or start a blog, you can use chatbots to engage with your audience, thus allowing your brand to build stronger bonds with customers.
Big-name brands like Domino's Pizza, for example, have begun to program their AI chatbots to carry out natural conversations via mobile messaging channels like SMS and Whatsapp. Aside from answering customer inquiries, Domino's Pizza chatbots can also take orders and facilitate payment, right from the customer's instant message box.
Chatbots can also increase the number of customer touchpoints at the post-purchase stage. For example, you can use a chatbot to send order tracking information, contact details, or a link to a page where customers can report lost or damaged orders. All three options offer the opportunity for you to engage the customer again and open the door to future purchases.
Leverage Upselling Potential
Upselling is to sales what social media is to marketing – both are essential aspects of their respective disciplines. Upselling is the process of getting customers to purchase a more expensive product or subscription plan than the one they originally planned to purchase.
Most brands and businesses are already thinking of upselling as part of the buyer journey, and automated chatbots are helping them perform upselling by offering add-ons or upgrades to the purchases they process. If programmed correctly, a chatbot can use customer transaction histories to upsell suggestions at the point of purchase and beyond.
Increase Customer Engagement
Customer engagement is an essential metric for all brands today, both for converting and retaining their customers. Chatbots are changing the way brands engage with their customers as they are available 24/7 and cost a lot less than maintaining a fully-staffed contact center. Chatbots also promises a lower learning curve than human agents, which means that brands can roll out new updates or instructions a lot faster.
While there was some resistance to chatbot engagement during the technology's infancy, today's customers are more open to talking to a non-human entity. More than 70% of internet users are now willing to get assistance from automated chatbots as they provide a customer experience that's approaching a human-like level of support and knowledge.
The number of people who engage with chatbots will increase over the next decade, either knowingly or unknowingly, as more software solutions utilize AI. We already see the advent of this with various tools using GPT3, IBM Watson, and Google Cloud Natural Language API to automate chatbot responses.
Personalization
A potential client is more likely to be swept off their feet if you create and deliver a personalized experience to their unique needs. For instance, consider when you send recurring emails to your customers. It will read less automated and machine-like if you can include personal details like their names and personalized product recommendations. In the same vein, customers looking for a chatbot to inform their purchase decisions are more likely to be swayed by a personalized communication experience.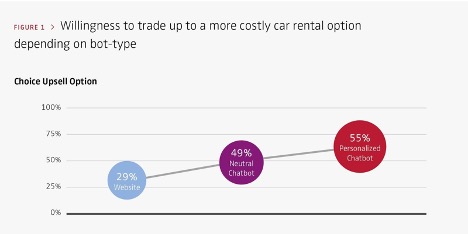 The graphic above represents the result of a study conducted by NIM, where they studied the willingness of car renters to upgrade to a costlier option depending on the personalization skills built into the chatbot. As the graph above illustrates, personalized chatbots can upsell to customers and increase revenue.
To provide a more personalized chatbot experience, you will need to consider how your chatbot can provide value to site visitors. Many of the most advanced chatbots use a combination of machine learning and scripted answers to ensure the best customer experience.
As Proxy Sales Agents
Many brands understand the potential that automated chatbots have in dealing with customer services and after-sales tasks. Most sales chatbots start by taking queries selected by customers from a predefined list of questions. They then use a turn-based response system to funnel the user towards the desired action, such as accomplishing a form, subscribing to a newsletter, or making a purchase: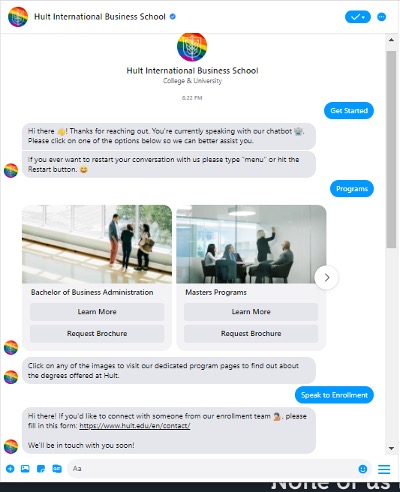 You can use automated sales chatbots to generate leads and generate more sales. As proxy sales agents, automated chatbots offer unique benefits that allow you to:
Keep visitors from leaving your website or social media page
Reduce the cart abandonment rate on your website
Create the best impression of your brand with things like immediate, customized welcome messages
Answer any questions customers might have regarding the product or service
Sales automation chatbots are primarily used as a supporting tool for human sales teams. They can automate more routine tasks such as responding to requests for information and deal with common questions. Sales agents can jump into a conversation at any point if needed to answer more complex questions or deal with sales inquiries.
In Closing
Brands that can provide high-quality service at any time of the day are also the ones that earn the most revenue. While the high cost of human labor has made 24/7 sales support too expensive for small and medium businesses, chatbots can fill the sales automation gap for a fraction of the cost.
Aside from being available around the clock, chatbots have certain inherent advantages over human sales teams. First, they can provide answers faster and direct users to specific websites right away. Second, they can be programmed to upsell products and accept payment.
Finally, because chatbots can provide human-like responses to customer sales inquiries, they can help free up your workforce for more challenging, non-repetitive tasks.
You can program chatbots to help with your sales and marketing endeavors. Chatbots can provide personalized user experiences to convert leads into prospects or customers. You can even use chatbots to upsell to new customers.
Leveraging chatbots for your business makes sense. Chatbots can help deal with basic inquiries that can save you time and improve the customer experience. We're likely to see huge growth in use as chatbots are integrated with AI tools like GPT-3, Watson, and Google NL API. Those advances will help chatbots deal with more complex queries, increasing their value to the business.