In today's digital business environment, your website is the most crucial component of converting marketing efforts to leads—i.e. lead generation. The vast majority of potential prospects interested in your product or service arrive at your website; hence your website must be totally geared toward turning those prospects into leads.
Once you have conducted all the research necessary to carefully guide your visitors through your web experience and they have begun to arrive, you'll not be able to watch them as you would in a brick-and-mortar business. The only clue you'll have is the leads coming out the other end—but even then you don't know how successful your website is as you don't really know how many visitors are showing up to start with.
To get a handle on continuing to create and improve your website and thus your website lead generation, you need to monitor it with a full array of web analytics. These can be obtained for free, and there are also excellent paid services.
Types of Visitors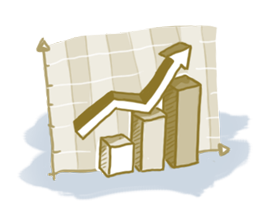 There are two basic measures that apply to your visitors in general: unique visitors, and repeat visitors. Unique visitors are those who have never been to your site before, whereas repeat visitors are returning.
In the area of unique visitors, you are aiming for a consistently high number. That means your marketing efforts throughout the web are working and people are being attracted to your website. Further analysis—tracking them through your site and into the lead and sales process—will tell you much more about them and allow you to refine efforts to locate them and attract their interest.
If you have a high number of repeat visitors, this is also a very good thing as it means you have content which they are coming back for. You've probably heard today's web mantra—"content is king"—and repeat visitors are what you are after with that content.
A key analysis point is to look at the percentage of repeat visitors. If your percentage of repeat visitors is a high percent of your total visitors, it may mean you're not attracting enough unique visitors—that is, new business. The address of that problem is with your outbound marketing efforts.
Page Visits
Now you want to know: where did they go after they arrived? Website analytics will show you which pages visitors visit the most and which are doing better at website lead generation. This is an indicator of the high value of your content on those pages. Low visits to a page mean people may not find it as valuable so you should work on making it more relevant or needful. It could also mean that the page is harder to find, which should be corrected if so.
Where Are They Coming From?
In addition to your visitor types, you're going to want to know where they came from. Different traffic sources can be isolated within most web analytics, including:
Referral, which means a visitor clicked on your link in another website,
Organic, indicating they came from a search engine,
Direct, which means they typed your URL directly into their browser or clicked on a link in an email.
Analytic tools also will show you traffic from banner ads and other paid sources.
Your SEO (Search Engine Optimization) efforts are geared to getting organic visitors, so a high number indicates your SEO program is moving along well. High referral traffic means that your content is being picked up in other places (posted on or referred to on other sites) and you are receiving "referrals" back from them. If someone types a URL into their browser (direct traffic) that usually means someone told them about it or they heard about it elsewhere than directly on the web.
Fully analyzing your traffic sources allows you to hone and adjust your marketing efforts to increase what is working and eliminate or adjust that which isn't.
Conversion and Website Lead Generation
Probably the most important aspect of your website analysis is conversion to leads—for website lead generation is the whole point. You want those visitors to become leads.
Conversion should be calculated for the whole site, and for each individual page. Pages with low conversion rates can be compared to those with higher rates so you can see the differences and rectify issues with low-rate pages.
Different metrics can be used to show levels of conversions, such as visitors to leads and visitors to customers.
Of course you'll also want to carefully measure the conversion of leads to closed sales—but that is done through your CRM solution. A flexible, intuitive CRM application is also key to monitoring the type of traffic you're generating with your website and monitoring how valuable it is.
If your website has an overall purpose, it is lead generation. Use website analysis to make sure it's fully doing its job.
Get your free trial of Pipeliner CRM now.