There was a time when sales were conducted without sales strategies.
Salespeople just went out and sold, and that was that; they either sank or swum.
But as businesses grew and competition became stiff, sales strategies were found to be needed in order for volume sales to occur, and so were evolved. As years went by, such strategies became honed and more sophisticated…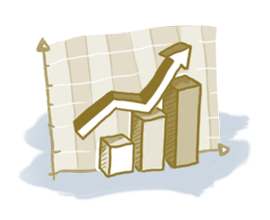 Today the creation of sales strategies is almost a fine art, especially in the higher reaches of B2B sales. In most cases involving complex products and services, competition is always a pressing issue. In order to survive there is invariably a fully comprehensive sales strategy required; hopefully, it is an effective one.
The most ingenious sales strategy ever created, however, will not succeed without the right tools in use by the sales force and sales management. To use an analogy, you may be the greatest racecar driver in the world—but if you're trying to run a Grand Prix in a factory-stock Toyota, you won't ever come close to winning; you need a competitive Formula One racecar. Similarly, if you're going to utilize a great sales strategy, you'd better have a CRM solution that fully allows it to succeed.
Enable Your Sales Force
In the race for business success, your sales reps are your drivers. In building a racecar, support and care for your driver is your top priority; how he or she will sit in the car, how quickly they can reach and operate the controls, how well they will be protected. Without such consideration, your driver isn't going to be able to drive that car to win races.
Similarly, when considering a CRM application, you'd better place a high priority on your salespeople and how well CRM helps them execute your sales strategies.
Salespeople need to be able to stay on top of their sales at all times, with a minimum of effort. They should be able to rapidly assess their sales pipelines, evaluate priorities and move sales along with their pipelines. Data entered into CRM by them should be data that is fully usable by them—and anyone else needing it—for the purpose of monitoring and controlling sales cycles. In short, a CRM solution should enable salespeople, not simply weigh them down in administrative work.
CRM Following the Sales Process and Your Sales Strategy
Backing up your CRM solution you should have a workable sales process—one which is based on best practices of your most successful sales reps. Sales reps will want to follow such a sales process so they, too, can succeed. But to the degree your CRM application varies from the sales process, your sales reps will be slowed down having to track their sales along the pipeline. Conversely a CRM solution that precisely mirrors the sales process is automatically intuitive, and sales reps will be able to save and retrieve data in the most logical fashion possible: in the stage of the sales process where it belongs.
You could look at your sales process as your racetrack. The better the racecar (the CRM solution) conforms to and hugs that track, the better the race will be run.
Combining of All Elements
As any experienced racecar driver will tell you, it is a perfect combination of elements that wins a race. A skillful driver is empowered by the controls in the car and their arrangement; the track is in excellent condition, and the car is designed in such a way as it moves easily along that track.
In our case, a sales rep is empowered by a leading-edge CRM solution. A best-practices sales process makes for a track in excellent condition, and the CRM solution conforming tightly to the sales process makes it possible for salespeople to execute sales cycles as rapidly as possible.
This is how races are won, and how sales strategies are achieved.
Does your company have the right tools for the achievement of sales strategies? Sign up for one of our free webinars and find out what it takes.