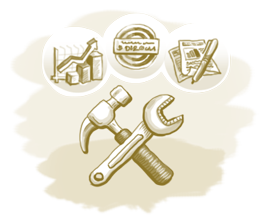 Most companies have probably been through it: A CRM tool is chosen and implemented.
Almost immediately, issues start arising. Sales can't actually use it to track their sales. Sales management can't seem to analyze sales data from it. Other users can't figure it out. IT staff are flying all over the company trying to assuage everyone and get the CRM solution being fully utilized.
Somehow or other, ROI (Return On Investment) for this CRM application was researched and found to be valid. Yet right from the get-go the claimed ROI is devaluing—CRM is actually costing the company money. IT will no doubt do their best to tweak the application when possible and educate users so as to improve CRM ROI—but it's not looking good over the long haul.
A couple years down the road, the noise has died down and it seems that the CRM application is running fine, and is returning on the investment. But on closer examination the sales force is using spreadsheets and other solutions to track their sales, and have to create manual reports to report their sales—all in addition to the data they're forced to enter into CRM, which is minimally useable by them. Sales management is regularly meeting with sales reps so that sales forecasting can be done. Financial executives have to gather data from multiple places outside CRM. These are all functions that should be operable through the CRM application—and are all the points where there is actually a negative CRM ROI.
What happened?
Assessing Full Impact of CRM Tool
When CRM tool ROI falls short, it's because of a failure to gather information from every sector of the company and every individual who will be engaged with CRM, finding out exactly what they would need in a CRM solution, and assessing ROI for each of these areas.
A CRM solution is usually researched by IT and approved by company executives. As part of the purchase proposal, a statement of projected ROI is included. Yet the CRM tool is going to be most heavily used by the sales force and sales management. Other regular users will probably include tech support and customer service, and yet others such as Accounting and Manufacturing will have to at least interface with it. The degree to which these departments and individuals aren't fully consulted is the degree to which your CRM solution won't have an ROI.
Note that fully gathering such data is, in fact, the creation of a model of the CRM solution your company will actually need. It is often done in reverse: several CRM applications are considered, and the company is more or less forced to conform to the one chosen. ROI research as outlined above should be conducted before any such decision is made—and a CRM application should then be chosen that conforms to the company's precise needs.
Getting It Right the First Time
Whether you are starting from scratch or having to replace an existing CRM application, take the time to fully calculate your CRM ROI right the first time. Talk to everyone that will be impacted in any way by CRM. Find out what the sales force will actually need in order to monitor and stay on top of their sales. Discover what sales management will require to accurately track, analyze and forecast sales. Find out what financial and other executives will require, as well as tech support, customer service and all others.
The key to obtaining maximum ROI from a CRM tool is fully investigating potential ROI throughout the company to begin with. Do it, and achieve maximum CRM ROI.
Get your free trial of Pipeliner CRM now.