Many companies are rightly proud of their top sales producers, men, and women who grind out quotas and close crucial deals—month-to-month, quarter-to-quarter, year-to-year. Consistently, reliably, predictably. The go-to people who bring home the revenue bacon. You know who they are. Let us talk no more of them.
Occasionally we learn of salespeople so exceptional, so remarkable and gifted, that they have become an icon for their product—or maybe it's the other way around. Each member of the remarkable group you're about to meet ably fits that description, and each died in 2013.
Unlike the group I wrote about in 2012, these individuals are demographically similar. All are white. All are male. All were born before 1937. But there are profound differences. Some were born into wealth, while others experienced wrenching economic hardship growing up. Not all went to college. One overcame severe mental and physical disabilities.
Yet, all possessed the same incredible gift to help them through good times, as well as through bad. A gift so unique that it can't be bestowed from a peppy sales keynote address, training video, or Powerpoint slide—passion!
Hans Riegel, 90, creator of Gummi Bears. "I love children," he said. "They are my customers. I have to be informed about what they want to nibble, what they think, what language they speak." Some of his product ideas flopped miserably. A gummi version of the Holy Family intended for release during the Christmas season was not embraced by the Catholic Church. A similar outcome resulted from marketing gummi images of German politicians. Nonetheless, his company, Haribo, grew to become one of the world's top producers of gummy candy and other confection.
Ray Dolby, 80, inventor, marketer of Dolby Noise Reduction. "If it was cheaper for manufacturers to license from us than clone us, why not stick with the Dolby technique?" he said in 1992. The rest is history. At the 2012 Academy Awards, Oscar-winning sound editor Walter Murch said, "You could divide film sound in half: There is BD, Before Dolby, and there is AD, After Dolby." "Ray's pioneering work in sound played a pivotal role in allowing Star Wars to be the truly immersive experience I had always dreamed it would be," said George Lucas, the film's director.
Dolby resented being called a tinkerer, favoring the more results-focused term inventor. "An inventor knows what he wants to do," he said.
Robert Taylor, 77, inventor of Softsoap. "I thought how ugly bar soap is, and how it usually messes up the bathroom. I thought, 'why not a high-quality liquid soap that comes in an attractive bottle?'" He also developed the hit fragrance, Obsession, made even more popular through a Saturday Night Live parody of its slogan, "between love and madness lies obsession."
In his August 29, 2013, obituary in The Washington Post, Emily Langer wrote, "He showed an early gift for salesmanship when he sold a homing pigeon to a pet store—numerous times,' according to a statement from his family." Taylor had a flair for changing the prosaic to the unusual. One of his companies, Village Bath Products, upended the conventional ingot-shaped bar soap producers by manufacturing soap shaped like fruit and candy bars.
Cal Worthington, 92, car salesman. "You won't find better prices anywhere!" By his own estimates, he sold more than one million cars. "He performed stunts such as headstands and airplane wing-walks. In at least one ad, he suspended himself by his feet from a flying plane—anything to spark the interest of a prospective buyer," according to The Washington Post. In another ad, he accompanied himself on banjo as he sang his version of If You're Happy and You Know It:
If you need a better car, go see Cal.
He's the greatest one by far, go see Cal.
Give a new car to your wife, she will love you all your life,
Go see Cal, go see Cal, go see Cal!
Worthington played himself in Save the Tiger, a 1973 movie starring Jack Lemmon. In 1993, he inspired the car salesman played by Ted Danson in Made in America. "My purpose was not to become a celebrity," Worthington said in a USA Today interview. "I was selling cars."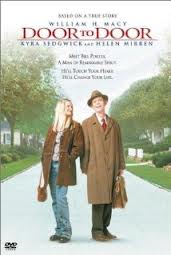 Bill Porter, 81, salesman for J. R. Watkins. Porter suffered from cerebral palsy, and the state of Oregon deemed him unemployable. But he refused the disability payments they offered. Instead, he made a career as a salesman for J. R. Watkins Company, selling food and household products door-to-door in Oregon, often walking up to eight miles per day.
At first, J. R. Watkins refused to hire him, but he persisted, eventually rising to become their top producer in the region. Unlike his colleagues who could carry samples in a heavy briefcase, Porter, who had the use of one hand, relied on pictures in a notebook as his primary sales tool. After he was hit by a car while making sales calls, he adapted by using the phone.
He inspired the award-winning movie, Door-to-door, starring Helen Mirren and Kyra Sedgwick. He also was the subject of a book released in 2002, Ten Things I Learned from Bill Porter.
Al Fritz, 88, sold the Sting-Ray bicycle to millions of kids. "It gave kids too young to have a driver's license the opportunity to have the Corvette of bicycles," said his son, Mike Fritz, a bicycle industry consultant. "When Mr. Fritz was research and development director [for Schwinn] in the early 1960's, he heard from one of his salesmen about teenagers around Los Angeles customizing short-frame bikes to look a little Harley, a little hot rod—a little something exciting on the quietest suburban cul-de-sacs," according to his obituary in The Washington Post. "The people who looked at his prototypes thought it was a stupid idea, but he pushed it on through. There were 60 different permutations on the theme, and each was more successful than the last," his son said. Between 1963 and 1968, Schwinn sold more than 2 million of his bikes.
Fred Turner, 80, father of Chicken McNuggets. "He had an important role in the creation of the Chicken McNugget, which he conceived during an elevator conversation with a company test chef," wrote Stephen Miller in his Wall Street Journal remembrance. Turner, who was CEO of McDonald's from 1974 to 1987 had an early career in sales. He worked as a Fuller Brush salesman before he took his first job at McDonald's in 1957.
You might argue that some of these outstanding individuals were not, in fact, salespeople, but inventors and entrepreneurs. If you're adhering to job titles, you have a point. But if you accept the definition of a salesperson as a person who sells, well, these top producers have earned the right to be included among the greatest salespeople of all time.
". . . Just a salesperson . . ."   The next time I hear someone say that I'll do my best not to raise my hackles. Instead, taking my inspiration from those on this list, I'll draw a deep breath, and ask, "Would you mind if I shared a story about Bill Porter… .?"
Republished with author's permission from original post.
Related Posts: