ROI—Return On Investment—is a crucial factor for any software purchase. Most company executives will require a detailed ROI statement for any software acquisition proposal, showing how long it will take for the company to make the money back on its (sometimes quite substantial) investment. They must be convinced that this purchase is sound before proceeding with it.
Since a CRM solution is so central to the conducting of business for any company, ROI is especially important when evaluating the purchase and implementation of one. What factors should be taken into account for a CRM solution? Here are 5 key criteria to watch for.
1. Intuitive
This term, while greatly overused in the description of software, nonetheless goes right to the heart of the usability of a CRM solution. CRM that doesn't closely reflect company operations—specifically a company's sales process—will not be logical in its layout and will not be useable for a sales rep in the management of his or her own sales pipeline.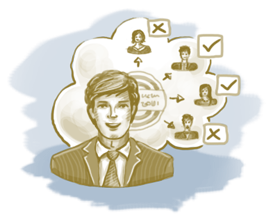 Why is usability to a sales rep important? Salespeople are right on the front lines of customer relationship management—they create those relationships in the first place, maintain them, and obtain the most valuable use out of them (sales). They acquire the company's most valuable asset: the sold customer. Usability to sales reps mean that your investment in the software solution, as well as in salespeople themselves, will pay for itself much faster.
CRM that doesn't make sense for salespeople to use for their own pipeline management is to that degree a wasted investment. Salespeople will be utilizing other methods—notes, spreadsheets, their own databases—to track and manage their sales. Data that could be valuable to other sales reps, sales management and even executives will be lost.
2. Flexible
Flexibility comes into play in the fact that any market is dynamic and subject to change. As buying patterns, product lines, marketing campaigns and other key factors fluctuate, the sales process must often be adapted to these changes. Since a CRM solution should mirror the sales process, it also needs to have the capability of being changed on the fly.
A CRM solution that doesn't have this capability will easily be outmoded, and once again sales reps will be left to their own devices in tracking sales. Your investment just lost value.
3. Easy to Learn and Use
A CRM solution that does not have a rapid learning curve will take longer to pay for itself, only because once again it is not yet and may never be fully utilized. Your key personnel when it comes to CRM—yes, those salespeople—might not fully learn it at all, and only use CRM when forced to. They're busy people and their time is valuable. For their own survival they're going to spend that time making sales, and only utilize tools and methods that assist in those sales being made.
On the other hand, a CRM solution that is intuitive and easy for a sales rep to learn and follow will be eagerly taken to. The time for your return on investment has just been decreased to that degree.
4. Compatibility
Sales reps—not to mention other areas of the overall company—are already using various applications that they are not likely to drop simply at the introduction of a new CRM application. These include MS Outlook, MS Office applications such as Word and Excel, document and quotation applications, accounting packages and many others.
If the CRM solution chosen is not compatible with these other applications and they cannot be easily dovetailed in with CRM use, that means once again that valuable data will not be recorded in the CRM for future use. CRM also runs the risk of lower overall utilization—and there goes that return on investment.
When a CRM solution is compatible with these various applications already in use, documents and quotes can be included in CRM data as they are created. That considerably raises the usability factor, and shortens your return on investment.
5. CRM Mobile
Many sales reps conduct a considerable amount of business out of the office. Most of those that do are on the modern edge of technology, utilizing handheld devices such as iPhones, iPads, Android devices and others.
The last thing any sales rep wants to do is keep notes that must be entered upon return to the office, and many just won't do it or will pay it slighting attention. If a CRM solution is to be any use to them, they need to be able to access it from the devices they use every day for all aspects of their work.
For that reason the 5th key ROI criterion for any CRM application should be: does it have mobile applications? This once more goes right to the usability factor, and if salespeople can enter and retrieve data from CRM over their own devices, that factor is increased markedly.
Amongst all the many others you will surely use, take these 5 criteria into account when evaluating any CRM solution—and your CRM solution will not only earn its return on investment, it will keep on earning profits for the company ever after.
Watch for further articles in our series on CRM solutions and return on investment (ROI).