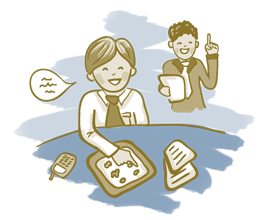 If there is a single word that could sum up the ideal sales attitude in the financial services industry, it would be care.
While some financial services salespeople may not fit that characterization, the ones who succeed certainly do. A client seeking financial services is looking to entrust an organization—hopefully yours—with their hard-earned money. They expect their funds to be taken care of in such a way it will earn them more money—and they expect there will always be someone attentive to their funds, and to their needs. This is true of both individual and institutional clients.
This care must certainly be demonstrated during the sales cycle. The more attention to detail a financial services sales agent demonstrates toward a prospect or prospect company, and the more the agent is able to show that all of the prospect's particular needs have been taken into account—the higher the chances of a close.
For this care to be aptly shown for all prospects, financial services sales agents truly need a leading-edge CRM tool. Why?
#1: Visual Tracking of All In-Progress Sales with CRM Tool
With such attention to detail required, the last thing you want to have happened is to accidentally forget about an action you were supposed to take—for example, an inquiry into a particular fund for a prospect, or a call to remind the prospect to sign a particular form or to get a physical.
A leading-edge CRM solution allows you to visually track in-progress sales—either singly, in particular groupings (such as by a specific financial instrument), or all together. Gone is the need for keeping copious notes, or having to maintain spreadsheets. Such a CRM application exactly mirrors your sales process, so that you can logically follow each sale and always know "what to do to next" with every prospect.
Because of the required attention to detail, financial services sales management can be even more problematic. A sales manager needs to be certain all agents are totally on top of their individual sales cycles. A leading-edge CRM application allows sales management to rapidly see the pipeline of one agent, a territory, or even a whole agency or company.
#2: Sharing of Best Practices
Due to the amount of product and market knowledge required, bringing a new agent onboard is a challenge. The skill level of existing agents also should be regularly improved, and each individual agent has that desire—who doesn't want to know more so they can get ahead?
This is another reason financial services companies need a leading-edge CRM tool: sharing of best practices is fast and easy. Best practices can even be posted to the sales process stages to which they apply. With this facility, the latest winning sales techniques are always available to the entire sales force.
It is also true that within the investment community rules, regulations and practices change frequently; agents need to remain constantly up-to-date. Rather than counting only on email and other methods, important alerts can be posted right within CRM where applicable.
#3: Simple yet Powerful Reporting and Analysis
Agents will often need to obtain a rapid overview of where their revenue is coming from: who are the leading clients, which are the most profitable instruments. With the right CRM tool, profit centers can be quickly and visually analyzed so that sales efforts are always optimized.
Sales management, as well as financial officers, have the same requirements—and such analyses can be conducted for individual agents, territories or even the whole firm.
These analyses can be converted to reports with a minimum of effort. No agent needs to be weighed down by reporting—and with proper CRM it is no longer necessary.
#4: Keep Moving
Many successful financial service agents are not found behind their desks—they are on the road or at the least out visiting prospects and clients. No matter where an agent is located at any particular time—in a restaurant, in a hotel room, in a client's office or even in the parking lot before a meeting—all crucial data relating to a sale must be accessible. Financial services agents, like everyone else today, utilize all manner of devices and computing platforms. A CRM solution isn't totally usable if it is not available on all of them—and should, therefore, reside in the cloud.
Financial services agents must constantly demonstrate the care that is required to competently sell and maintain their products. That care is fully empowered with a leading-edge CRM solution.Get your free trial of Pipeliner CRM now.
What CRM solution is best for financial services? Find out through one of our free webinars.