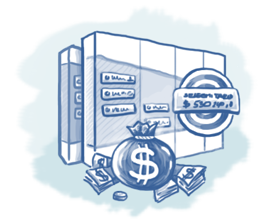 ROI (return on investment) is normally part of every proposal for a software purchase.
Those within the company requesting the purchase must do all they can to provide information to senior executives and finance officers showing how quickly that purchase will pay for itself.
For a CRM tool, a full ROI statement should not be skimped and should be given considerably more time and effort than other software purchases.
This isn't just "another software purchase"; a CRM solution is going to literally be the backbone of your sales and customer relationship efforts long into the future. Once your company has given the go-ahead on the purchase and implementation, you're going to be stuck with it. Not only must your CRM application to be as ideal as possible for your operations, it should also rapidly pay for itself. Of course, the two go hand-in-hand.
The approach described below should be undertaken before your company decides on any particular CRM solution.
1. CRM Tool Should Mirror Your Sales Process
The last thing you need is a CRM solution that doesn't quite fit in with your company operations, that has to be "tweaked" or customized—or worse, would require you alter your successfully worked out sales process to fit the CRM. Right there you've lengthened your ROI considerably.
You'll need a CRM application that can be rapidly and easily adapted to your company's sales process. That facility makes for the "logical and intuitive" quality a CRM solution should have; sales reps should be able to save data into the sales process stage to which it applies, and should also be able to easily retrieve that data at any time in the future it may be needed. In this way, the sales force will be empowered by CRM instead of constrained by it.
With this level of quality in your CRM application, the sales process becomes either known or easily demonstrated to the rest of the company. This will make it possible for other CRM tool users to understand, track with and analyze sales, and will considerably raise the quality output potential of marketing as well as empower executives with more precision analytics.
2. Research Everyone Who CRM will Impact
Traditionally a CRM solution was researched by IT, and chosen and approved by company executives. The CRM application was then brought in, implemented, and then it was discovered the number of tasks CRM didn't take into account. CRM wouldn't assist salespeople in controlling their sales cycles. Sales management couldn't really use it for sales forecasting; instead, regular time-consuming meetings had to occur between sales managers and sales reps so that forecasts could be created. Because CRM was not intuitive and logical, sales analyses were problematic to say the least.
While some certainly try, the blame here should not be leveled at the CRM application. The fault lay with the fact that everyone in the company who would come to depend on CRM—and everyone else who would be expected to regularly enter data in it, such as the sales reps—were not consulted prior to its purchase and implementation.
Take the time to go through an interview every single person that will be using CRM, or in any way affected by it. This would minimally include users such as sales reps, sales management, tech support, and customer service. But it would also include any executives who would be conducting sales analyses, and any other department such as accounts payable and accounts receivable who will have applications interfacing with CRM. Find out in detail what each and every one of them needs from a CRM solution, and what kind of return in either time or money would be had by them.
3. Fully Define CRM For Your Company
Once all of this research has been conducted, it needs to be compiled and summated. The end result will be the full specification of a CRM solution for your company, along with the full ROI to be achieved.
It is only at this point you begin researching the CRM tool your company will purchase. The important thing to bear in mind as you proceed is not to compromise; don't accept a solution that is "somewhat" what you need. There are plenty of solutions out there—one of them will come close enough to what you need, or be adaptable to what you need, and will provide the ROI you must have.
Because a CRM solution is such an integral part of your company's operation, precisely establishing ROI for CRM is vital. In taking the time to do so, you are also taking the time to fully support and empower your sales efforts for years to come.
What kind of CRM solution can provide rapid ROI for your company? Pipeliner CRM. Get your free trial of Pipeliner CRM now.