Raise your hand if you've heard any of these statements over the last 2 years:
"67% of the buyer's journey is now done digitally." -SiriusDecisions
"57% of the buyer's journey is complete before a customer's first contact with a supplier." -Corporate Executive Board (CEB)
"On average, prospective buyers in B2B settings have completed 57% of their due diligence work before they engage a sales representative, according to the CEB, the world's leading member-based advisory company." -Harvard Business Review
"Customers rate salesperson as the least influential interaction in the buying process." -Gartner
And our personal favorite:
"Death of the B2B salesperson; 93% say that they prefer buying online rather than from a salesperson" -Forrester
SiriusDecisions started it all, and it's rolled downhill ever since, madly gathering credibility like a thought snowball. Books have been written around it. Seminars have been developed around it. Entire sales training programs have been designed based on it. Companies have reshuffled and reprogrammed their sales forces because of it. Dire predictions have been made based on it.
And now the truly fascinating part: SiriusDecisions, the leading benchmark and advisory firm that began the whole thing, is now seriously (pun intended) taking back (or clarifying) much of what they said, and laying new emphasis on the importance of the live sales rep in the buying cycle.
It's very much like Groundhog Day, the film in which Bill Murray's character was living the same day over and over again.
For years, when a prospect would pop up in front of us (like the proverbial groundhog) we'd pitch them and do everything we could to move them along to a close.
More recently, when that prospect popped up, we assumed they had already done a majority of their research before ever contacting us, so we proceeded accordingly.
Now it turns out that approaching the prospect as if a majority of research had already been done was not quite correct. So now when that prospect once again pops up, as we're living the day over again, we have to learn to deal with it differently, like Bill Murray did as he attempted to free himself from that super-annoying time loop.
Let's examine the rewind!
Setting the Record Straight
The new SiriusDecisions 2015 B2B Buying Study does much to set the record straight and help put B2B companies on the right path. According to a slide deck based on the report:
"B2B organizations are making strategic funding decisions based on broad marketplace assumptions."
Most B2B leaders are confused about how to rebalance marketing and sales resources based on changing buying behaviors. Understanding buyers and their behavior is the main ingredient to high-performance marketing and customer-centric innovation."
"Despite reports that salespeople are being disintermediated in the B2B buying process by digital marketing, our study tells a different story."
Key Findings
Let's review the key findings of this study, their import, and how they might be applied.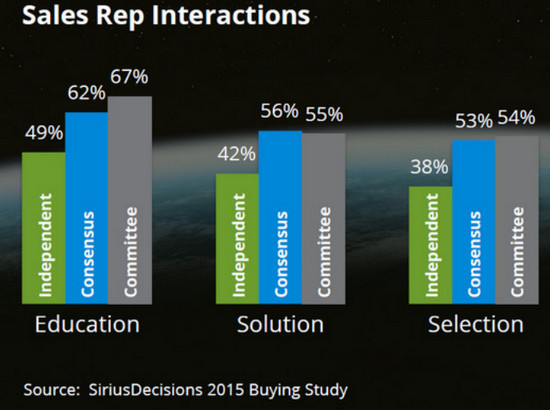 The first one flies right in the teeth of the major assumption about the buyer not contacting the sales rep until ready to discuss purchase of a particular product:
Finding #1: "SiriusDecisions reports that buyers interact with sales representatives from the beginning to the end of the buyer's journey."
Sirius divided up sales interaction into 3 main phases of the buying process:
Education, where prospects decide that there is a reason for change
Solution, where prospects decide on the approach to change
Selection, where prospects choose a vendor to execute the change
According to our previous conviction—that 67% of the buying choice was made before contact with a salesperson ever occurred—a sales rep wouldn't even become involved until the last of these phases, Selection.
Note: Pipeliner CRM's latest version fosters sales team interaction right from the first Sales Stage. Read more about What's New at Pipeliner.
Yet the new findings contradict this thinking. According to the 1,005 buyers surveyed for the study, the highest percentage of live salesperson interaction from the winning provider occurred during the first phase, Education. In fact, percentages dropped progressively as each phase occurred.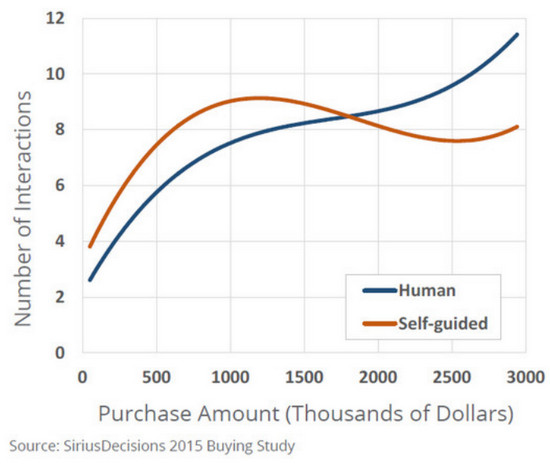 Finding #2. As the price tag goes up, so goes sales involvement.
In fact, one of the findings was that "Price point was one of the key indicators of buying behavior, which is reflected in the number and type of interactions."
Let's look at sales involvement levels within each price-point area. For a product or service with a typical price range of less than $50k, 49% of sales involvement occurs in the Education phase, while 42% occurs in the Solution phase, and 38% occurs in the Selection phase.
For products or services in the $50k to $500k range, 62% of sales involvement occurs in the Education phase, while 56% occurs in the Solution phase, and 53% occurs in the Selection phase.
At the very top, the range of $500k to millions, 67% of sales involvement occurs in the Education phase, while 55% occurs in the Solution phase, and 54% occurs in the Selection phase.
As you can see, sales involvement at early stages is key to the entire sales cycle, and key to winning the deal.
Finding #3: It's not just the rep — many roles contribute to the sale.
Interestingly, according to the study, a salesperson is not the only human that should be involved to help facilitate a B2B buying decision. While a "vendor sales representative" is still far and away the most important, the others (in order of importance) are: vendor product manager, vendor solutions specialist, distributor, vendor customer service rep, vendor executive, vendor engineer, reseller, and vendor consultant.

Finding #4: Strike a balance and tweak digital marketing content.
At the same time, however, Sirius is not advising that all digital marketing actions be dropped or reverting back to a salesperson-only scenario. Digital marketing is certainly here to stay—but the nature of that content is crucial to the buying process, as is the sales involvement in addition to that content.
Take a look at the ranking of content asset types that had the most impact on the buyers:
Sales presentation
Analyst report
Case study
Articles/publications
Static brochure
White paper
Promotional video
Interactive brochure
Infographic
Blog post
Webinar replay
Ebook
Podcast
Since a salesperson is so important throughout the buying cycle, Sirius is recommending that a "go-to-market strategy should be a balanced mix of non-human and human-to-human interactions."
Takeaways
From these findings (and there's much more detail in the report itself), we can make these assumptions on how we should proceed:
Leads should be nurtured much earlier and with more frequency.
Non-human touches in the Education stage are less effective than human ones, so should be combined with human touches.
In addition to the sales rep, people with other roles are valuable to the process.
Strike the right balance between digital marketing and human involvement.
Hopefully, this brings us to the end of our own Groundhog Day—and we can, like Bill Murray's character in the film, walk out into a bright sunny morning with lessons learned — and live life to the fullest!
SiriusDecisions conducted a webinar, presenting all of the findings from their 2015 B2B Buying Study. You can replay the webinar here.
Take a look at all the Pipeliner features that support these insightful SiriusDecisions findings.