Are you using social media influencers to help improve your sales? As one of the biggest buzzwords in marketing of the past couple of years, influencer marketing is booming right now. Marketers are using it to reach larger audiences, to improve brand awareness, get more traffic and to boost sales. In this blog post, I'm going to show you how to use influencer marketing to improve your sales.
What to look for in an influencer
Before you start looking for influencers, you need to know what to look for.
Generally, there are 3 main things that you should keep in mind when researching influencers:
Their overall reach and their social media engagement
Their authority: how influential are they? Are they seen as thought-leaders and authorities in their specific niche?
Their relevancy: are they relevant to your business and to your overall goals and values? Are you targeting the same general audience?
Try to look beyond the follower numbers when you start your research. Instead, look into how engaged the influencer is: are they actively engaging with their audience? How engaged is their audience with them?
Engagement is much more important than the actual reach. Don't be fooled by follower numbers and reach – even if you get a lot of people seeing your promotion and learning about your business and products, if they're not the right people, then it won't actually help you make any sales.
In fact, it's better to use more, yet smaller influencers (micro-influencers with audiences of under 100k followers) rather than one or two big influencers with hundreds of followers, if not more.
Make sure to also look into what their specific niche is; what kinds of content do they share on social media? What do they like to talk about with their followers? What other businesses have they worked with in the past?
Then, also check their followers: are you sharing a similar target audience? Will you be promoting your product and business to the right people?
Now that we've discussed what to look for in a social influencer, here's how you can actually find and connect with influencers:
Where to find influencers
Are you already familiar with any influencers in your niche? Chances are, by spending time on social media, you'll probably notice some names popping up consistently in your feed, as they get lots of shares and engagement.
Even more so, you might have some already following you on social media. Use a tool like Agorapulse to check your followers; it will automatically tag followers who get a lot of retweets, but also any followers who are your brand ambassadors: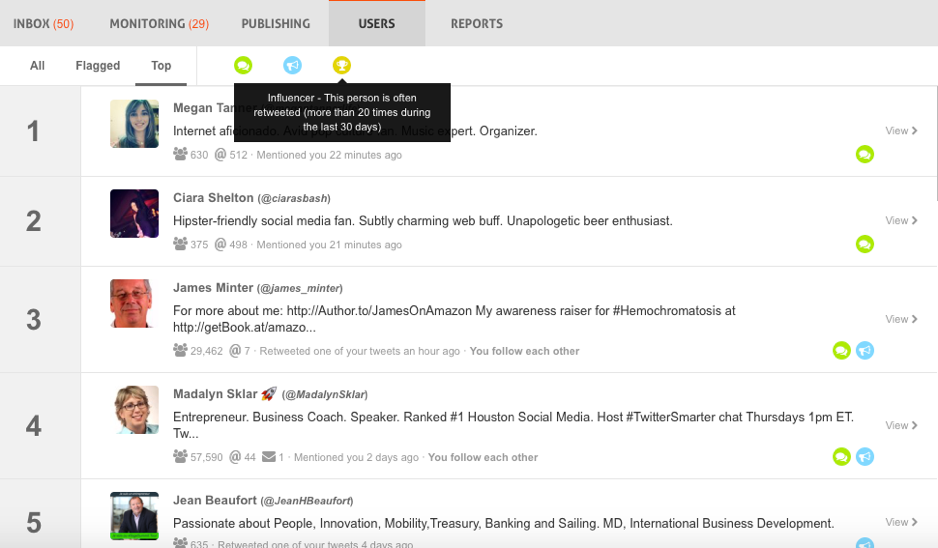 Furthermore, you can use a plethora of other tools to research other social influencers. For example, you can use an influencer outreach tool like Ninja Outreach or an influencer research tool like Buzzsumo.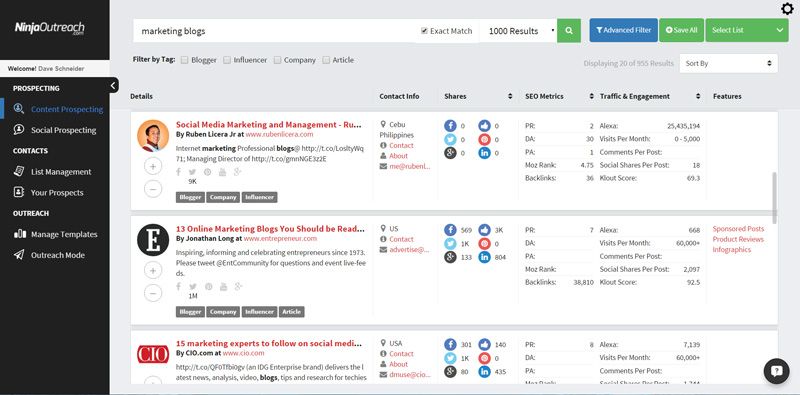 With Buzzsumo, for example, you can search for influencers by simply entering a few relevant keywords: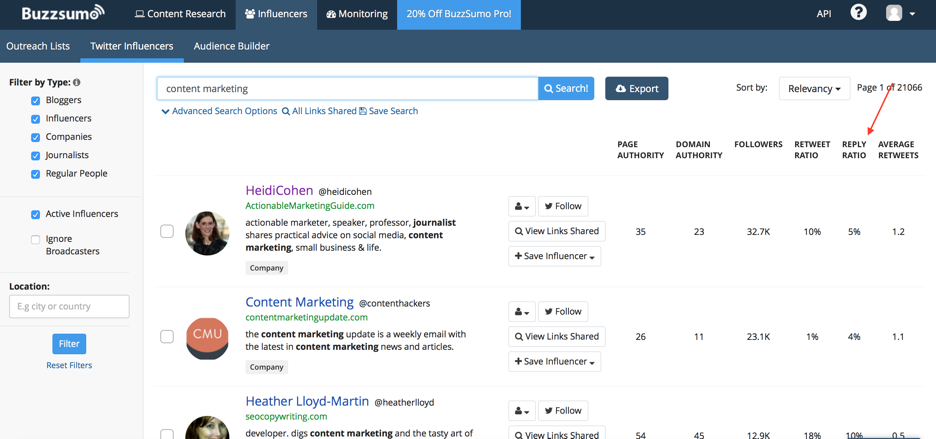 As you can see from above, you can sort your results based on their retweet and reply ratio – this is very useful as it can give you an idea of how engaged they are. You can also see a list of the links they share on social media, so that you can determine whether you have similar interests.
As you find appropriate, relevant influencers, start adding them to your list; the more, the better!
How to reach out to social influencers
Before you start reaching out, you should first establish a clear strategy:
Set your influencer marketing goals: what do you want to achieve? What is your deadline? What do you want to promote and what results are you expecting in return? Remember to be realistic and set attainable goals – influencer marketing takes time and in many cases, it's a very long-term process, but, the results are very much worth the time spent.
Set your budget: how much can you spend on influencer marketing? If you're using big influencers, just one Instagram post can cost you thousands of dollars, as Mashable reports; but, if you focus more on building organic relationships with micro-influencers, for example, the costs are minimal, although, at the same time, it will take more of your time.
Establish time frames: when will you start reaching out? How long before you follow up? When do you want each campaign to start?
The more you plan, the better – it will help you keep organised, and it will also help you gain better results.
When it comes to the outreach process, there are two main options: either contact them directly with a pitch/proposal or, start by building a relationship with them first.
If you choose to start by building a relationship with influencers, this can be more beneficial in the long run as it can help you get more results, consistently. To connect with influencers, you should:
Familiarize yourself with their work: read their blog, check out their website and their social media
Follow them on social media and start engaging multiple influencers
Leave comments on their blog
Share their content with your followers and link to it in your own content
Or, you can contact them directly via email:
Always use their first name and make sure you are using the right email address
Demonstrate your familiarity with their work; for example, talk about a blog post of their you loved
Show your worth: why should they associate themselves with you and your business? What makes you stand out?
What can you offer them in return? Influencers will require some sort of payment for helping promote your business. Unless you want to guest post, for example, if you want them to write a product review, or promote your product in a social media post, you will need to give them something in return; as Inc. states, it could cost you between $25 and $75 per thousand followers. It doesn't necessarily have to be a cash payment, but it can also be something like a free gift.
Conclusion
Influencer marketing can help your business reach a large audience and improve its brand awareness, as well as to make more sales. There's a reason it's so popular right now – because it works.
Are you using influencer marketing to make more sales? What types of influencers are you targeting?
Pipeliner CRM makes it possible to precisely target buyers. Get your free trial of Pipeliner CRM now.