The Sales Manager is the most important position in a sales force.  They are the connective tissue between the strategy and tactics to execute that strategy. Sales management coaching and development is critical to your ability to make the number.
Do you have a Sales Management Development Program? Do you ignore developing them and coaching within them? Does your Sales and Marketing strategy contribute to helping your sales managers develop?
You can research the reasons your company might falling short of developing sales managers. There are three major reasons why you need to develop your Sales Managers.  Each one of these requires you to spend time with your sales managers.  This devoted coaching time will enable you to achieve all three.
Quarter over Quarter Quota Attainment: We call this simply how to Make the Number each quarter and year. Your sales managers are directly responsible for you attaining quota.  They have the greatest influence through coaching their sales reps and influencing deals. Developing them to become world class is proven for year-over-year revenue growth.  But some Sales VPs don't do it because they don't know how. Are you confused on what a world-class sales manager looks like?  Get a scorecard grid to get the picture.


Consistent Sales Talent: Great sales managers attract the best sales talent.  Everyone wants to work for someone who is accomplished.  Someone on the leading edge of sales effectiveness.  Someone who challenges them but has fun doing it.  And someone who helps the person make the number.

Sales Leader Virtual Bench Strength: Are you developing your replacement?  The world's best sales leaders are consistently looking for their replacements.  Internal promotions vs. external hires does amazing things for a company and sales team.  Developing your managers to take a Sales VP role accomplishes the first two reasons.  It also allows you to develop yourself for other roles in your career.
There are several key steps needed to develop your sales managers.  Sequencing these steps is critical in getting the performance needed.
Sales Manager Profiles: Make sure each manager has the accountability and competencies identified to be successful.  This is much more than a job description.  It's what we call a scorecard.  Scorecards allow someone to be assessed based on performance and talent.

Competitive Compensation: Attracting the top talent means also paying them. If your compensation package is below market, expect below market talent.  And conversely the opposite also applies.  Remember, compensation doesn't mean just cash.  There are many things that go into compensation.  Culture, development, learning, mentoring are all forms of compensation. Know what is competitive in your industry and market.

Benchmarked Talent Assessments: Assess your managers to learn how to develop them.  Test their scorecard competencies against their peer group. Don't do it just against each other in the company.  You need to benchmark world class vs. your own sales management. You can find these benchmarks online or through organizations who benchmark compensation.

Development Profiles: This is the brass ring, the key to the kingdom. Most organizations do the three steps above fairly well.  But most fall down on development.  They either don't complete this part or the actual development is poor.  Poor from the content and cadence of the development.  And most Sales VPs don't complete the development.  It is either forgotten or ignored.  This leads to improper development.  Which is worse than no development at all.
TIP: The best way is to create an Individual Development Profile for each sales manager.  This profile keys in on opportunities the manager needs to work on.  They are documented actions for improvement.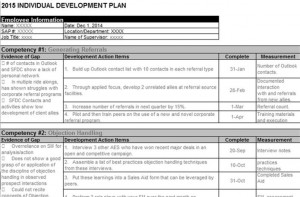 Our results show that developing your sales managers leads to an increase in quota attainment.  This increase can be dramatic--up to 30%.  Set a strategy and develop your sales managers to that strategy.  If you do, not only will quota attainment increase.  You will attract and retain superior sales talent while developing the team that supports you. Careers depend on it.