Today, we are extremely pleased to announce the new release of our sales CRM application, Pipeliner v3.7, a version that makes your sales even more efficient. This release comes with many new features, enhancements and graphical improvements. We have completely rebuilt the way you and your sales team will collaborate on your sales pipeline, adjust the user interface for a better selling experience, built a fantastic new notes management and much more. Have we got your attention? Let's take a look:
Editors
You asked for it, you waited for it and now we give it to you. You can now assign a sales team member called "Editor" to your opportunities. Editing the opportunity in a team has never been easier! Assign your colleague to your opportunity as an editor in order to edit the opportunity details and much more: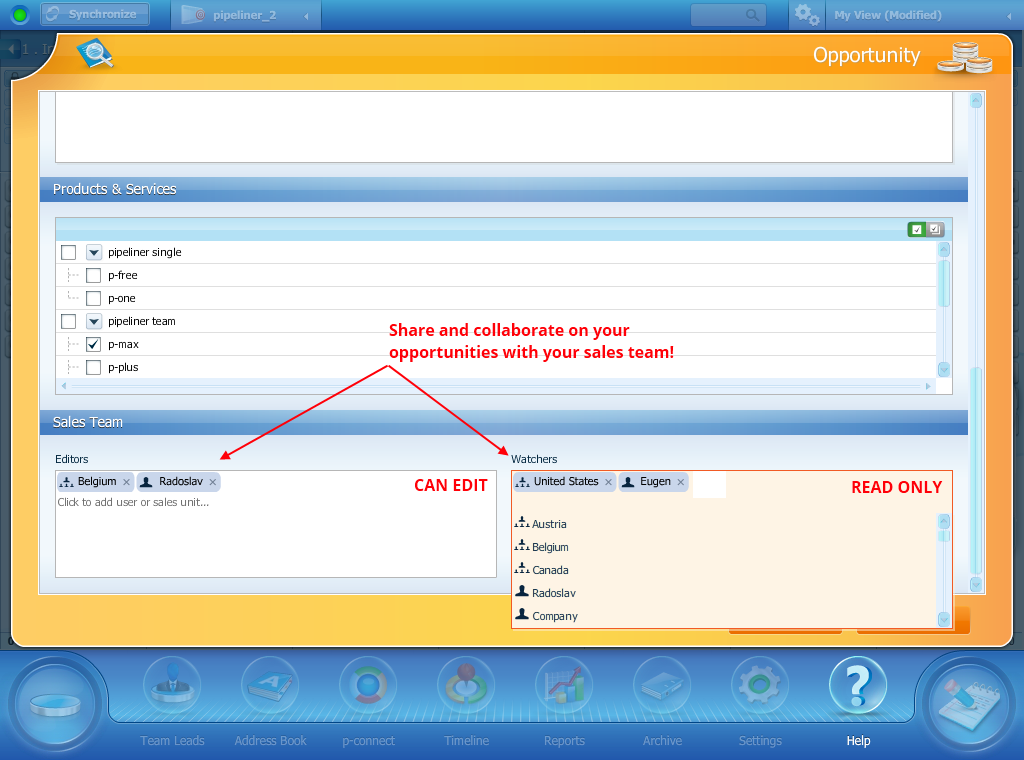 And that's not all! We have been thinking about how to enhance your team collaboration even more. We understand that you need to work on your sales leads as well as on your contacts and accounts. What if you could also add an editor to your leads, accounts, and contacts? Well, now you can! Assign editors to your contacts, accounts, leads and give them the rights to edit these!
Notes Management
Taking a note after you call your prospect is an imperative task for your business and, therefore, having a notes management in Pipeliner was one of the most requested features. We are pleased to tell you that you are now able to take any note you need and pin it to your sales pipeline. You can create and pin the note to all your opportunities and leads in your sales pipeline or even create your own personal notes. Check it out: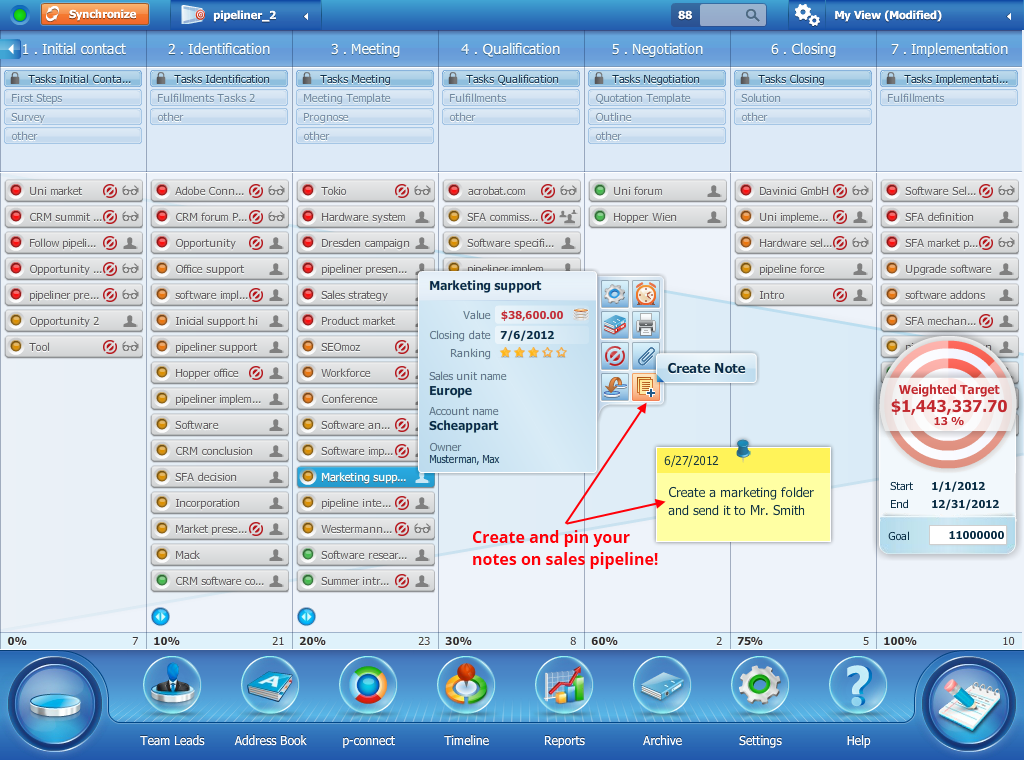 Profiles
We hope that you have been using Pipeliner profiles and seeing the advantages these bring. However, many of you find this powerful feature too "hidden" within the option settings. We decided to make the profile to be more visible and more intuitive to use. With the profiles, you can save your current filter and option settings and, per click, switch between many different views of your sales pipeline. Start to create your own profiles: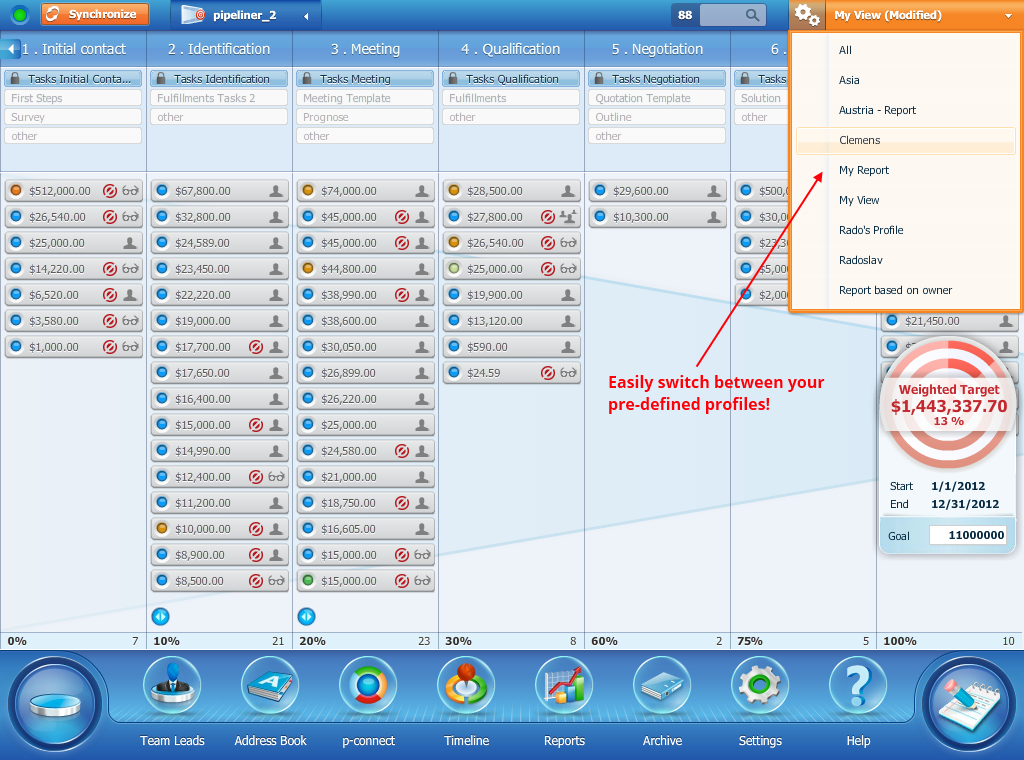 Speaking about profiles, you can now use these everywhere. Yes, that's correct, everywhere! Create your profiles in dashboards, reports, timeline or even within the address book.
Other cool new features
Opportunities Import – bring your current opportunities into Pipeliner
Address Book Export – export your accounts & contacts from the address book for further marketing campaigns
Multiple Pipelines – manage two or more team pipelines at once
Lost Reason List – create your custom list of "lost reason" when closing the lost opportunity or lead
Custom Target Calculation Field – calculate your opportunities in your sales pipeline based on your custom field (ex. sales provision)
Microsoft SharePoint and Office 365 Integration – open, edit and share your SharePoint and office 365 documents via Pipeliner
Pipeliner v3.7 comes with lots of enhancements and fixes that will empower your selling experience even more. Be sure to check out all the new features. If you are ready to start using the latest version of Pipeliner sales CRM application, get your free trial now.
We're also announcing the next version of Pipeliner MS Outlook 2010 Add-In for Windows and enhanced Pipeliner mobile application for iPhones, iPad and Android based smartphones and tablets.
We are excited to get feedback from you regarding your experiences with the new Pipeliner v3.7! Let us know what you think!
Warm Regards,
Nikolaus Kimla
CEO
Pipeliner Sales CRM