In a previous article announcing Pipeliner's new Forecasting feature, I stated that forecasting should be collaborative, and that collaborative forecasting can only happen through instant dynamic visualization. Instant dynamic visualization is, of course, what is provided by Pipeliner CRM all throughout the system.
I feel that it is important to explain that single statement in more detail, so its meaning can be fully understood.
Instant…
Let's take that first word, "instant," and talk about what it means in context.
The world has radically changed. The very day on which this is being written, I had a WebEx meeting with a partner in England (I'm in Los Angeles) some 8,000 miles away, and the sound and video quality was just as good as if we had been right next door.
In the 1980s, I worked for Apple in Vienna, bringing Apple computers to universities. One of the people I enabled with this technology was a professor in the Department of Cardiology at Medical University in Vienna. He was very into technology, always at the edge of technology as Pipeliner is today.
Over telephone cables, we were creating the first PhoneNET line. I was in a room sending the professor a file. He was a couple of blocks away, but close enough that he could shout and I could hear him. I sent a file, and he screamed back, "We got it!"
A decade or so later, we had email. At that time you could be on the phone with someone and send them an email, and ask "Did you get it?" That, of course, was still not instant.
Thirty years have passed since that adventure in Vienna, and it's mind-boggling to think how far we have come with instant worldwide communication. That could only happen with instant technology when we could connect live data streams together through innovations such as fiber optics. The next major step up was cloud computing, without which today's meeting with England could never have happened.
Pipeliner CRM made use of all of this technology, for the "instant" part of its approach, because we knew the world was headed in this direction. Originally we utilized the Adobe Air client for our customers so that customers' computer cache wasn't taken up and the browser wasn't needed for visualization. Instant synchronization happened in the background so that data could be instantly visualized. Today this technology is obsolete, so we have moved completely into the cloud, taking full advantage of all available internet connectivity and bandwidth.
Everyone Should Have It
I'll do something here I normally don't do, and make a bit of a political statement: I believe everyone in every country in the world should have high-speed internet, especially in places that are economically behind. They need that kind of internet speed to catch up, so that they can take full advantage of instant communication, too.
…Visualization…
Now, why is visualization so critical?
As you have probably experienced, you can find your way to an airport anywhere in the world thanks to the "airplane" icon that appears on all the traffic signs, no matter the language. If that were not the case, people strange to a city—especially those speaking and reading a different language—would have a terrible time trying to find the airport.
The same is true of the signs inside an airport—baggage claim being an example. There is fortunately a universal icon used for baggage.
Humans really take to good visuals.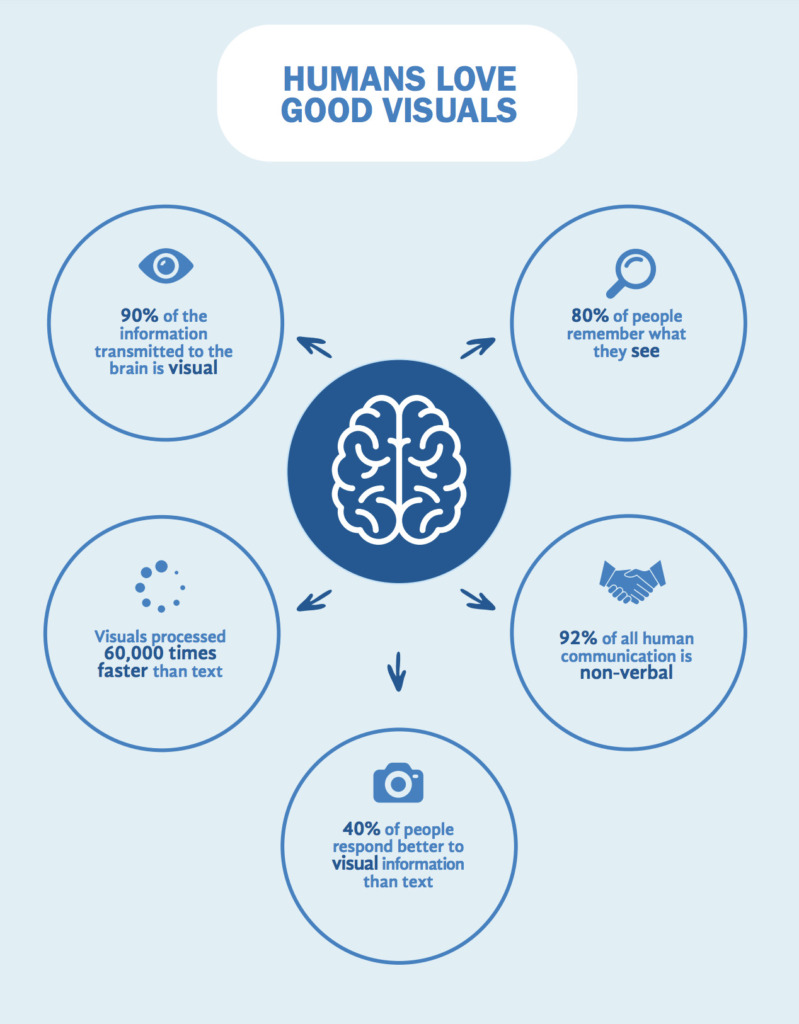 90 percent of the information transmitted to the brain is visual.
80 percent of people remember what they see. Visual data is processed 60,000 times faster than text.
92 percent of all human communication is non-verbal.
40 percent of people respond better to visual information than text.
It is for these reasons that we have made Pipeliner CRM the most visual CRM system in the world, which has made for unprecedented CRM adoption by users and salespeople.
…Dynamic…
Now we come to "dynamic." What does it mean? A lot of folks have a negative connotation for the word. There could be a "negative dynamic" in a room. Or, there is a "negative dynamic" in society right now with COVID-19.
All "dynamic" means is that rapid change is occurring. Things are constantly in motion.
We use the word "dynamic" within Pipeliner CRM to show that data can be instantly manipulated, dynamically. Aside from Pipeliner, there is not a single solution in the world that can enable this.
As an example, within Pipeliner, I can create a list of deals. I can then, through the Power Panel, filter out all deals that are not in one particular sales process stage. Instantly, any deals within that stage disappear from the list. That is the manipulation of data through instant dynamic visualization.
This capability is vital as we go into a future in which data must be visualized instantly, as we only have an instant to make an important decision. It has to happen dynamically as the data has to reflect real time.
…Forecasting…
As discussed in recent articles, accurate forecasting is a must in today's fiercely competitive commerce. Forecasting, when it is done correctly as with our new Forecasting feature, is estimated out of historical data. It is a predicted trend.
Let us say that a sales manager is looking at an opportunity, and wants to know if this opportunity is fit to move into the next sales process stage and be part of a forecast. Utilizing Pipeliner's new Opportunity Fitness feature, the sales manager finds that the opportunity isn't quite fit to close right away. The sales manager then moves the opportunity into its correct stage, and adjusts the sales forecast appropriately.
Or, the sales manager finds that the opportunity is actually fit to move ahead and make part of the forecast. The opportunity is moved into the next stage and is ready to be worked.
As we've been pointing out for some time, technology supports salespeople—it doesn't replace them (as some AI features offered by other CRM systems aim to do). Salespeople, sales teams and sales managers use forecasting to predict sales. The forecasting technology supports them.
…Collaboration
In the example above, when the sales manager moves an opportunity back because it isn't quite fit, collaboration occurs right there because the rest of the sales team will see that this opportunity is now in the correct stage, and won't place a high priority on it.
Or, if the sales manager has found the opportunity is indeed fit, the sales team now knows to make it a priority.
Where collaboration really comes into play is with sales management and sales teams. A sales manager, even examining all the current sales data in detail, can never fully understand it all. That is where the sales manager must collaborate with the appropriate salespeople. An account manager can share information through Pipeliner's Buying Center, which maps the client company relationships in B2B sales. They're bringing knowledge to the table which rounds out the vision of the opportunity for sales management and anyone else involved.
And that is collaborative forecasting through instant dynamic visualization!
Start Your Free, No-Obligation 14-Day Pipeliner CRM Cloud Unlimited Trial.