Without a doubt, consumer social media usage on Instagram is at an all-time high.
Instagram marketing is effective for B2B brands because it's where the customers are. And in every stage of the buying process, the platform's visual, digestible content becomes the secret sauce in making any value proposition stick in the customer journey of any target audience identified.
Also, since Instagram gives marketers access with real-time data for marketing strategy adjustments, brands and businesses are assured that they're doing B2B marketing right.
Understanding Instagram As A B2B Marketing Platform
Instagram's primary allure is its emphasis on visual content.
With Instagram's large user base of over a billion monthly active users, the visual appeal of the platform gives access to a diverse audience. This vast and extensive reach gives businesses the upper hand in connecting with potential audiences and customers in different parts of the world.
Knowing that 200M business accounts are using Instagram marketing for business growth, the B2B sector can leverage Instagram's visual nature through creative storytelling, especially when using photos, moving images, and other multimedia content for targeted communication.
Whether through Stories, Reels, IG Live, or Feed posts, Instagram's varied content formats gives marketers so many options to increase and strengthen brand discoverability, engagement and reach.
Further, when a brand leverages visual storytelling rooted on a compelling brand message, using Instagram as a B2B marketing platform brings a ton of benefits.
#1 Visual storytelling evokes emotion, making audiences more engaged
B2B marketers aren't just driven by logical aspects but are primarily human beings with aspirations, needs, and desires. By creating relevant visual narratives that resonate with their personal contexts and experiences, marketers can capture attention, and interest, and better yet, create a lasting impact.
#2 Storytelling builds trust and relatability
If you want to build trust and relatability with a B2B audience, craft authentic stories related to the brand, customers, and employees. This humanizes the business, giving off a more approachable and relatable persona. Storytelling also allows B2B businesses to show their understanding of an audience's pain points or share expertise.
#3 A good story sets you apart
In a saturated B2B market, visual storytelling can set your brand apart. Branding elements can create a specific and distinct emotional connection and unique identity — something that connects with your audience at a more personal level.
#4 Visual storytelling enhances thought leadership
If B2B marketers are able to share insightful stories, brands can demonstrate a certain expertise and unique perspective. These thought-provoking narratives attract attention from industry influencers and trailblazers, spark conversations, and position your business as a trusted authority.
The numbers that prove B2B Instagram Marketing success are pretty impressive:
Instagram is the king of social selling. 33% of social media marketers studied in a Global survey confirm that the platform offers marketers the highest ROI and best tools for selling products.
22% of the 1,000+ social media marketers surveyed say that Instagram Shops is the most popular selling feature in Instagram marketing.
Instagram's second most popular activity is following and researching brands, with 3% of users engaging in it.
Instagram is the second most commonly used platform by marketers. It's used by 65% of social media marketers.
Crafting Your B2B Instagram Strategy: 5 Best Practices
To take your Instagram marketing game to the next level, we put together five of the best practices in crafting a B2B Instagram strategy:
1. Try Using An Instagram Growth Service
An Instagram growth tool is invaluable for B2B brands seeking to foster organic growth and elevate their brand presence.
One such tool is Kicksta, a sophisticated Instagram growth service with advanced targeting strategies that help brands with authentic engagement with users who are genuinely interested in a specific business niche.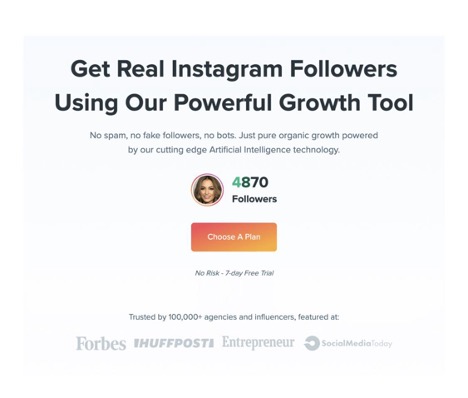 When B2B brands leverage growth tools like Kicksta, they can expand their follower base with relevant connections while saving time and resources through AI Instagram automation.
Kicksta, as a service, operates with a focus on authenticity, steering clear of artificial and spammy methods that could compromise a brand's integrity.
2. Optimize Your Instagram Bio
Another effective strategy is for B2B businesses to make the most of their Instagram bio. This is a crucial step in establishing brand presence. The Instagram bio is the brand's elevator pitch, conveying one's brand identity, value proposition, and core services and offerings.
In crafting a bio, write a concise yet impactful description about the business's unique selling points.
Be sure to incorporate relevant keywords to enhance discoverability within the niche or industry. It also helps to include a clear call-to-action guide for users who visit your profile. Add in contact details and business website.
Regularly updating your bio also allows B2B businesses to reflect the latest industry trends and developments, which ensures a dynamic and accurate reflection of how your B2B brand is evolving and growing.
3. Highlight Storytelling In Content Creation
Elevating Instagram storytelling through Stories, Reels, and Live is pivotal for B2B marketing. Each of these, when used the right way, builds a brand story that relates with the audience on a more personal level.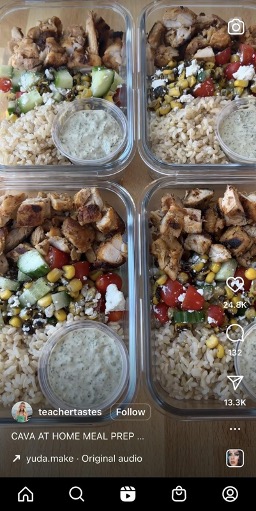 Reels allow businesses for creative, short-form video content that captures attention and drives engagement through multimedia elements like music, special effects, typography, and more. Stories are great for providing behind-the-scenes glimpses into a brand's daily activities.
This type of content fosters a sense of connection by humanizing the brand. Live, on the other hand, can be used for real-time interactions and storytelling efforts. These types of narratives can be shared through Live events and Q&A sessions.
If brands would like to get immediate and immersive responses from an audience, Instagram Live sessions are a brand's best bet.
4. Engage With Your Audience
Engaging with the audience is a cornerstone in successful B2B Instagram marketing. Brands should build meaningful connections with its followers beyond posting content.
Fostering a brand community involves a sense of nurturing and this can be done by responding promptly to comments, direct messages, and questions. This shows that you value your audience's input and are readily available for them.
Another thing to make the most of is sharing user-generated content to show your appreciation, which builds trust.
Also, brands can use Instagram's more interactive features like quizzes, polls, and surveys to get feedback and insights into the audience's preferences. Point is, being consistent with engaging with your B2B audience helps you gather valuable data in making informed decisions and highly-relevant content to boost your Instagram marketing strategy.
5. Measure Success With Analytics
Finally, another essential thing for any B2B brand or business is to measure marketing efforts with analytics.
This helps fine-tune any Instagram strategy since it provides a wealth of data and metrics that offers valuable insights into the performance of your content and its impact on the audience.
When B2B marketers analyze key metrics like follower growth, engagement rate, click-through rates, and reach, this helps brands identify trends, understand what audiences resonate with, and make data-driven decisions for an optimized content strategy.

Leverage Instagram Marketing Through Visual Storytelling
For a winning Instagram Marketing strategy, B2B Marketing should capitalize on Instagram's primary allure — visual storytelling. At the end of the day, people will always love a good story.