Among the best methods to stay connected to your consumers and boost your financial return is through email marketing campaigns.
In fact, statistics indicate that you can anticipate a mean ROI (Return on Investment) of $42 for each dollar invested in email marketing.
Email marketing may be really beneficial to your business. Nevertheless, it's not surprising that some initiatives fail given the number of marketers attempting to establish an effective email marketing strategy.
The excellent thing is how you can gain knowledge from other people's errors. You can develop a successful email campaign by studying the worst email marketing blunders.
The 5 worst email marketing failures and their respective remedies
Errors and omissions are commonplace in the field of digital marketing.
You may prevent these errors from harming your campaign by researching the most typical email marketing blunders.
Let's get started!
1.   Lack of personalization
Numerous studies demonstrate the importance of individualized experiences.
In actuality, 74% of customers claim that marketing customization affects whether they click and read email messages.
There is nothing more heartwarming for a client looking for a personalized experience than getting a message that begins with:
"Dear [user name]"? The failure to use a customization identifier is a typical email marketing error that degrades consumer satisfaction.
Personalization tests are an important stage that is frequently skipped because it demands more work. As a consequence, businesses continue to oversaturate customers' mailboxes with communications, which have a customization token that is either blank or wrong. This email instance might provide you with a good takeaway. Broken personalization in this instance is too relevant.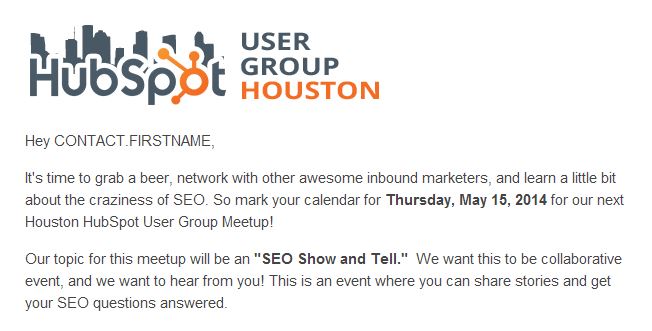 How can you prevent this mistake? Is automation the answer?
Broken personalization occurs frequently, but the best part is that you can take action to prevent it.
A critical element in the entire process of email quality control is to test your customization. Despite the fact that personalization testing differs amongst email services, this step shouldn't be skipped.
One measure to avert such errors is to go for automation – which has been around for quite a while now. You can use conventional automation solutions like ActiveCampaign or Mailchimp to streamline your email campaigns and produce more specialized, customized, and targeted content. However, you may sometimes find the platforms less intuitive than you'd like and you're sure there must be simpler methods available.
Let's check out some other ActiveCampaign alternatives that you should take into consideration before making a decision.
For instance, Flodesk is a new product in the market and one of the fastest-growing email marketing software. The process of getting started with email marketing for beginners is made simple by their collection of stunning email templates and high-design forms.
You can completely customize any of their templates or create your own from the start. Additionally, without a website, you may expand your email list, engage your audience, and convert subscribers into buyers.
How can you fix this email mistake?
As odd as it may appear, the best recommendation is to take no action. Even if it is annoying to receive emails with incorrect personalization, it is only a minor error.
Most likely, your clients won't see it, and when they do, they'll dismiss it and ignore it right away. Therefore, it would be best to silently address the issue in order to prevent this from ever happening again rather than drawing undue attention to this minor annoyance.
But if you take any action, be sure you follow the appropriate procedures. Spend some time writing classy, personalized "apology" emails that explain what went awry.
2.   Absence of CTAs
Another typical error that may negatively affect user satisfaction and your brand campaign's CTR (click-through rate) is neglecting to use a CTA (call to action) or inserting the wrong CTA.
Can you imagine sending a cleverly detailed email sequence with a broken CTA or a non-functioning coupon attached?
Or how about sharing an email advertising the debut of a new item and including a link to a product page that isn't live?
It is annoying for you as well as your consumers when CTAs are missed. Therefore, it is preferable to take measures to prevent making this error as the first course of action.
How can you prevent this email mistake?
It's essential to test your CTAs before including them in emails if you want to completely avoid making this error.
How can you fix this email mistake?
If you notice that your campaign's CTR isn't performing as well as you had hoped, a weak CTA could be the cause.
Ask your technical team to build up a proper URL (Uniform Resource Locator) for those consumers who haven't read the message as a way to address this type of email marketing error. You must issue a follow-up message with the proper link to all those consumers who found the invalid CTA. As an extra gesture of apology to those consumers who have been made aware of the problem, you could include a discount code.
Here is a great example of rectifying a CTA error: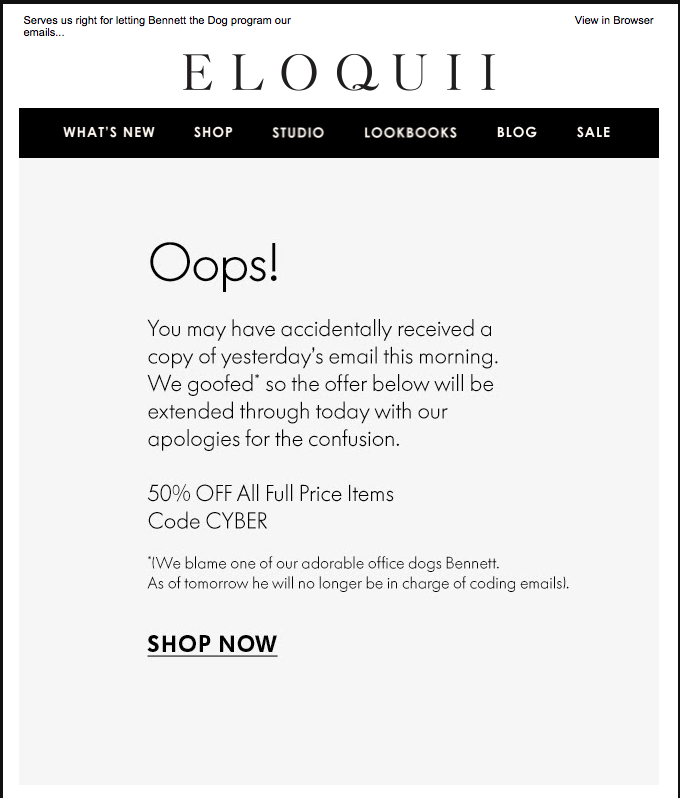 3.   Incorrect segmentation
Email segmentation is consistently shown to be quite successful. However, demographic segmentation might start consumer attrition if done incorrectly.
Imagine how perplexing it would be to receive an email from someone wishing you well as a new father when you do not have children due any time soon.
Customers experienced exactly this when Amazon unintentionally targeted the wrong demographic group for its baby registration email campaign.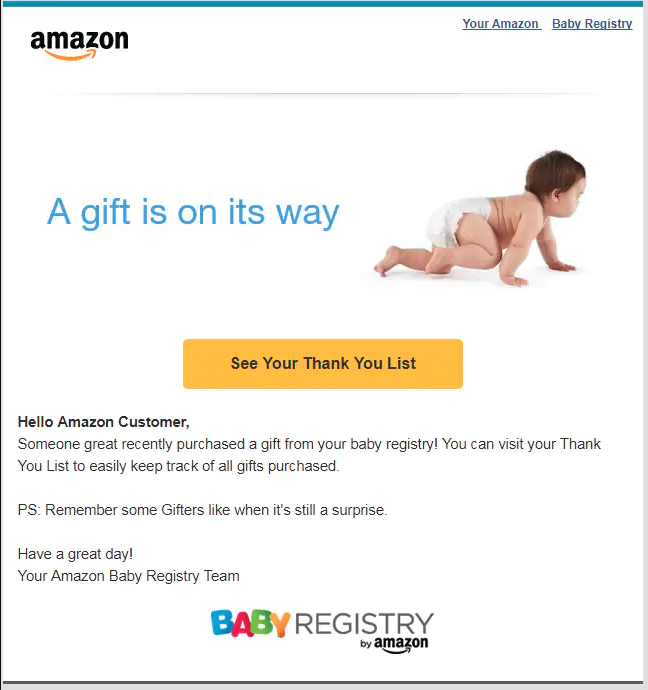 Most of the time, this error only causes customer bewilderment and has no major repercussions. Email segmentation, meanwhile, can occasionally go badly wrong and alienate individuals to a major degree.
For instance, it would be inappropriate to deliver a baby registration email to clients who have just lost a child or are having trouble getting pregnant.
How can you prevent this mistake?
Prior to sending emails, double-check your email categorization to avoid committing this error. Even though it implies that before the campaign is active, you must double-check everything. By doing this, you can prevent your emails from ending up in spam boxes.
How can you fix this email mistake?
A skillfully written "sorry" email or an added bonus can help you win in the end and save your image if you accidentally send emails to the incorrect audience segment.
When you've identified the segmentation error, resist the need to act immediately. Rather, take some time to write a thoughtful note that contains your heartfelt apologies. You could also provide an additional bonus to offset the bad impression.
4.   Distributing inflammatory material
Many errors, such as submitting the incorrect customization token, are disregarded and instantly forgotten. One error, however, can lead to a significant loss in terms of money, clients, and credibility when it relates to blunders that are more significant, such as distributing offensive or improper content.
An illustration of subpar advertising is the Adidas email advertisement. The 2013 Boston Marathon runners were sent a message with the motivating subject:
"Congrats, you survived the Boston Marathon!"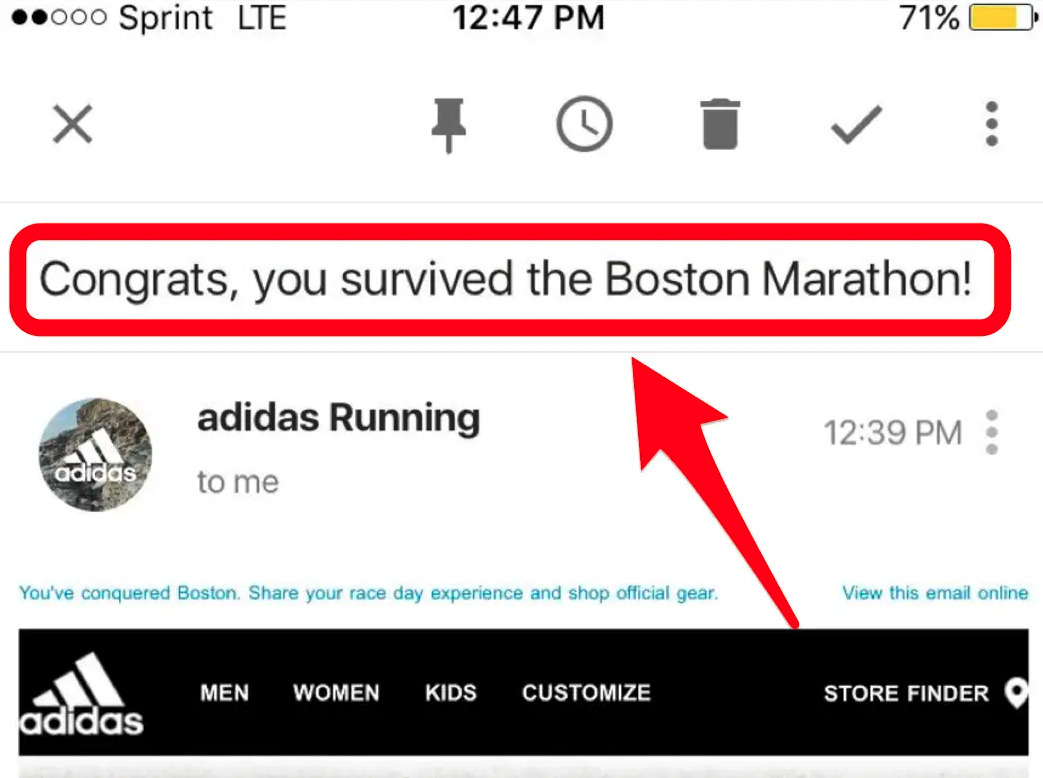 If not for the case that two bombs exploded during the same marathon, killing three indiviauls and wounding hundreds more, there'd be nothing improper with the phrasing.
Adidas made a public apology after realizing the scope of its error. The company's rapport had been already harmed, though.
How can you prevent this mistake?
Email automation without proper checks was likely to blame for the issue in the Adidas marathon promotion.
Prior to the 2013 bombing incidents, Adidas certainly sent this exact subject to competitors of numerous other races. But what was once a harmless message took on a new definition as a result of the situation.
Keep a dedicated person(s) to proofread emails created by automation programs to prevent making this email error. Always consider the context and make sure your message won't offend any specific demographic.
How can you fix this email mistake?
You must put a crisis intervention plan into action if you want to rebound from such an email mishap. This entails making a public statement and apologizing to the email's receivers and anyone else who could have been hurt by your message.
5.   Poor design decisions
The last email marketing error in our list is an improper design at the incorrect moment. The layout can lend supplementary context to certain wrongly worded phrases. This email marketing from Airbnb about the floating world is an excellent illustration of a poor design choice.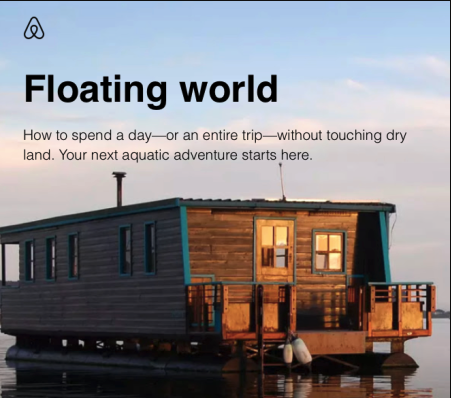 The email marketing campaign for the floating globe was started precisely as Hurricane Harvey was wreaking havoc in Texas.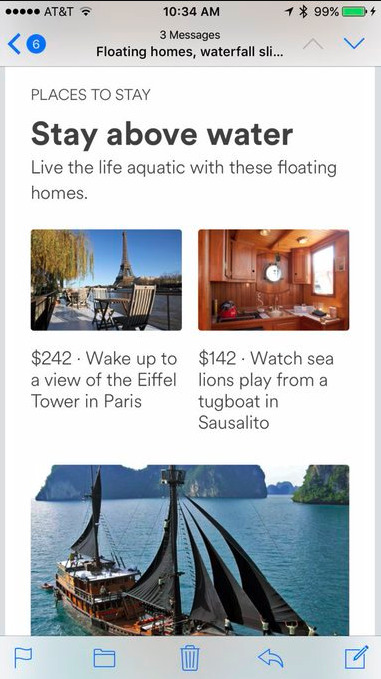 Stay above water was one of the email's subtitles, which wasn't exactly the finest slogan at a moment when Houston was flooded due to the terrible hurricane.
How can you prevent this failure?
Before releasing any campaigns, proofread them all, and keep the context in mind at all times. This makes it easier to avoid posting materials that might offend your subscribers.
How can you fix this email mistake?
Fixing bad designs at incorrect moments necessitates publishing a well-thought-out reply, just like recuperating after distributing inappropriate content.
Conclusion
There is no exact formula for a successful email marketing strategy. However, we have outlined a few typical errors that you should strive to steer clear of.
The basic message is that it's helpful to have a second perspective on your material before posting any information.
Have another colleague take a deeper look at your content while you check your communications.
Before launching an email marketing campaign, always double-check the facts and take context into account.