Whenever the close of another year approaches, digital marketers, start considering their strategies and action plans for the coming year. And while things rarely change so drastically that an entirely new approach to marketing a business is required, it's good to take stock of the trends that will matter in the year to come.
Let's look into some content marketing best practices to use in the coming year.
Publish Evergreen Content
Every content marketing strategy needs to rely on quality content in order to succeed. And while there will certainly be trending topics you want to cover (and you should!), investing in evergreen content pieces will be a tactic that pays off in the long run.
Content that can rank well and continue to generate traffic months and years after it has first been published is the best kind of investment. Topics that will remain relevant for a long time are usually the ones that can attract this kind of interest, especially if they've been written exceptionally well.
To begin with, spend some time doing topic research. Ideally, you'll want to satisfy the interests of your audience at every stage of the sales funnel. Also, seek out topics for which you know you can write better content than what has already been published and is currently ranking well.
Even if you can't outdo your competition, these articles will remain of interest to your readers. Plus, you'll be able to update and republish them as well.
Here's a straightforward example of this kind of content. This Bumble article on helping a friend through a breakup is not the longest or the most in-depth post you can find about the subject, but it provides some very decent advice, and it's certainly actionable. Bumble's readers are likely to check it out, even if it's not what originally brought them there.
Delve Deeper
For your content to attract a devoted readership, you will need to follow that first rule of content marketing everyone keeps telling you about: provide value.
The internet is full of articles that serve no purpose other than being published, that is, to make blogs active. And although search engines do appreciate regular content, they prefer it to be of exceptional quality.
Not to mention the fact that your readers won't consider you trustworthy, credible, or reliable if your content is sub-par and provides no actionable and relevant information.
Instead of focusing on producing a certain amount of content every month or every week, take as much time as you need to ensure everything you do publish is your absolute best work.
This will mean creating long-form content that is filled with useful details about the topic at hand. Sharing statistics, relevant research, personal experiences, and tips will go a very long way in establishing you as an authority.
Here's an example from Scott's Cheap Flights. Their post on finding cheap flights is not just long: it's useful and filled with plenty of advice that's useful to anyone looking to fly at a more affordable price. They've also featured plenty of useful images. Lastly, they also link out to all the websites you could ever need when looking for a flight, which really makes their post an ultimate resource.
Add an Infographic as Well
Another great tactic for making your content memorable and more engaging is to add an extra layer of visual interest. You can achieve this by designing infographics that are not only useful to your audience but also visually striking.
An infographic is an amazing vessel for conveying a lot of data in bite-sized chunks. Instead of writing 100+ words of copy, you're able to distill your message down to its more important elements and bolster them with visuals.
Infographics are also highly shareable, and you might pick up some interesting backlinks or social media mentions from them. Plus, they give you the option of promoting your content on high-traffic platforms reserved for visual content only.
Take a look at this infographic on fraud and small business done by Reckenen. While short, it has managed to convey a lot of interesting and important statistics. On top of that, it has also done a great job of incorporating the brand's visual identity. It is recognizable, impactful, and useful, and it is certainly more appealing than 1500 words on the same subject.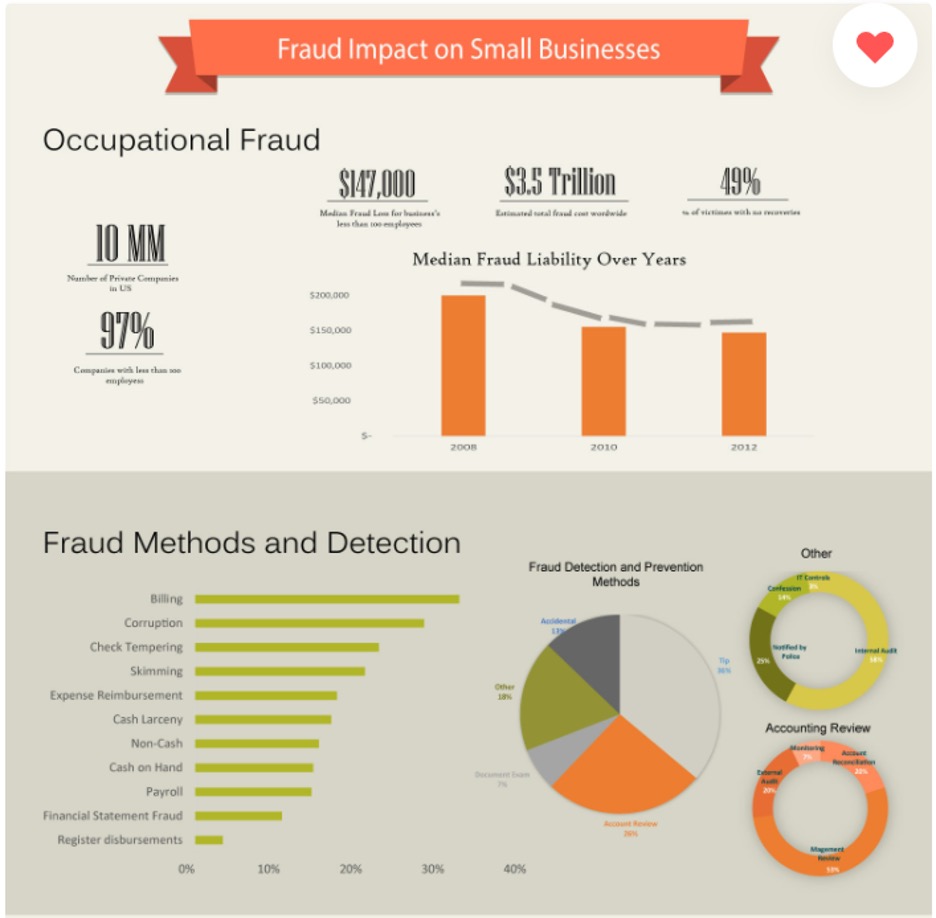 Supplement Your Content with Video
Speaking of visual content, you should also consider implementing video if you haven't already done so. Viewers claim to retain more information after watching a video than reading an article, and it's also a great way to drive more traffic. It can help you add more interest to your blog, and you'll have something dynamic to promote.
Video can also help you improve the time visitors spend on your page, which has its SEO benefits too. Of course, you should always make sure that video isn't the only form of content you offer. There will be visitors who aren't able to watch it, for whatever reason, and you don't want to alienate them.
Here's a good example of incorporating both video and written content on a single page. This post on the advantages of selling to an investor features a video at the end of the page, and it also provides information for those who may prefer to read it.
Plus, it also allows the brand to promote their one piece of content across various channels, widening their reach significantly.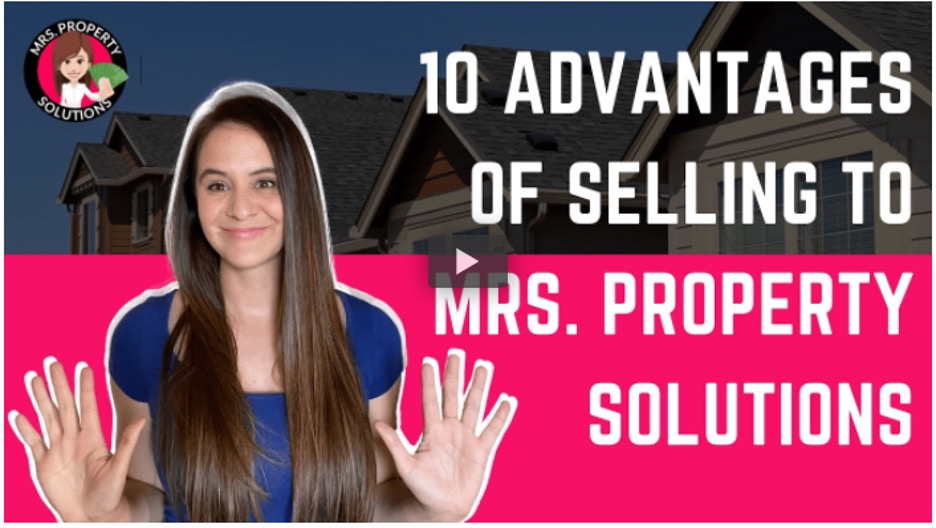 Lead with the Important Information
To increase time on page and ensure their readers scroll far down, some authors choose to provide long-winded introductions and spend a whole lot of words getting to the actual point of the article.
This is incredibly frustrating for readers who are just looking to get an answer and move on with their day. It can also increase the chances of pogo-sticking, which is a bad SEO signal.
Instead, provide the key information upfront. Don't hide the main point somewhere near the middle of the article. Quickly give your readers what they're looking for, and then spend time and effort providing additional information and possible tips.
Of course, this will only apply to certain kinds of articles. Articles such as this one can't (and shouldn't) be summarized early on. Instead, its headlines should be descriptive enough to provide the information a reader may need.
On the other hand, posts like this one on realistic electric fireplaces by the US Fireplace Store should most definitely get to the point as soon as possible. Our example opens with a summary, which is essentially all you need to read. You can then only read up on the products you are actually interested in, saving a lot of time.
Back up Your Information
In this age of fake information, it's incredibly important to provide plenty of evidence that your content is credible. After all, there are so many articles on any given subject that are not necessarily true. In such an environment, you can significantly boost the value of your own by backing your information up.
You will do this by referring to established research and statistics that support your claims and that have already been published by a source that is certainly trustworthy. For example, that could be a scientific journal.
There will, of course, be instances when you're unable to find a credible source. In that case, you can explain the thought process or the experience that has led to your conclusions.
Credibility is especially important in the fields of health and finance. After all, if you give someone poor advice on how to decorate their home, it will never be as harmful as advising them to take the wrong supplement.
Take a look at how Transparent Labs are lending credibility to their posts. In this article on bicep workouts, they've linked to five different studies. On top of that, they've linked to numerous relevant articles that reinforce their arguments. They've also done an amazing job of explaining why an exercise works. Last but not least, the language they use successfully explains complex subjects to a layman readership.
Start a Podcast
Finally, you should take advantage of another popular content format: the podcast. Podcasts can help you establish a much deeper connection with your audience. They can now associate a voice with your brand, which will help you convey emotions much more effectively.
Launching a podcast is not as difficult as you'd think, and you can have it set up quickly. What you should devote more time to is the consideration of topics you want to explore and the voice you want to adopt.
Your podcast can be an insight into the way your small business works, for example. It can share insider knowledge and extra tips that will be interesting to your audience. Or, it can just be a fun and witty program – the choice depends entirely on your audience's interests.
Final Thoughts
Content marketing in 2022 is not expected to differ too much from what we have seen in 2021. However, as readers' expectations rise, you will need to continue bringing your A-game to each piece of content. Don't forget that there are plenty of other brands out there looking to outshine you.