For both B2B and B2C marketers, marketing automation is an essential commodity. CommuniGator has teamed with Smart Insights to conduct a survey on the insights of how B2B marketers make use of this technology and to discover why some businesses are not using marketing automation to its full capacity. To view the full study click here.
The survey was originally conducted in 2016 with 433 respondents and again in 2019 with 308 respondents. CommuniGator discusses the comparisons below.
In 2016, 18% of the businesses surveyed were not using marketing automation, by this end of 2019, this stood at 1 in 8 businesses.
If you are a small business, marketing automation provides the tools for you to stay relevant and competitive. For larger corporations, this technology eases the burden of maintaining high levels of customers and demand.
It is also a fantastic tool to reduce man-hours needed to create leads by eliminating wasted time for cold calling as it can detect potential customers with a genuine interest in your brand's product or service.
However, it cannot always replace the personal touch and humans are still required in some industries to generate leads. Cold calling can still be an incredibly useful technique even in today's modern world and perfecting this method is essential, you can read about the best cold calling tips here.
How Was the Overall Effectiveness of Marketing Automation in Businesses Ranked?
Businesses were asked if they use all the features marketing automation has to offer, less than 5% optimized all of these in 2016. This has remained consistent throughout the last three years, but we have witnessed a decline in those who declared they use many features.
Previously, this figure stood at 30%, the 2019 survey revealed this has now dropped to less than 15%.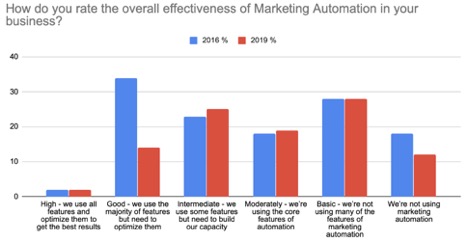 What Types of Automated Email Marketing Techniques Were Used?
In both 2016 and 2019, businesses were questioned as to which of the techniques marketing automation can offer that they choose to utilize. Over the last three years, the most popular option has remained the same which consists of sending an initial welcome email.
Emails based on browser and content history, known as nurturing emails, is the only technique that has seen a rise since 2016.
Businesses are seemingly choosing to leave behind inactive customers in favor of those who are actively showing an interest in their product or service, which in turn can lead to greater lead generation.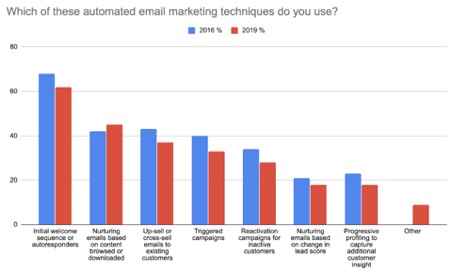 Rate the Level of Email Targeting you Use
You can take advantage of marketing automation by targeting emails based on user activity. Unfortunately, 29% of businesses never tailored their output in 2016, meaning all those who were targeted received the same email which can result in missed conversions.
This could most likely be a result of a lack of knowledge on how to generate this and how effective it can be. Tailored emails have now seen an increase, from just 4% using tailored emails to 18% in 2019.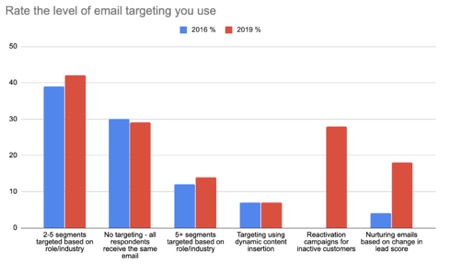 Which Types of Lead Scoring Techniques Did Businesses Use?
You can give a user a 'score' based on-site activity and has continued to be the favorite technique over the three years. If utilized correctly, this tool can have a massive effect on conversions. Businesses can filter through users to discover who is truly sincere in purchasing their product or service.
The most favored method to measure lead scoring is a click within emails. These scores can be used to determine even more accurate data on the user and turn into actionable insights.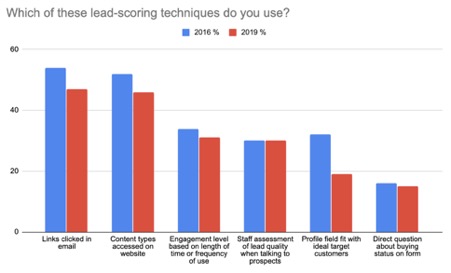 How Were Activities Rated in Relation to Their ROI for Businesses?
Artificial intelligence was still in the stages of infancy in 2016 and therefore no data was collected at the time. CommuniGator hopes to gather more information on this technology as it progresses.
Artificial intelligence will create actionable insights for a site's user. This can be in the form of personalized landing pages based on previous visits, this is one of the most powerful methods of doing so.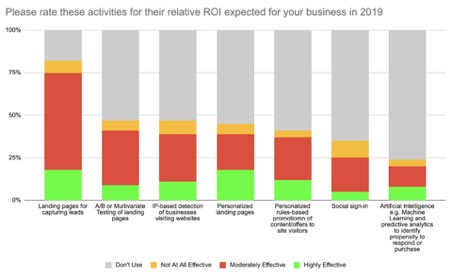 What are the Biggest Barriers to the Adoption of Marketing Automation Functionality?
Why are marketers not making the most of this technology and why has the use of this decline in the last three years?
The study showed a severe lack of knowledge was one of the largest barriers when it came to implementing marketing automation.
Implementing this technology on outdated systems is also a barrier, along with a lack of resources.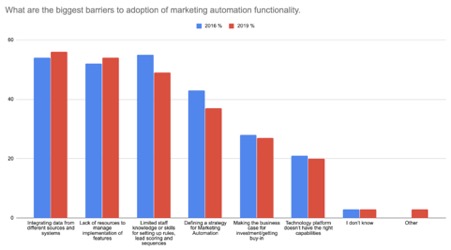 Which Persuasive Techniques were Used to Encourage Email Sign Up in 2019?
Of course, none of these techniques would be of any use if businesses are unable to obtain contact details from a user.
Sign-up messages on key pages are the most popular tool in doing so, with 56% of businesses choosing this method.
44% of sites offer free data for those who provide their contact details
Social media sign-ins are becoming increasingly unpopular, most likely due to GDPR laws meaning these platforms must encrypt users' data.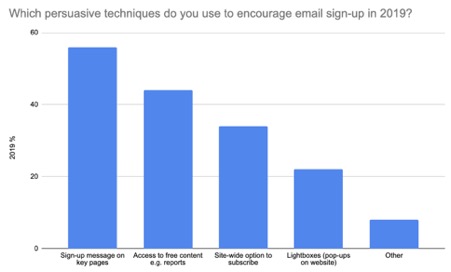 In conclusion, the lack of knowledge and resources appears to be the biggest contributing factor to the decline in marketing automation. Alongside this, the seemingly arduous task of implementing technology on outdated systems.
Author bio:
Simon is a Chartered Marketer with over ten years' marketing experience gained primarily in the B2B marketplace. He is currently the Marketing Director for CommuniGator – a leading marketing automation and lead generation software provider allowing you to manage every step of your digital journey.