At first glance, the idea of long-form content seems pretty counterintuitive, considering the ever-shrinking attention spans of today's web audience. In a world where you only have a handful of seconds to capture your readers' attention, who is going to read a 2,000-word article?
Well, it turns out that most people will, as it is getting more and more difficult to find detailed, actionable content out there on any subject. According to research done by Ahrefs and Backlinko, your average Google first-page result is 1,447 words long. But before we get any further, let's determine what actually constitutes long-form content.
What Is Long-Form Content?
The trickiest thing about long-form content is its elusive definition because it's hard to pin down the actual word count. To some, long-form content is anything over 700 words, while others are adamant that it has to be 1,200 words or more.
Let's say, for the sake of argument, that long-form content is 1,500 words long or more. However, what makes it so effective is its substance rather than mere length. Longer pieces of content tend to be more in-depth and backed up by research, facts, examples, and other forms of content, such as infographics or even video. Considering this, it's no surprise that articles ranging between 2,250 and 2,500 words in length typically earn the most organic traffic.
The goal of producing long-form content is to provide in-depth explanations, as well as actionable advice and/or solutions to a particular problem. This can be done using many different forms, depending on your business and industry. Some of the common types of long-form content are:
Articles and blog posts – Bloggers like Neil Patel or Tim Urban usually pick one topic and then go deep with it, resulting in extremely useful blog posts that are over 2,000 words long.
Case studies – These are detailed write-ups of your product or services that were successfully implemented to solve a specific problem for a client.
Ebooks – You can use this format to publish a step-by-step guide that describes the process through which you can solve a particular problem. They are usually offered as gated content, meaning that they require a reader to share their personal information in order to download the ebook.
Product roundups, reviews, and comparisons – These include product descriptions and reviews, along with buying guides. This type of long-form content is usually found on ecommerce stores and affiliate websites.
Additional types of long-form content are white papers, reports, brochures, and datasheets, among others.
What Are the Benefits of Long-Form Content?
The first and most obvious benefit of long-form content is providing value to your target audience and answering their questions. The second benefit is that long-form content enables you to establish yourself or your business as an authority figure in your industry. If we were to get into the specifics, long-form content beats short-form content also when it comes to:
Search engine ranking and conversion rates – According to statistics, the top 10 search results are longer than 2,000 words. Also, longer articles receive more backlinks. This proves that Google doesn't simply look at content length but also at its context. Longer articles are more effective because they go either in-depth with the topic or cover multiple related topics and explore the connections among them.
Target audience engagement – This is especially relevant on social media, where long-form content contributes to better organic reach and a higher number of likes, shares, and comments.
Longer lifespan – Because long-form is useful and actionable, it stays relevant for much longer. If you take the time to update it regularly, it becomes evergreen.
Now that we've established what long-form content is and what its benefits are, let's take a closer look at some of the best practices for its creation. We'll also talk about how you can leverage it to make your eCommerce website more successful. Keep on reading to find out more.
6 Best Long-Form Content Marketing Tactics for Ecommerce
1. Allow Readers to Jump to a Section That's Relevant to Them
Because long-form articles and blog posts cover so much ground, it can be pretty tiring to go through them all at once. Also, some readers are only looking for concrete answers and won't really bother to read the entire article.
The best way to go about this would be to break up your content into sections using shorter paragraphs, headings, and subheadings (which we will get to later in more detail). However, even this requires the reader to scroll through the article in order to find the information they need.
The solution?
Create a table of contents at the beginning of your article or blog post, which will enable readers to access the desired content immediately. In the context of ecommerce, having a table of content would allow your customers to view only the product they are interested in buying and read the review.
Eachnight does a really good job at this with their long-form review of 2022's best mattresses. Right after the intro, you can view the table of contents and click on the product you want to look at without having to read or scroll through the article in its entirety.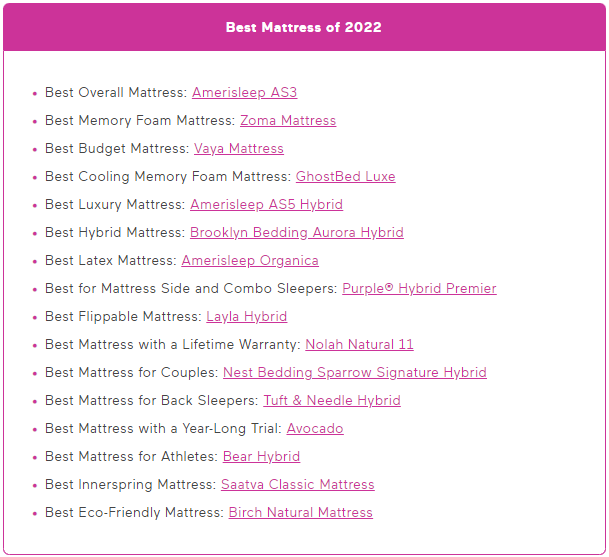 2. Include Sales-Focused CTAs in an Elegant Way
Most people, even if they are looking to purchase a product from you, don't like being pitched or sold to, especially not through aggressive calls to action and pop-ups.
The main reason why they are reading your long-form content is that they are looking for valuable information that will enable them to make an informed buying decision. But, it does indicate buying intent, which means you can still gently nudge them toward your store. Make it clear that they are in a section that is about selling,  but provide them with all the helpful information they need before you point them toward your store using a fitting CTA.
One of the best examples of putting useful long-form content ahead of intrusive calls to action is Kuru Footwear in its series of articles on foot disorders and the footwear that can be worn as treatment. As an example, take a look at their long-form post covering the best orthopedic shoes.
Their FAQ section and buying guide are packed with all the information you need. Yet, their calls to action are understated in terms of content and design, with discreet "Shop Men's" and "Shop Women's" at the end of each section.
3. Make Sure Your Content Is Readable
Reading a big wall of text is something that most people don't like to see, even if they are reading a book, let alone trying to find information online. This is why "content chunking" should be one of the most frequently used weapons in your content writing arsenal.
Breaking up content into smaller, more digestible chunks is not new, but it's become essential in the last few years, especially when it comes to the ecommerce landscape. Nicole Moran, the director of Nielsen Norman Group, put it best when it comes to the importance of content chunking:
 "Chunking makes content easier to comprehend and remember. Chunking text helps users understand the relationship between content elements and information hierarchy."
How do you chunk long-form content? There are several different methods you can implement, including:
Choose readable fonts – This applies to both font size and the selection of the font itself. Remember that the majority of your customers will be looking at your website using their mobile devices, so that fancy font you like might render your content unreadable.
Break up your content into smaller paragraphs – You can do that by utilizing heading and subheadings, whitespaces, numbered lists, bullets, and quotes.
Add visuals – The most obvious choice are relevant images, diagrams, screenshots, infographics, and videos. Blockquotes and anchor text can also be used to break up the monotony of text.
To see an example of this, look no further than B&H Photo Video, which is the absolute king when it comes to creating readable long-form content through the use of subheadings, bullets, images, product descriptions, and specifications. Their buying guides on cameras and camera-related gear tick all of those boxes.
4. Get Hyper-Specific
While a long-form article allows you to cover a lot of ground, you should aim for depth instead of breadth. Regardless of your industry, take the opportunity to dive deep down into the subject matter by explaining everything that your online store visitor might be interested in. And rest assured they are looking for details, because that's why they were searching for long-form content in the first place.
For example, Sweetwater, which sells musical instruments and gear, has a really great buyer's guides section.
Their guide on acoustic guitars tells you everything you have ever wanted to know about acoustic guitars, including the most important parts and how they work, body shapes, types of tonewoods, neck shapes, scale length, as well as info on electronics, in case a reader is looking for an acoustic-electric guitar. They give their customers more than enough info in order to decide if getting an acoustic guitar is the right choice for them, as well as what specs to look out for when actually buying one. The same goes for their other guides on electric guitar, amps, pedals, and just about everything music-related you can think of.
5. Remember Social Proof
Even though you've gone through all the trouble to craft high-quality long-form content that answers most of your target audience's questions, they still might be hesitant to embrace your ecommerce website. Why?
Well, regardless of the quality of your content, if you are new to them, they are going to wonder who you are and whether the information you are sharing can be trusted.
That's where social proof comes in. Providing social proof on your website in the shape of user reviews is one of the most effective ways to prove to visitors that your website is trustworthy.
Amazon offers a good example of how social proof can be generated through user reviews. Another example is Bay Alarm Medical, a brand that sells medical alarm systems and publishes some incredible long-form content on the subject, like their in-depth guide to the best medical alert systems on the market today.
They provide social proof in the shape of a floating element in the bottom left corner of the website, which showcases their Google Review rating. The customers can easily access the reviews and see that the business is trustworthy and offers high-quality products, and the element itself is very discreet.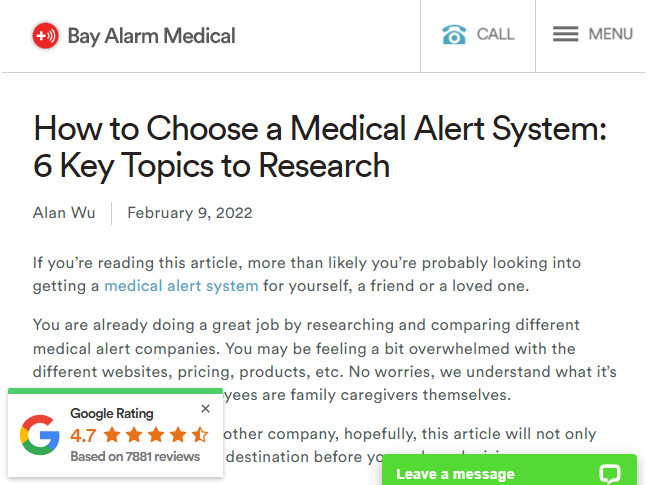 6. Supplement Your Written Content with Video
Even if your long-form content is well-formatted and easy to read, it can still be hard to consume for some readers. To overcome that challenge, you can supplement your text with video. This is especially effective if you have lengthy step-by-step user guides.
There are numerous benefits of using video, even when used as a standalone piece of content:
Improved SEO – Great videos improve engagement and customer interest, which leads to an increase in traffic to your website. All of that is picked up by Google, which views traffic as a major ranking signal.
Better conversion rates – This goes double if you are selling a physical product. Video is the ultimate way to showcase an item online, and it is superior to written content and images.
Video is more interesting – Because it's able to keep your audience's attention, utilizing video within long-form content will help you minimize bounce rates. People process visual content much faster than text, and finally, video content will help boost session times, which are also a ranking signal.
Sola Wood Flowers has used this approach to create a video that shows how viewers can create a winter branch centerpiece using their Sola Wood Flowers and just a few branches. Video is the best way to go here because it would be next to impossible to describe the process using just text or even images.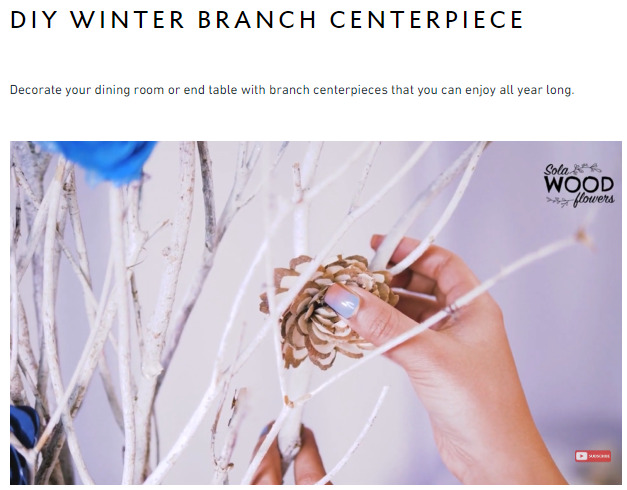 Final Thoughts
As you can see, long-form content can benefit your ecommerce site in a number of different ways – if done right. Now that you know which tactics to use, all that is left for you to do is to create it. And sure, that's no easy feat, but it is well-worth all the time and hard work you put into it.