Throughout the years, Amazon has proven to be no stranger to innovation. The ecommerce giant is always striving to improve their customer service, a case in point is Amazon One, which was launched in 2020 with the sole purpose of making everyday activities effortless.
 This new biometric tool enables a Pay-by-Palm service for Amazon customers.
Now, Amazon Go stores and Whole Foods customers can pay by simply holding their hand over a scanner.
In this post, we'll review the inner workings of Amazon One, and tackle its benefits and some privacy concerns customers may have.
About Amazon One
Amazon's approach to contactless shopping began with "Just Walk Out".  The program allows shoppers to enter Whole Foods and Amazon Go with the swipe of a credit card.
Once inside, a series of sensors and cameras track the customer's items. When shopping, they only have to swipe their card again to pay for their products.
Now, the retail giant took things further with Amazon One. Instead of swiping a card, registered users hover their palm over an Amazon device. They literally have the power of shopping in the palm of their hands.
Amazon One is available in various Whole Foods markets and Amazon Go stores across the US. The new device features a simple space for inserting a credit card, and a palm-reading scanner.
Amazon One is located in a kiosk right in front of the store. All it takes to use it is a credit card, a phone number, your hand, and less than 30 seconds.
Here's how Amazon One works:
Insert a credit or debit card and hover your palm over the scanner.
The computer will code the unique veins and ridges of the hand.
Amazon stores the "palm signature" into the cloud, and links the shopper's hand to its credit card.
Amazon encrypts the data as a unique palm signature to ensure secure payments.
Customers also have the option to scan both hands. And once the data is filed, they can enter, exit, and pay through a one-palm-hover on Amazon One.
Amazon One is available at select Amazon Go, Amazon Fresh, Amazon Books, Amazon 4-star, and Amazon Pop-up establishments. Customers can review all 53 locations in the Amazon One website.
Unique Customer Protection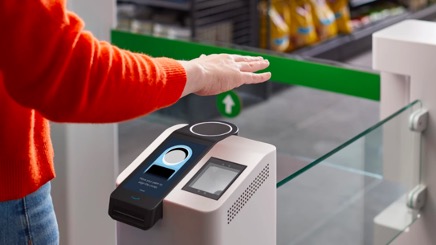 Amazon states that "no two palms are alike". This means that palm print is a more private biometric option than facial recognition.
Plus, the mere act of holding out your hand is an intentional gesture. Amazon believes this gives customers full control of Amazon One.
When Amazon One scans a hand, it stores the key identifiers of each user's palm. These include lines and ridges, surface area, and vein patterns.
Then, the biometric info is sent to a custom area in the cloud.
Palm data is never stored on the Amazon One device. Plus, Amazon's place has many security controls to protect customers. For example encryption, data isolation, and dedicated secure zones with restricted access.
The Future of Amazon Pay-by-Palm
Last April, Amazon reported that thousands of customers have signed up for Amazon One. The company also claims that they've received great feedback from users.
According to Amazon's executive Dilip Kumar, consumers appreciate how fast it is to enroll in Amazon One. Plus, the COVID-19 pandemic makes the "contactless" technology a welcome change for consumers.
More recently, the company offered a $10 promotional credit to those who enroll in Amazon One. Customers must submit their palm print, phone and credit card numbers to claim the reward.
It's clear that Amazon has its sights on a contactless future. The company envisions Amazon One as a means of entry to workplaces, stadiums, and even third-party retailers.
This is a logical step, given Amazon's customer-centric approach to business. Pay-by-Palm technology can boost the shopper's experience beyond the online marketplace.
As the Amazon One website states, the goal is to hand users complete control to enter, shop and pay with the wave of a hand.
For the moment, interested parties can reach out to Amazon and request more info about Amazon One. But the top concern for many parties is privacy.
Privacy Concerns
Consumers are reluctant to assimilate biometric payment methods. Besides, Amazon's use of personal data has faced controversies in the past.
In 2019, the company admitted that it stores Alexa voice data, even if a user deletes the audio files. The most recent case being when the company sold biometric facial recognition to law enforcement.
The retail giant did place a one-year ban on the sale. But people are still concerned about what will happen after the ban expires.
Besides, Amazon Ring continues to work with the police, despite civil rights complaints.
Amazon claims that Amazon One devices do not store any information. And to increase control, users can also request an Amazon One ID deletion at any time.
Users have to click on "Terms, Privacy, and Help" in the device's screen. Then, the user selects "Unenroll". Amazon will then delete the biometric data from its system.
The user's data will be deleted automatically, as long as there are no open transactions in their account. Plus, the ID will also be deleted if there is no interaction with Amazon One for more than 2 years.
But Amazon's history with data privacy raises important concerns. It's too soon to tell if users and third-party brands will place their trust in Amazon One.
Final Thoughts
The new Pay-by-Palm technology can certainly be an asset for credit card institutions. And retailers may look forward to fewer store lines.
Amazon expects to add Amazon One into more stores in the coming months. But knowing the retail giant's appetite for service, that's only the beginning.
The new Pay-by-Palm technology can certainly be an asset for credit card institutions. And retailers may look forward to fewer store lines.
Positive adoption will surely benefit customers. But the question remains: Will the market embrace Amazon One?
Perhaps Amazon One licensees will persuade some retailers to adopt the technology. However, the retail giant has a not-so-great history dealing with data privacy.
Plus, the wide audience is always reluctant to assimilate similar experiences. According to Expert Market, the global mobile wallet usage is only 6% as of 2018, which isn't that much.
What does this tell us? Although its possibilities are exciting, there's a long way to go for Amazon One. Time will tell if the new Pay-by-Palm feature will become a widespread payment option.
Author
Esteban Muñoz is an SEO copywriter at AMZ Advisers, with several years' experience in digital marketing and e-commerce. Esteban and the AMZ Advisers team have been able to achieve incredible growth on the Amazon platform for their clients by optimizing and managing their accounts and creating in-depth content marketing strategies.