Artificial intelligence (AI) has done wonders for the industries it's been integrated into.
For several industries, AI has been used to automate time-consuming tasks and help employees focus on other important aspects of the job — of course, automation is just one of AI's benefits. The technology can also be used for data mining, real-time customer assistance, personalizing offers, and others.
These are just some of the many reasons why business owners are now signing up to AI courses and are starting their journey towards understanding the technology better.
With a growing pool of customers, time is essential for marketers and business owners, using AI cuts the time they spend doing their tasks drastically — leaving them more focused on other more important aspects of their marketing campaigns.
In this post, we'll be talking about the different ways to leverage AI in marketing.
Let's get started.
1.Customer Service Chatbots
Marketers understand that customers appreciate quick responses.
For some customers, it's the basis of whether they'll patronize the business or not. This is what makes customer service representatives essential for all types of business.
Human customer representatives were the ideal choice but they were a costly option — making businesses lean towards chatbots.
Now that chatbots can be customized to respond in a more personal and fluid manner, a lot of businesses utilize them to have round-the-clock customer service.
Chatbots are able to respond to queries 24/7 and can be customized to personalize the experience of customers.
Let's take this chatbot for example.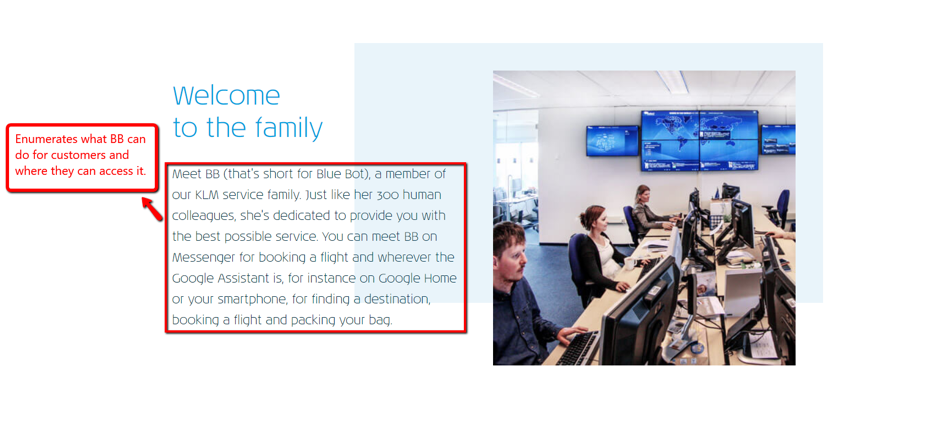 KLM's Blue Bot (BB) has been programmed to respond to customer queries in a friendly and helpful manner.
BB helps updates customers about flight details and helps them book their flights.
2. Personalized Product Recommendations
In order for product recommendations to be effective, companies have to capture the customer's attention and the trick to doing this is through personalization.
Over the years, personalizing product feeds were dependent on what customers recently bought – regardless if it was a birthday gift or not.
This strategy made recommendations is ineffective in encouraging customers to buy products they commonly use because it was not personalized enough.
With recent technological breakthroughs, AI can now be leveraged to personalize feeds using recent search histories and purchases and interactions with products and brands.
By including these factors, product recommendations are now more personalized and targeted at what the customer really wants to purchase.
Let's take Amazon as an example.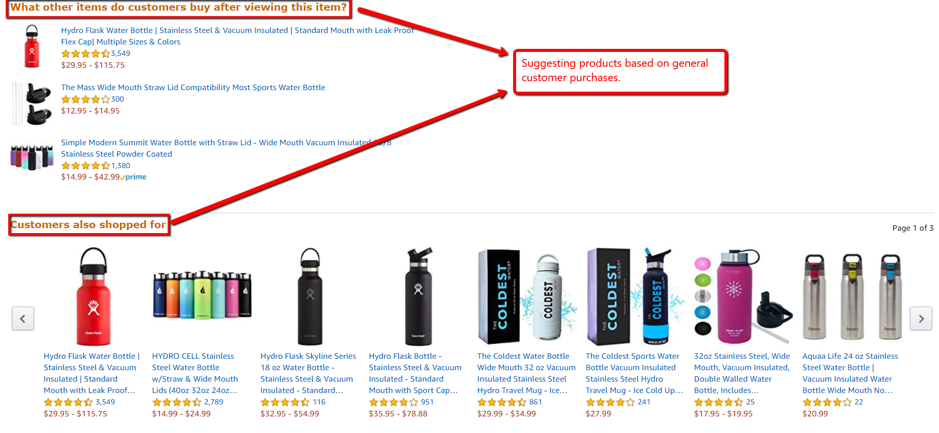 Amazon shows what customers generally view and purchase.
For customers who are still undecided, this can help them decide on whether or not the product should be purchased.
3. Voice Searches
Customers are now starting to appreciate voice searches because of its accuracy, speed, and convenience.
Another factor that makes voice-only searches appealing to customers is that they can get what they need without the need to scroll and type.
According to Econsultancy, voice searches will comprise 50% of the total searches on the internet by 2020.
AI-powered voice searches such as Google Assistant can be enabled to browse through websites and product inventories which speeds up customer interactions and purchases.
This is becoming more popular for customers who want to find a specific product with just a single voice command.
Given its rising popularity, marketers can optimize their interfaces to become voice search-friendly and improve its SEO ranking through better user experience.
4. Trend Analysis
Analyzing trends is an essential yet tedious task for marketers.
Trends are rapidly changing and it can be overwhelming for marketers to keep up with them.
Results from analysis are the core of campaigns and it's an aspect of marketing that should never be neglected.
But the traditional way of analyzing trends is a tedious task for marketers. Not to mention, there are human factors that might give inaccurate results that could be detrimental.
In this light, leveraging AI to analyze trends in the market is an option that marketers should be open for.
Through AI-powered programs, trend analysis can now be done in a quick and convenient manner — no need to conduct case studies and analysis with big groups in the company.
5. One-to-One Marketing
Gone are the days where one-size-fits-all marketing campaigns actually provided results.
Today, one-to-one marketing, also known as personalized marketing, is an individualized strategy that marketers use to make campaigns more attractive for customers.
This strategy collects data, conducts data analyses, and uses artificial intelligence to implement it.
According to Salespop, customers patronize brands that are interested in them as individuals.
They want to interact and purchase from brands that are focused on improving individual customer experience and tailoring offerings according to their interests.
AI can be utilized to collect and analyze engagement behavior to provide information about the different incentives and ads customers are interested in.
Marketers can leverage AI to interpret these pieces of information into one-to-one marketing campaigns — such as individualized incentives and promotions.
A concrete example would be Spotify.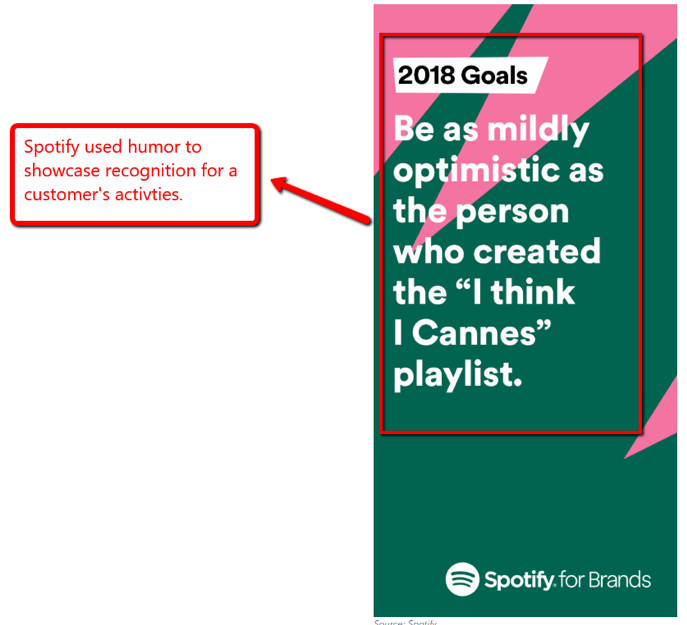 While Spotify deviated from the traditional marketing campaign, they released billboards that contained messages about various individual activities in the application.
Its "2018 Goals" campaign used humor to show that customers can be recognized and remembered individually.
6. Follow-Ups
Marketers know that for a campaign to be successful, they should also focus on following up potential customers.
For customers who inquired about products, getting leads can be possible through effective and timely follow-ups.
Follow-ups are also a great avenue for marketers to engage with customers and improve customer service. Being a crucial part of campaigns, follow-ups should be done efficiently. With the help of AI, marketers can send out follow-ups to various customers all at once.
Let's take a look at TryPigeon's automation suite that can be used in Gmail.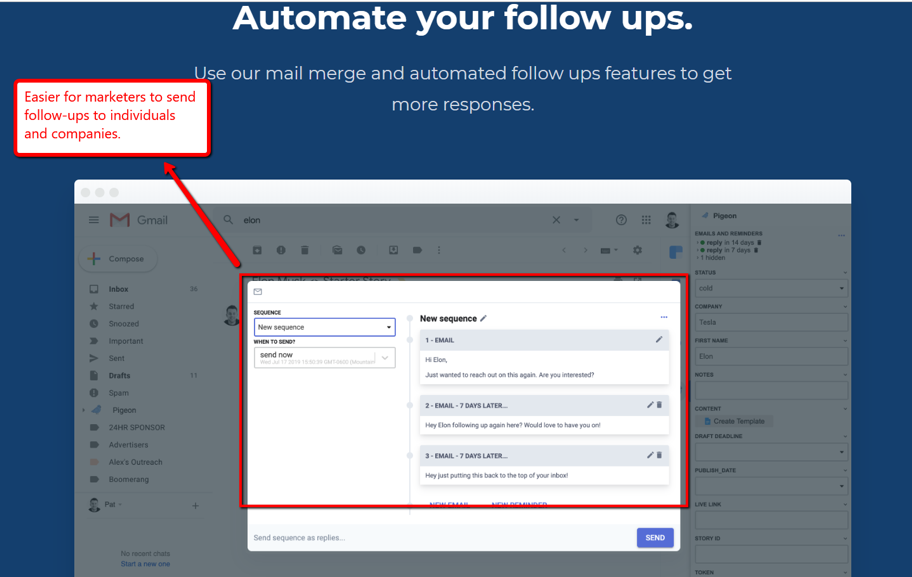 This suite enables marketers to create and time when to send out sequences. Templates can also be created to follow-up on specific customers.
Using this application, marketers can be efficient yet effective with their follow-ups.
Conclusion
Time is a crucial factor in marketing.
With trends changing every now and then, it's essential that marketers are able to keep up with the changes and deliver on time.
A big factor that has helped marketers not lose their footing is artificial intelligence.
By reducing their tedious tasks and allowing more time for strategy and content development, marketers are more effective and efficient all thanks to AI.
It won't be long before AI takes over marketing and you wouldn't want to be left behind.