As of October 2021, there were 4.55 billion active users across the various social media platforms. On average, these people spend an hour and a half browsing and replying to messages on their chosen network. Half of them also use this time to research products and brands.
Social media is thus no longer an optional digital marketing avenue. It is becoming a mandatory part of any well-rounded strategy that hopes to attract new customers and engage with current followers.
Here's what you can do to boost your follower counts, ensure that those who join your flock have a fun experience, and ultimately boost conversions.
Lead with Your Value Proposition
Sometimes it can be quite tempting to get clever with your social media profile branding. You might want to create an animated cover image or include a short video, for example – however, the simpler your cover, the better.
Most people won't click to watch this video, and an animation may grab their attention but it won't be as effective at showcasing your value proposition early on.
Do your best to shine a very clear spotlight on what you will be delivering to your customers. Try to sum up your value in as few words as possible, and create an attractive cover image to match.
Take a look at this example. Quetext features a great cover photo on Facebook with its "plagiarism free writing" slogan. The image itself is colorful enough to grab a user's attention, but the main focus is on the value proposition.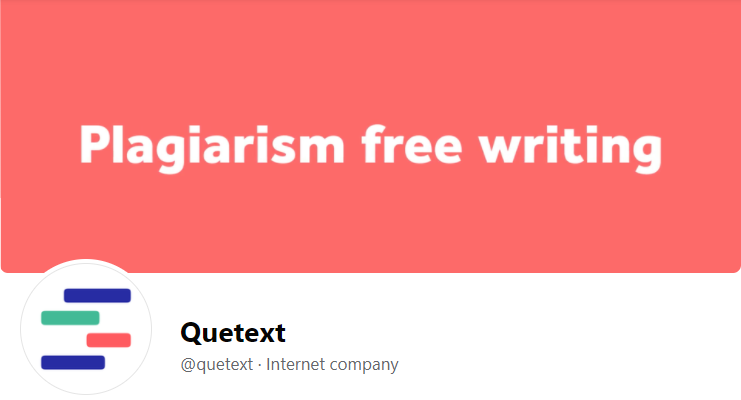 Image source: Facebook.com
Aim for Visual Consistency
In order for your brand to be recognizable on social media, you need to establish a visual style that is consistent with your overall branding strategy.
Customers will want to do business with the brands they recognize. So, if you serve them the same marketing messages across a variety of channels (most importantly, your website), they are more likely to remember you.
Maintaining visual consistency across all of your marketing materials, including banners, is essential for building a strong and recognizable brand. If you're looking to create professional-quality banners but are not sure where to start, you may find this guide on how to make a banner helpful. It provides tips and resources for designing banners that align with your brand and effectively communicate your message to your target audience.
The psychology behind branding is quite complex. In a nutshell, the success of your end results depends greatly on making a strong first impression and staying consistent with your visual identity and messaging.
How you achieve this visual consistency will be up to your brand and its already determined voice. If you have chosen vibrant colors for your logo, make sure they are also a part of your social media imagery. If you rely heavily on illustrations in your blog content, use the same style of visuals on socials too.
Take a look at the Dollar Shave Club. The brand's Instagram photos incorporate its vibrant orange-red color, and even the style of its homepage has been made a part of the Instagram feed. They use plenty of cartoons and illustrations to share some laughs. When they do promote a product, it's like you're looking at their online shop, not a social media feed.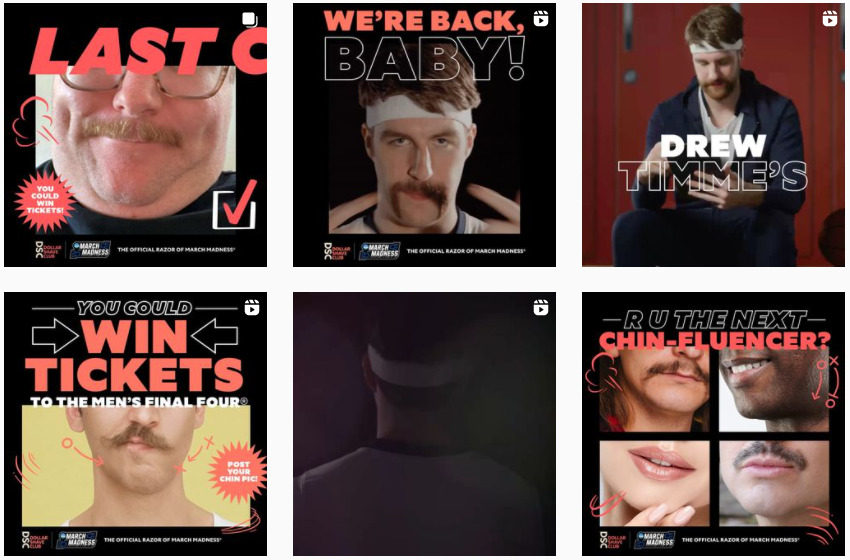 Image source: Instagram.com
Publish Exceptional Content
Great content isn't reserved only for your blog. True, by publishing well-written blog posts that provide value to your readers, you can drive all kinds of traffic and conversions. But by limiting this content to your website alone, you won't be able to capitalize on one of the most common side-effects of great content: user interaction.
While your target audience may leave comments on your blog posts, they'll be much more comfortable chatting on social media. This gives you a chance to talk to them, get to know them better, and learn a lot about the people you actually want to be selling to.
What great content looks like on social media will depend on your industry and audience. For instance, Voices does a great job of posting interesting and educational content on its YouTube channel.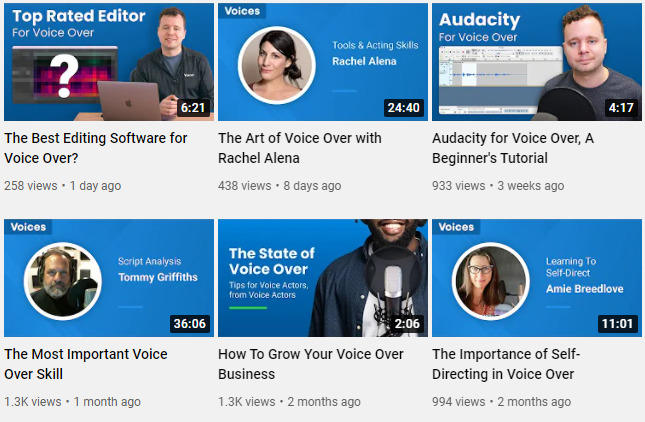 Image source: Youtube.com
Given the nature of their service, YouTube is the best social media platform for them. They cover all kinds of topics that will interest voice-over artists, and more. For example, their home recording studio hacks can help podcasters out too.
Impossible, on the other hand, has chosen Facebook for publishing amazing content that's sure to inspire their audience of aspiring athletes.
The company's founder frequently embarks on extreme adventures – a great opportunity to shoot footage that's ideal for long-form motivational video campaigns.
The content is entertaining, incredibly captivating and does a terrific job of aligning the brand with the emotions they want their target audience to feel.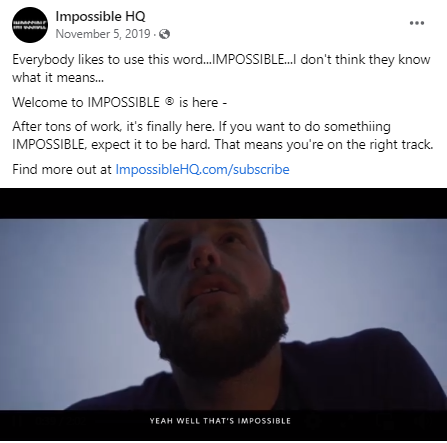 Image source: Facebook.com
Have Meaningful Interactions with Your Followers
Social media is all about talking to others. You can't expect to attract many customers if all you do is post and try to make a sale and never make your audience feel valued.
Finding the time to engage with your followers on socials can be the tricky part. If you haven't hired a full-time social media manager (which you won't need to, unless you are producing a lot of social content across a lot of platforms), you can allocate one person to chat.
Ideally, you want someone on your team who is already good at social media to take on your company profiles as well. Don't try to split it up between a group of people, as the different voices will only confuse your audience.
If you do it yourself, you can either spend 10-15 minutes on social media every couple of hours during the day or designate larger chunks of time for the task.
As for the types of interactions you are looking for, take a look at how Semrush is doing it on YouTube. They reply to a lot of the comments and practically all of the questions viewers leave on their videos. Sometimes, entire conversations unfold, where people share tips and swap experiences using the tool.

Image source: Youtube.com
Make sure to at least be available to answer questions that your followers may have – especially if you've shared content that is likely to spark them. So, monitor your mentions and manually check if there are comments you need to address. Keep in mind that staying silent can often be worse than not posting at all.
Make Use of Social Proof
Incorporating social proof into your social media marketing strategy can be a great way to leverage the interaction your users already have with your brand into conversions.
Customers love to see reviews before they make a purchasing decision, which is why social proof is so beneficial. You should utilize it on your website, but make sure to also take the opportunity Facebook offers to feature it on your profile.
The social network allows users to leave reviews on the pages of brands. Think of it as a Google or a Trustpilot review: it carries a lot of weight, and your followers will likely check it out before they make a purchase, especially if they've just seen a product they like on your feed.
This is a simple yet very effective way to showcase the quality of your products using another medium without coming off as too pushy or too promotional.
Gili Sports shows us how simple it is to use social proof for these purposes. And all they had to do was activate their Facebook's page's "Review" module.
What frequently happens on Gili Sports' Facebook Review section is that customers submit photos of themselves as part of the review, thus creating a bit of FOMO to go along with the credibility their review is generating.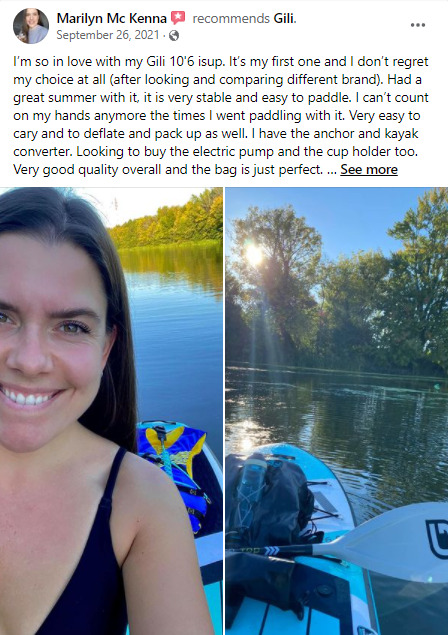 Image source: Facebook.com
Provide Visible Customer Support
Finally, social media is a great avenue for offering customer support. Visible support will demonstrate exactly how much you care about your customers.
When someone contacts your customer support team via email or phone, no matter how helpful you are and how quickly you address their concerns, this pleasant exchange will only affect that one customer. On the other hand, when the support you offer is very public, it will help you convert other followers too.
Twitter is a great platform for offering support. In fact, some brands have created channels specifically for customer support. However, this might be less effective for the purpose of visibility. While it will certainly keep the channel less cluttered, it won't have as wide an impact.
Take a look at how Domino's does it on Twitter. They reply to a very high volume of customer concerns every day, but they also share a lot of fun, interesting and valuable tweets too. Followers can keep up with how they treat dissatisfied customers and enjoy pizza puns as well.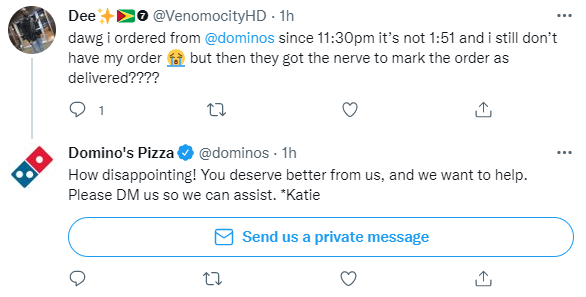 Image source: Twitter.com
Final Thoughts
Leveraging social media to your advantage may require a lot of work, but the one principle you need to bear in mind is simple: always offer value and provide support to your followers, and be yourself. This is what social media users want from any brand they choose to follow.