In a world where large multinational companies and franchises dominate pretty much every market, there is still one trusted tool that all smaller businesses can use to compete. That tool is customer experience, and eCommerce is no exception. Give your customers the best possible experience (and then some), and you'll be able to contend with even the biggest players.
But, how exactly do you do this?
The Idiosyncrasies of the Ecommerce Customer Experience
While the basics of customer experience across industries and primary channels will remain more or less the same, they will all have their own differentiating characteristics. In eCommerce, these will include:
Speed – Customers want their eCommerce websites and pages to load quickly. Seriously quickly. An extra second of load wait time will reduce customer satisfaction by 16%. The longer they wait, the less satisfied they become.
Ease of purchase – E-commerce customers hate unnecessary steps when purchasing. They don't want to fill three surveys, subscribe to four newsletters, and go through 187 screens before they can buy what they want.
Information – Buying certain products online (e.g., those that you would otherwise try out in a physical store) makes some people apprehensive. You need to ensure you provide as much information on your product/service as possible without it becoming overwhelming. It's a tricky balance to strike.
Options – Online shoppers want options. Whether we're talking about payment options, shipping options, customization options, or anything else, they want them. Provide them with the options wherever possible and commercially viable.
The tips you will read in the remainder of this article are aimed at helping you best answer those requirements.
Put Your USP Front and Center
Regardless of what you are selling, there is plenty of competition out there, in some cases so much that it seems impossible to catch anyone's eye. This is where your market and customer research will come in handy. Hopefully, you will know your target audience so well that you will know exactly what makes your product/service the perfect choice for them.
Take the GetSafe homepage as an example: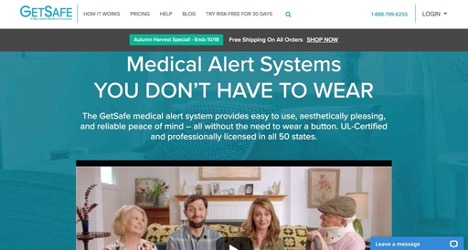 Can you recognize their unique selling point? Hint: it's in all CAPITAL LETTERS. They know that the vast majority of their competitors' products require the elderly to wear a lanyard, wristbands, and such, which can make those who wear them self-conscious or outright insulted.
They include other essential information as well, but they know exactly what sells. It's literally the first thing you notice on their website. It is not the suavest way to do it, but you can be sure it works.
The folks from FrogLogic have gone a different path, and it feels far less convincing.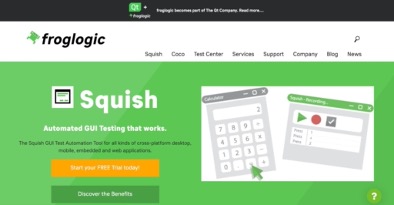 The XYZ that works-type tagline is just not good. Sure, it works. That's the bare minimum we expect from a product but not exactly an attractive selling point. Also, tons of (especially software) products use it, for some inexplicable reason. The Discover the Benefits button is a good idea (although executed green-on-green), but from the point of selling straight away, this page doesn't really work.
(Of course, not all target audiences are the same. Perhaps they know that no one buys testing software without a ton of research, and they don't expect anyone to buy straight away. So, we have to give their copywriters/marketing team the benefit of the doubt. But even then, it feels lazy.)
Simplify Purchasing
A poorly optimized purchasing process can ruin even eCommerce businesses with the most spectacular products. There are just so many things you can do wrong that you really have to be careful.
Navigation
If your eCommerce business sells a lot of products, you have to make it easy for your customers to find the product they're looking for. This should entail a number of options for them to navigate your website.
For one, this means that you have to set up clear and logical navigation. Clothing brands do this very well (for the most part). On most clothing brand sites, you can easily navigate your way to the product you need (e.g., women's section>accessories>bags>clutch bags).
In addition to this, you should provide them with a comprehensive search function where they can use additional filters to specify as many characteristics as they wish to get the most precise results.
Category Pages
Your category pages should also provide the customers with various filters they can use to narrow down their search. To use the same example as above, your Clutch Bags page could feature filters such as:
Price
Brand
Color
Material
This page from Real Thread is a great example. In their sidebar, you will find all of these filters, also including Body Type, Collections, and Delivery Speed (important for many customers) filters.
Making the Purchase
Hopefully, your good navigation and/or search have brought your potential customers to the product page (a lot more on them later) quickly and smoothly. It is now time to enable your customers to make a purchase just as quickly.
There used to be a time when pretty much all eCommerce websites insisted you have to create a profile in order to make a purchase, but nowadays, we see more and more brands using guest checkout. Some companies, such as Bellroy, have completely done away with registering beforehand. This is their checkout page: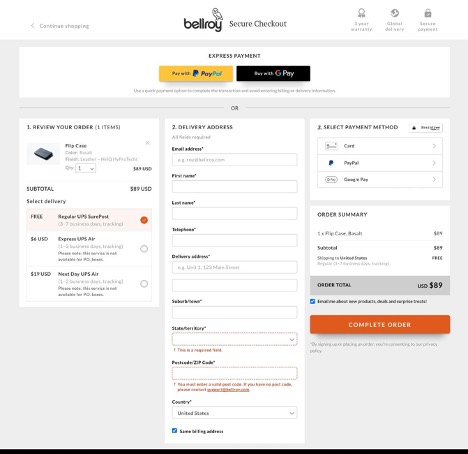 It's all there, on a single page, nice and clean and so, so easy to use.
You have probably also noticed the express payment option at the top of the page. It is being used more and more, with many brands (like Under Armour) featuring only the PayPal option.
Some brands have gone further and offer a whole variety of express purchase options, such as Orizaba Original, for example.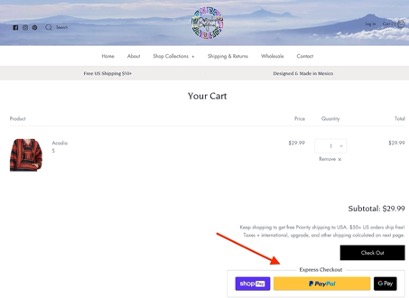 It's all about a quick purchasing process and giving the customers as many options as you can.
The Science and Art of Product Pages
You have probably noticed that the previous section on the purchasing process did not involve the (arguably) most important part of it – the product page. This is simply because it demands its own section.
In essence, your product page has to answer the four requirements (speed, ease of purchase, information, and options) to the best of your abilities.
Providing Information
For one, your product page should provide every piece of information that might be of interest to the potential buyer. The type of information will depend on the nature of the product(s) you are selling, and the easiest way to know what to include is to put yourself in their shoes.
What would you like to know about the product in question?
What is the absolutely essential information that you would like to see immediately (since you won't be able to squeeze absolutely everything above the fold)?
Are there specific USPs that set apart your product(s) from the competitions'?
There is often information that you don't think of and that might be essential to your buyers. Just as an example, let's take eCommerce businesses that sell clothing. Different countries have different measurements and size conventions. What this means is that you have to provide some kind of a chart showing what size a particular skirt (e.g.) is in which country. There are innumerable examples of such non-obvious information.
The Visual Aspect
Never forget about the visual aspect. In other words, you will want to feature many images of the product from different angles, packaging, the product being used/worn. Perhaps you'll even include illustrations showing off some great selling points or comparisons with similar products. Sometimes you can even include videos in the gallery (although this can be difficult for eCommerce stores with numerous products).
Social Proof
Reviews and other types of social proof are also a must for product pages. Your potential customers wish to know how these products worked for other people. Moreover, the reviews will also often include details about delivery times and other aspects of their experience.
In certain cases, like for healthcare or cosmetic products, you might also want to include a word or two from the experts in the field. People with the right credentials will give additional weight to your product's appeal.
Example
This product page from Somnifix illustrates very well everything we've talked about in this section. Above the fold, you can find an extensive gallery featuring the packaging and the product in use. Plus, you can find how it works with other products for the same issue, and much more.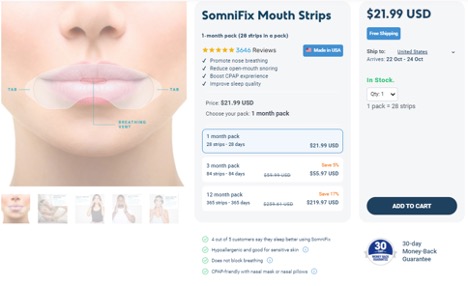 They also cover the most important facts in bullet form. The purchasing section of the screen is also well-done, providing information about expected delivery dates and discounts for larger orders.
The immediate next section is a word from a medical doctor who explains how and why their product works. This is followed by easy-to-understand illustrations of how the product provides the benefits.
Then, you get to see how to use the product and a bit of social proof (extensive user reviews will come later). They also point out that the product is eco-friendly and suitable for people with allergies. They even include comparisons with other products aimed at solving the same problem.
It's all broken down into easy-to-read sections, with plenty of visuals to keep things interesting and to provide additional information.
It may seem like a lot to keep in mind, but there is always that very simple idea to guide you – What would you want to know about the product as a buyer?
Closing Word
Ecommerce is a ruthless arena with innumerable competitors. And while you may not be able to fight them on points such as pricing or delivery times, you can always take them on with the customer experience. Hopefully, this article will help you in this fight.